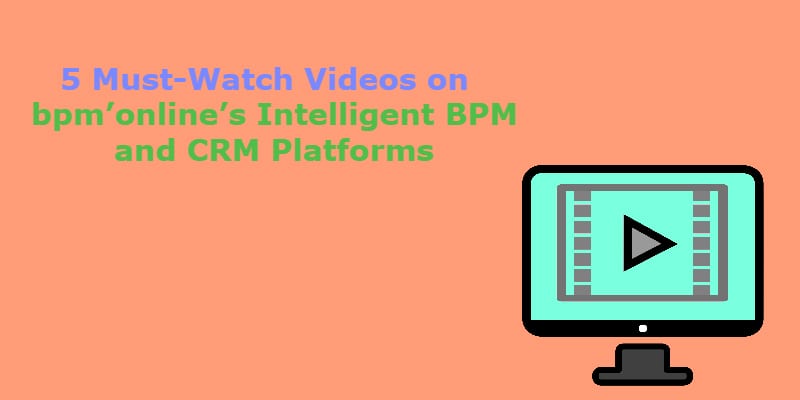 Bpm'online is a cloud-based Customer Relationship Management (CRM) and Business Process Management (BPM) software provider that has over 500k end users, making bpm'online one of the leading cloud-based CRM/BPM vendors in the space.
Their solutions combine the features of CRM with powerful BPM capabilities and are built for marketing, sales, and service to help organizations manage their business processes across the entire customer journey on a single low-code platform. The company's unique synergy of intelligent BPM and unified CRM allows for effective process management of any complexity.
In this post, we've chosen to focus on five of bpm'online's product demo videos from their YouTube channel as a way of providing an in-depth explanation of how customers can leverage bpm'online platforms to better improve their business processes, enjoy!
This short 3 minute video provides details about bpm'online studio, the company's low-code BPM solution. Discussing the tools bpm'online studio comes with, like mobile apps, task management, organizational structure management (and more), the video gives insight as to how it can help organizations to easily manage and optimize business processes.
Bpm'online sales is a CRM platform for professional sales management of all types. This video is more long-form (clocking in at 7 minutes) but provides valuable insights on how to leverage bpm'online sales solution. It includes out-of-the-box features that serve as best practices for lead management, opportunity management, quote management, as well as order and invoice management.
This video explains bpm'online marketing solution, describing it as a multichannel marketing platform to orchestrate customer journeys and accelerate lead-to-revenue. With help of bpm'online marketing, sales representative can focus on qualified, sales-ready leads only. Bpm'online marketing involves powerful features like lead management, simple customer profile management and guided/tracked email campaigns.
Taking a different approach here, this video is an hour long webinar from bpm'online that discusses CRM best practices. Guest speaker, Paul Greenberg otherwise known as "The Godfather of CRM" provides expert insights, trends and practices on how to best leverage these CRM practices to align marketing, sales, and service to build a revenue machine.
Paul Greenberg is featured again in this short 3 minute video where he describes all the benefits organizations can have from merging BPM and CRM and explains in what way business processes help to fill the gap between information storage and its effective usage.
Check out their YouTube channel for more great product videos.
---
Looking for more? Download our BPM Buyer's Guide for free to compare the top 24 BPM software vendors head to head! The guide also includes 4 key capabilities to consider while selecting a new BPM solution and 10 questions to ask yourself and the software vendor before purchasing.
And don't forget to follow us on Twitter, LinkedIn and Facebook for all the latest in Work Tech!

Latest posts by Elizabeth Quirk
(see all)