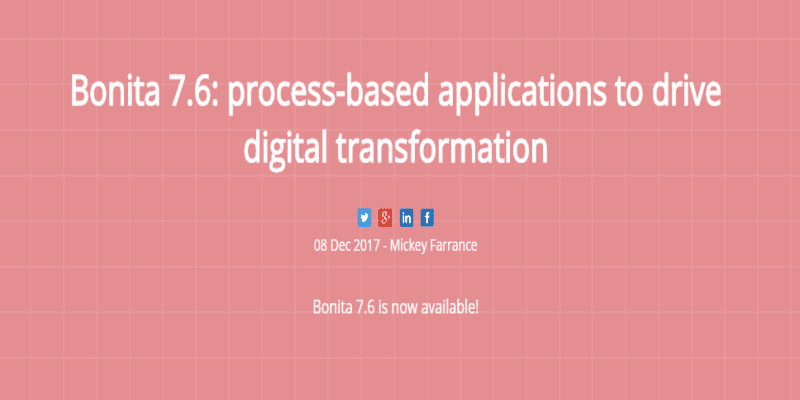 Bonitasoft, the largest open source provider of low-code Business Process Management (BPM) and digital transformation software, has announced that along with the release of Bonita v7.6, the company has signed a partnership agreement with Amazon Web Services (AWS).
This partnership will allow companies to effectively operate the Bonita platform with Amazon AWS cloud technology.
According to the company, Bonita 7.6 comes with a brand new platform add-on: Bonita Continuous Delivery, which automates provisioning of a Bonita platform so that deployment takes just a few minutes.
"In the platform itself we've improved – among other things – the performance of user forms and pages – with display up to 8 times faster than before, and faster navigation between pages, your users won't be waiting impatiently! For developers – upgrading from an earlier version of Bonita Studio is easier than ever. The ability to fully create a Living Application directly in Bonita Studio brings a new level of application industrialization." says Mickey Farrance, Content Strategist at Bonitasoft.
This module can be added to the Bonita platform and leverages Ansible and Docker technologies for provisioning, along with provides advanced native Bonita capabilities to manage clustering deployments and platform backups. Applications on the Bonita platform are now fully compatible with both on-premises and AWS cloud deployments.
"With cloud-based access though AWS, digital process applications on the Bonita platform are easily highly distributed and secure," said Miguel Valdes Faura, CEO and founder of Bonitasoft. "We are pleased to have AWS as part of our partner ecosystem."
Bonita's out-of-the-box features for low-code development, and out-of-the-box tooling for customization, offers an unbeatable mix for application development.
---
Looking for more? Download our BPM Buyer's Guide for free to compare the top 24 BPM software vendors head to head! The guide also includes 4 key capabilities to consider while selecting a new BPM solution and 10 questions to ask yourself and the software vendor before purchasing.
And don't forget to follow us on Twitter, LinkedIn and Facebook for all the latest in Work Tech!

Latest posts by Elizabeth Quirk
(see all)