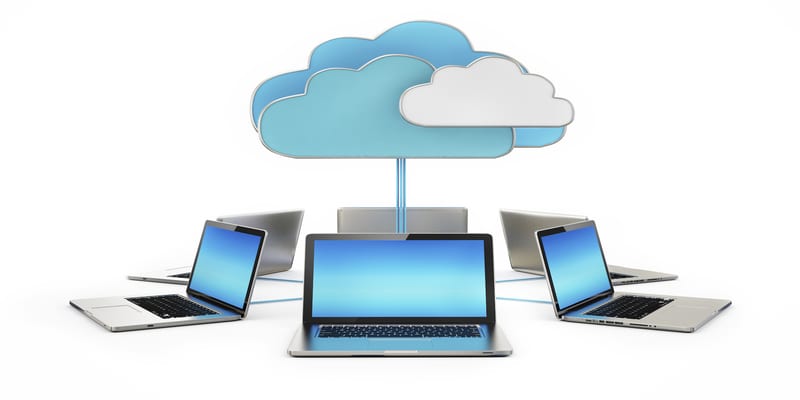 When it comes time to choosing a Business Process Management (BPM) solution, one of the most important questions to ask is: How will I deploy it? Do I want an on-premise system or a cloud-based BPM tool? On-premise refers to being installed and running on computers or desktops on the premises (in the building) of the organization using the software, rather than at a remote facility such as a server farm or cloud. To fully understand the differences between these two deployment models, however, lets take a step back and note some key differences.
Cloud vs. on-premise
Cloud-based BPM  is provided as a service that does not have to be managed or serviced by your company's IT staff. With this type of software deployment, a company's BPM software and its associated data / information are managed centrally (in the Internet "cloud") by the software vendor and are accessed by users and customers using a web browser.
The cloud BPM provider hosts and maintains all of the IT infrastructure for you, ensures the system is always running, that the data involved is secure and safe, and that product enhancements or upgrades are rolled out painlessly to your solution. Ultimately, this all allows your IT resources to focus on innovating and helping grow the business more effectively.
Cloud computing architecture is designed from the ground up for maximum network performance, meaning cloud BPM tools can deliver better performance and better application availability than traditional on-premise systems. And finally, since cloud-based BPM offers no additional hardware, the deployment time is way less than on-premise systems. Your business doesn't have to waste time procuring and installing IT infrastructure, instead, you can easily roll it out across multiple divisions.
On-premise BPM solutions are installed locally on your company's hardware and servers, then managed by your IT staff. They usually require a large upfront investment to purchase and manage the software and related hardware / facilities necessary to run it. Most people who prefer on-premise BPM tools like it because of the data security and control that comes with having the system in the office. On-premise BPM software can also be customized much easier than cloud solutions, which offers a greater advantage for more niche companies in specific industries.
Cloud Benefits:
Scalability: With SaaS deployment, you are able to choose the specific tools and products your business needs the most. If you're involved with a growing business, there is no need to invest in more servers or rebuild system architecture since your subscription can grow along with it. This cuts down on wasted resources and provides some predictability in terms of future costs.
Efficiency: When your software application is already installed and configured, users just need to access it on the cloud and then they're ready to go. This cuts down on the time to benefit, as employees can quickly start using the tool.
Cost: Since the software vendor is responsible for setting up and maintaining the servers and architecture, a company's initial setup costs are less. SaaS also allows companies to "pay as you go," meaning the subscription is flexible and can fit your rapidly changing business demands. And because the vendor is responsible for maintaining the software with an SaaS deployment, upgrades and security checks are taken care of without additional time or resources on your end.
On-Prem Benefits:
Control: The benefit that comes with an on-premise BPM solution is the fact your company has complete control over their IT infrastructure. Some companies may prefer this, as it makes them feel better about who has access to their data and gives them a better understanding of their data security.
Security: As mentioned above, having an on-premise BPM solution allows for data to be stored in privately controlled data centers This ensures companies that their important business data is safe and secure from others who would have access to it from the public cloud.
Cost: On-premise software is usually priced under a one-time fee, this initial investment frees up company resources and financials to focus on other improvements that need to be made.
---
Looking for more? Download our Business Process Management Buyer's Guide for free to compare the top-24 products available on the market with full page vendor profiles, key capabilities to look for in a BPM platform, our market overview, bottom-line analysis, plus questions to ask before purchasing. It's truly the perfect resource for anyone looking to find the right BPM for their business/organization, or those looking to replace an existing one.
And don't forget to follow us on Twitter, LinkedIn and Facebook for all the latest in Work Tech!

Latest posts by Elizabeth Quirk
(see all)