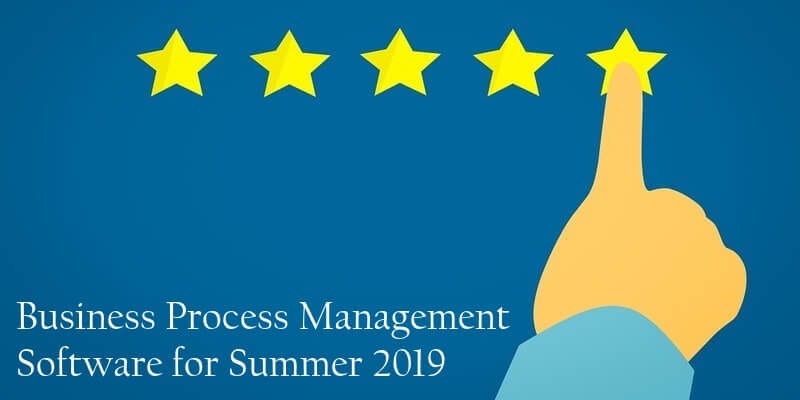 G2 Crowd, a peer-to-peer business solutions review platform, recently released its G2 Grid for Business Process Management for Summer 2019. G2 Crowd is a platform that aims to make business software buying decisions easier and more reliable. Reviews are posted in real-time and aggregated to create company profiles and industry comparisons.
G2 Crowd scores products and vendors based on reviews gathered from their user community, as well as data aggregated from online sources and social networks. To be included in the Grid report, products must have received a minimum of 10 reviews/ratings. Products are then ranked by customer satisfaction (based on verified user reviews) and market presence.
G2 Crowd defines BPM software as software that helps define, automate, and report on processes that are intended to help optimize businesses to deliver on company goals. BPM systems are used to clearly define processes that span a full company's operations and then monitor those processes. These tools can also be used to help automate processes or, in some cases, build digital applications for different steps in the process.
The strength of BPM systems is that they can look at the big full-company picture and can be used by any department, but they are commonly selected by operations teams. BPM systems can have case management features, so integrations with CRM software are common.
According to the Grid report, to qualify for inclusion in the BPM category, a product must:
Capture business processes
Allow the creation of business rule logic
Have the ability to create forms and other basic interfaces in a digital format or allow for integrations with other tools for the data
Companies purchase BPM software because they need to solve some type of operational objective in a streamlined and efficient way. BPM software allows users to easily build unique workflows, assess the necessary steps required to carry out the objective, and integrate all the different solutions involved in the process. The actions that need to be carried out are usually time-consuming and complex, so finding a way to automate these business processes can be very beneficial to any company. Additionally, BPM solutions can provide insights into the efficiency of processes. BPM tools can help identify bottlenecks and unnecessary process steps, and they even help hold employees accountable for their actions.
View the G2 Grid for Business Process Management for Summer 2019 and see who made the list!
---
Looking for more? Download our Business Process Management Buyer's Guide for free to compare the top-24 products available on the market with full page vendor profiles, key capabilities, a BPMS market overview, our bottom line analysis, and questions for prospective buyers.
And don't forget to follow us on Twitter, LinkedIn and Facebook for all the latest in Work Tech!

Latest posts by Elizabeth Quirk
(see all)