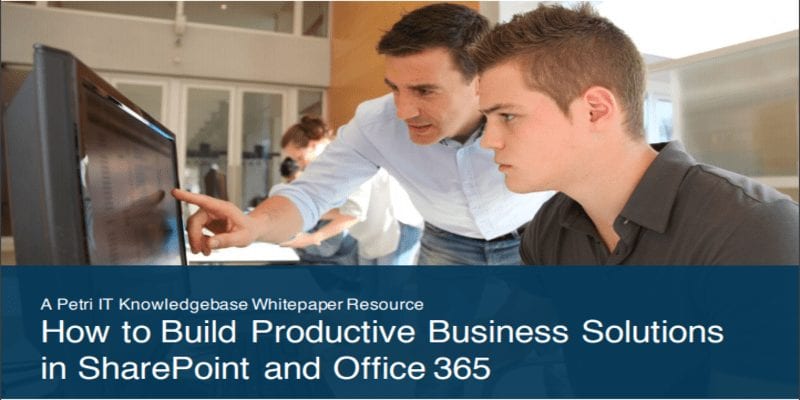 FlowForma, a no-code Business Process Management (BPM) software and process automation provider, is revolutionizing the traditional BPM space with an innovative approach to developing award-winning process automation and workflow products. The company's sponsored whitepaper titled, "How to Build Productive Business Solutions in SharePoint and Office 365,"  by Shane Young, SharePoint MVP, discusses the different tools available in Microsoft Office 365 you can utilize to build business solutions.
Available here, the whitepaper describes Microsoft Office 365 as a "great third-party app that allows you to address the problem using just one tool." BPM can be a very confusing term that seems to mean something different to everyone to comes across it. In layman's terms, BPM is a discipline in operations management in which people use various methods to discover, model, analyze, measure, improve, optimize, and automate business processes.
But in order to avoid any confusion, Young doesn't provide a definition of BPM, instead, he skips a step and talks about the different tools available to you throughout the Office 365 portfolio to build your own app and allow you to take a more all-up approach to the problem.
"This paper is for business decision makers and Microsoft SharePoint users. I promise there won't be any crazy code or complex software installs covered. We will simply walk through the tools that make it easier for you to get your job done. Some of them are easier to use than others, and one of these solutions prides itself on going from
concept to running in days, not weeks or months," explains Young.
FlowForma BPM is a workflow, forms, and document generator all wrapped in one package that works above SharePoint, meaning the tool uses its own engine for workflows and forms while presenting and storing data inside of SharePoint. This enables functions such as hybrid workflows, collaborative decision making, and enhanced reporting, all with no-code. This means faster deployment times for you and more agility in creating business solutions by you the business user, not those folks down in IT.
Download the whitepaper, "How to Build Productive Business Solutions in SharePoint and Office 365,"  by Shane Young, SharePoint MVP here.
---
Looking for more? Download our Business Process Management Buyer's Guide for free to compare the top-24 products available on the market with full page vendor profiles. The guide includes four key capabilities to look for in a BPM platform, plus questions to ask before purchasing. It's truly the perfect resource for anyone looking to find the right BPM for their business/organization, or those looking to replace an existing one.
And don't forget to follow us on Twitter, LinkedIn and Facebook for all the latest in Work Tech!

Latest posts by Elizabeth Quirk
(see all)