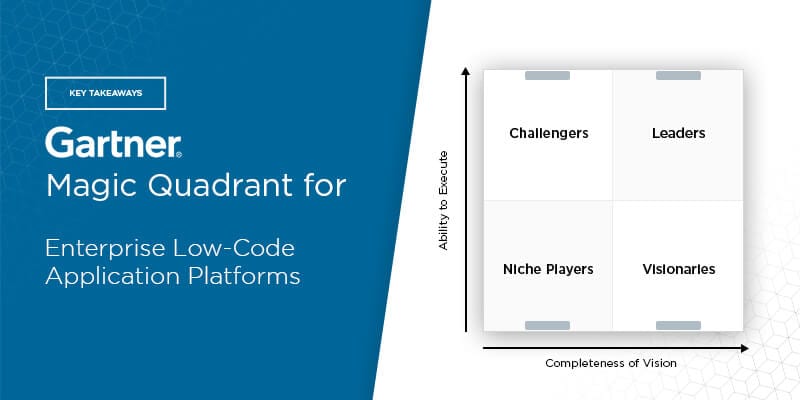 The editors at Solutions Review highlight the key takeaways from the 2021 Magic Quadrant for Enterprise Low-Code Application Platforms (LCAPs) and analyze the report.
Analyst house Gartner, Inc. recently released the 2021 edition of its Magic Quadrant for Enterprise Low-Code Application Platforms. According to Gartner's definition, an LCAP is used to "develop and deploy custom applications by abstracting and minimizing hand-coding." The report also says that, at minimum, these solutions must come equipped with low-code capabilities (i.e., model-driven or graphical programming approaches to scripting) capable of developing a completed application consisting of business logic, user interfaces, data services, and workflows.
To qualify for Gartner's report, each LCAP vendor had to demonstrate a go-to-market strategy, have specific pricing options, provide a solution with no-code and low-code capabilities, and offer an LCAP with features geared toward the needs of enterprise-class projects. Other qualifications include revenue of at least $50 million, 20% year-over-year growth,  100 paying enterprise customer organizations, and an international presence.
Key Takeaways: 2021 Gartner Magic Quadrant for Enterprise Low-Code Application Platforms
---
In this updated Magic Quadrant, Gartner identifies 12 of the most significant enterprise low-code application platform providers in the marketplace. The researchers behind the report evaluated the strengths and weaknesses of each provider listed and ranked them on the signature "Magic Quadrant" graph, which provides readers with an illustration of each vendors' ability to execute their vision. The diagram includes four quadrants: leaders, challengers, niche players, and visionaries.
Gartner adjusts the criteria it uses to evaluate providers to reflect changing trends in the market, which means the 2021 edition of the Magic Quadrant for Enterprise Low-Code Application Platforms looks different from last year's report. For example, Gartner updated its business and go-to-market inclusion criteria for the 2021 report to reflect buyer expectations and market trends. As a result, AgilePoint, AuraQuantic, Betty Blocks, Oracle (Visual Builder), ProntoForms, TrackVia, and Zoho no longer met the criteria and were not included in this year's report.
A breakdown of each category and the companies associated with it is below.
Leaders
Mendix is the highest-ranked Leader in this Magic Quadrant. Alongside its LCAP offering, Mendix also provides support for multi-cloud and on-premises deployments, cloud-native services for multi-experience development projects, and support for fusion teams. According to Gartner, its strengths as an LCAP provider include its innovative enterprise low-code capabilities, high level of growth, and long-term viability. The report also notes that Gartner Peer Insights and end-users highly rate Mendix's UX design, integration support, and governance capabilities.
Microsoft is ranked right after Mendix with its LCAP solution, Microsoft Power Apps, which includes entitlements for Dataverse and Power Automate that, together, form part of Microsoft's Power Platform. Microsoft has one of the largest user bases of any LCAP in the marketplace, and its users are spread worldwide across industries and enterprise sizes. Its strengths include an in-depth understanding of the market, responsive positioning, the company's synergistic products, overall viability, and its AI-driven development approach, which Gartner says has the potential to make a splash in the LCAP market.
OutSystems earns its place as a leader thanks to its ability to help developers increase productivity while building modern enterprise applications. Its services include robust security features, AI-augmented development capabilities, and multi-experience development, enabling companies to expedite their application developments. The strengths Gartner spotlights are the advanced low-code capabilities of its OutSystems Platform (i.e., AI functionalities, proprietary continuous integration/continuous delivery(CI/CD), agile enterprise planning, and more) alongside its UI design framework.
ServiceNow's LCAP offering is its App Engine and Creator Workflows, part of its Now Platform. ServiceNow has experienced considerable growth in the last year, which has enabled it to invest further in its LCAP offering and expand its customer base. Gartner identifies some of its strengths as its continued product innovations, including the addition of IoT and process optimizations and responsiveness to market trends.
Salesforce offers a dozen different industry cloud solutions, which all utilize LCAP capabilities for extensibility purposes. Its SaaS platform is one of the largest globally, which provides its LCAP features with an extensive marketplace and community of users. Other strengths listed in Gartner's report include its market responsiveness, as the company release several product updates throughout the year, and its platform ecosystem, which has proven to be a valuable resource for customers looking to adopt Salesforce's LCAP offering.
Challengers
Appian is a Challenger in this year's Magic Quadrant, a change since its placement as a Leader in last year's report. Gartner says the Appian Platform's market differentiation comes from its full-stack low-code automation capabilities, focusing on complex case management and business processes. Its strengths include its well-developed business process management (BPM) capabilities, automatic security scanning functionalities, overall business logic features, and the Appian App Market, which provides customers with a rich ecosystem of partner integrations and applications.
Pega has moved from the Visionary quadrant to the Challenger quadrant this year. Its LCAP solution is included as part of its Pega Infinity platform, which is outfitted with an intelligent business process management suite (iBPMS), a multi-experience development platform (MXDP), robotic process automation (RPA), and CRM capabilities. The company's strengths lie in its low-code development for workflow and process automation, user experience design, and its product offering, anchored by a cloud-native, multitenant, microservices-based architecture capable of scaling up or scaling down as needed.
Oracle rounds out the Challenger category with its Application Express (APEX) solution, included in the Oracle Database suite. While Oracle's LCAP solution isn't as regularly updated as other offerings, its reliable viability and global reach make it an appealing option for companies already integrated into the Oracle ecosystem. Gartner says Oracle's strengths are its low entry costs, including a free option, active community, and leading database capabilities, which APEX users can benefit from.
Niche Players
Creatio has retained its spot as a Niche Player. Its LCAP offering, Studio Creatio, has benefited from Creatio's strong market understanding and strategy that prioritizes customer requirements and focuses its marketing efforts on low-code development. The company's Accelerate event series has also been successful in the last year, garnering more attention. Other strengths noted in Gartner's report include business-IT alignment and industry strategies, fostering existing clients and industry-specific use cases while expanding into new verticals.
Newgen is another returning vendor in the Niche Player category. Its LCAP offering, the Newgen ONE Digital Transformation Platform, differentiates itself with a breadth of capabilities for automating complex processes at scale. The platform's ecosystem isn't as developed as other listed vendors, but its robust automation platform and flexible licensing options have helped Newgen maintain and improve customer satisfaction rates. Newgen's features include AI-enabled document processing, intelligent data capture, value-based pricing, and end-user training.
Quickbase's market differentiation is rooted in its no-code approach, which helps improve the way citizen developers and fusion teams solve operational inefficiencies. Alongside strengths like integration and automation capabilities, Quickbase also has one of the highest customer satisfaction rates in the LCAP marketplace because of its simplified pricing models, deployment services, and ongoing client support.
Kintone rounds out the Niche PLayer category with an LCAP solution that offers customers a no-code approach and suite of collaboration features. The company is primarily focused on Japan, so its global viability isn't as developed as other vendors in the market. However, Kintone continues to receive positive reviews for its overall customer experience. Its growing customer base and license revenue streams have helped it further invest in its ecosystem and viability as an LCAP provider.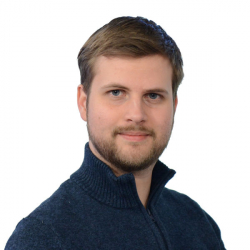 Latest posts by William Jepma
(see all)