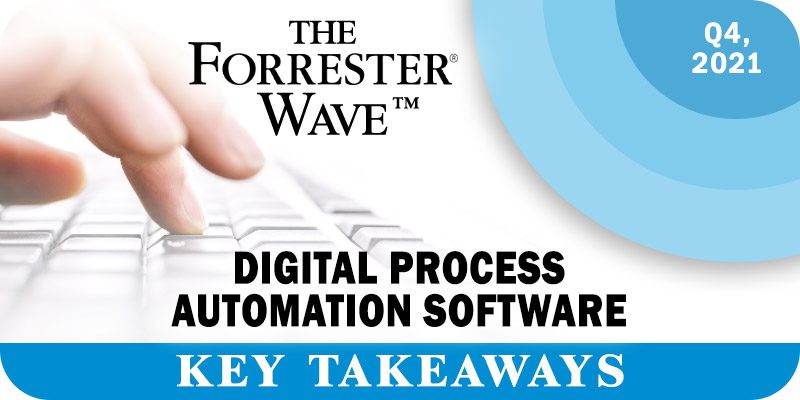 The editors at Solutions Review have read the Q4 2021 iteration of The Forrester Wave: Digital Process Automation Software report and compiled the takeaways worth knowing.
Technology advisory firm Forrester Research recently released the latest The Forrester Wave™: Digital Process Automation Software report, identifying fourteen of the most significant providers that offer digital process automation (DPA) software solutions for application development professionals. The report also provides analysis and comparisons of each provider to help companies find the right DPA solution for their needs.
In the report, Forrester recommends that application development professionals work with digital process automation software outfitted with a suite of features for robotic process automation (RPA), embedded task managed, AI, machine learning (ML), content intelligence, scalability, low-code development, and more. The Forrester Wave: Digital Process Automation Software report segments the fourteen DPA solution providers listed into four categories: Leaders, Strong Performers, Contenders, and Challengers. The editorial team at Solutions Review has read the report and compiled the most important takeaways and updates you should know about the report and the vendors.
Note: The opinions described in this article belong to the researchers and editors of the Forrester Wave: Digital Process Automation Software, Q4 2021.
Key Takeaways: The Forrester Wave for Digital Process Automation Software, Q4 2021
---
Leaders
Pega is the first Leader named in Forrester's report, citing the company as "one of the most established vendors in the DPA space." With solid product functionalities and highly-ranked support and training services, Pega has developed a robust marketplace for itself alongside a community of motivated customers. The Pega platform provides users with a general-use low-code solution equipped with DPA functionalities for process orchestrations, modeling, integrated decisioning tools, document automation, AI, dynamic case management (DCM), RPA, and more.
IBM offers a "high-end" solution with integrations for process automation, content management, and decisoning tools. While Forrester notes that IBM isn't the answer for companies needing wide deployments, it also spotlights its Watson AI assets, pragmatic integration strategy, external AI services, and the Workflow Process Service solution. IBM also has a unique vision for leveraging data insights with its suite of analytics and AI capabilities, which will help the company bring process mining directly to its automation stack.
Appian is best known for its business process management (BPM) and low-code solution offerings, but it's also gaining traction as a leading vendor in the DPA and DCM marketplaces. Thanks to its competitive roadmap and the integration of Lana Labs, which Appian recently acquired, the company provides a tech stack that covers everything from process insights to automation executions tools for DPA, RPA, DCM, and low-code. While not the best fit for companies moving to a wide-scale citizen development model, Appian is an ideal solution for organizations looking to pursue low-code automation strategies. 
Microsoft has seen considerable growth in both its Power Apps and Power Automation solutions, which Forrester expects to continue as the company continues to leverage the vision and strategy of its Office 365 suite to position its low-code solution. The Power Apps and Automate offerings are well-regarded for user experience development, AI integrations, purpose-built add-ons for process automation, and data management integrations. 
ServiceNow doesn't come from a traditional BOM and workflow functionalities background, but according to Forrester's report, it's "actively disrupting the DPA landscape" by making process automation a critical feature. While the provider is slightly behind in its process modeling capabilities, its strengths include a suite of user experience development tools and security, AI, and integrations features. ServiceNow is well suited for companies with dedicated developer resources that adopt low-code tools to drive faster developments.
Strong Performers
Newgen Software caters to dedicated developers with a suite of content, case, and process management features. Its differentiation from other vendors comes from its top-rated document automation, user experience development, well-develop community, and extensive partner relationships. While Newgen isn't as competitive in its integrated process mining and citizen development, it's well-suited for companies that require in-depth integration opportunities.
Nintex maintains a compelling vision and strategy for the democratization of software development and focuses specifically on citizen development. Its appearing commercial model, simple onboarding, and rapid growth make it a solution capable of supporting viral, wide-scale adoptions. The company offers an extensive collection of capabilities designed to drive deployments and address document generation, RPA, process modeling, and documentation needs. Nintex's recent acquisition of K2 is expected to help the company expand its expertise and technical assets.
Bizagi is well known for its low-code automation and unique view of democratized process modeling, both core tenets of its market strategy and approach. Users applaud Bizagi for its ability to handle complex workloads while scaling out to hundreds of applications. The company also offers a free version of the Bizago modeler solution, which provides customers an accessible entryway into the process optimization marketplace. With its flexible user experience tools and unique approach to one-off and ad-hoc processes, Bizagi is a good fit for nonprofessional develop, citizen developers, and companies that develop process-driven applications.
Kofax excels with its content intelligence functionalities and relies on a strategy developed to address sophisticated case management and process automation use cases where document intelligence is crucial. The company has been investing in the modernization of its platform by making several strategic acquisitions, which have helped it augment its well-regarded document imaging, capture, intelligence, RPA, print management, and other capabilities.
OpenText is one of the pioneers in the content management marketplace and continues to be one of its leading players. According to Forrester's report, OpenText's vision, strategy, partner ecosystem, and market approach will help the brand continue to find success in use cases that require content, case, and process management functionalities. While OpenText isn't as competitive as other vendors in process discovery and RPA support, Forrester recommends the provider to companies looking to migrate into the low-code, content management, and DPA spaces.
Hyland is the final Strong Performer listed and is often used for enterprisewide, mission-critical applications and has roots in the content, process, and case management marketplaces. Hyland has entered the DPA and low-code spaces with content management, RPA, and content intelligence capabilities, thanks to recent growth and acquisitions. Other features include process analytics, basic process modeling for non-technical users, and an elegant development experience.
Contenders
Axon Ivy focuses on heavily regulated use cases in the government, utilities, insurance, and financial services industries across Germany, Austria, and Switzerland. However, the company is growing its global focus and is investing in a partner-led strategy to help it do so. Its strengths include process modeling, rules and decisioning tools, content management, document intelligence, user experience design tools, and emphasis on wide deployments. Forrester recommends Axon Ivy to companies in the DACH region that want to scale their brand by leveraging technical developers.
Bonitasoft leverages open-source technology to drive innovation for its technical customers. Its free and open-source solution can be upgraded to a paid, supported model with more extensive features. While Bonitasoft's strategy is more focused than other vendors listed here, that focus makes it a compelling option for users looking to work with a smaller company that offers top-tier support, a more technical development experience, and an open-source offering capable of growing with their brand.
AgilePoint may not be as large as other vendors in Forrester's report, but it remains competitive with an accessible commercial model designed to drive wide deployments, a flexible pricing structure, and a laser focus on its core capabilities. These capabilities include highly scored development tools and innovative DPA features that can be used for sophisticated applications and citizen developers alike. AgilePoint doesn't have as extensive a feature suite as its competitors, but for companies looking for an adaptable vendor offering reliable DPA tools, AgilePoint fits the bill.
---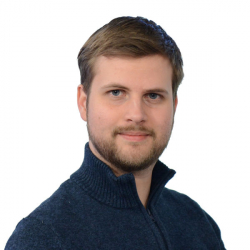 Latest posts by William Jepma
(see all)