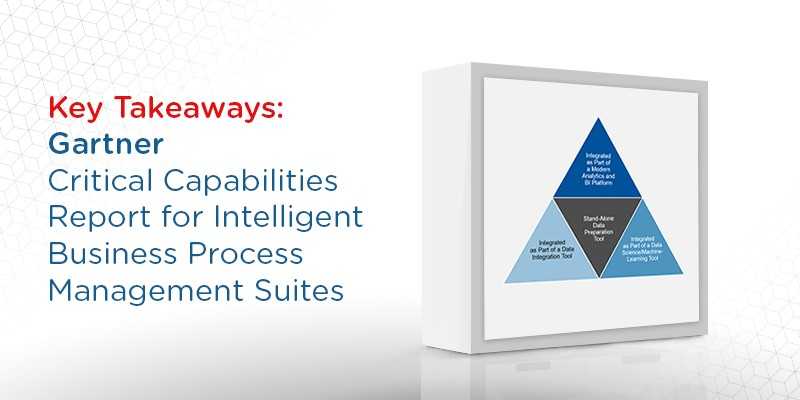 Analyst house, Gartner Inc., recently released their 2018 Critical Capabilities for Intelligent Business Process Management Suites. Used in conjunction with the related Magic Quadrant, Critical Capabilities is an additional resource which can assist buyers of Intelligent Business Process Management Sites (iBPMS) in finding the tools and solutions that will work best for their organizations.
Gartner defines iBPMS  as an integrated set of technologies that coordinate people, machines and things. These software suites use actionable, real-time insights from operations intelligence to extend the orchestration and automation of adaptive business processes.
Gartner describes Critical capabilities as "attributes that differentiate products/services in a class in terms of their quality and performance." In this report, Gartner rates each vendor's product or service on a five-point (five points being best) scale in terms of how well it delivers each capability.
Critical Capabilities reports include comparison graphs for each use case, along with in-depth descriptions of each solution based on the various points of comparison. We've read the extensive report, and for your convenience, have provided some key takeaways below.
Gartner evaluated 19 iBPMS vendors they consider most significant in this software space and evaluated them against nine critical capabilities and six use cases prevalent in the space, including:
Composition of Intelligent Process-Centric Apps
Continuous Process Improvement
Business Transformation
Digitalized Process
Citizen Developer Application Composition
Case Management
Product capabilities drive the buying habits of most customers, even if the vendor-customer relationship and other market positioning criteria have equal or greater impact on the decision to stay with a vendor's solutions in the long term, so taking results from this report is of extreme value.
Digital Transformation is Skyrocketing
The demand for tools that enable rapid digital transformation is on the rise, according to Gartner. Digital transformation comes in two forms: digital optimization and digital innovation – both benefit from faster ways to improve and transform business processes. In today's digital era, organizations must respond to events in a real-time, adaptive way if they wish to remain competitive.
The analytics capabilities of the iBPMS provide greater insight than ever into business processes. They enable those involved in processes to take advantage of that insight and guide the process toward desired outcomes.
Pegasystems Lead the Way
Gartner rated Pegasystems as excellent for most of the critical capabilities of an iBPMS, especially its support for interaction management, high-productivity app authoring, and monitoring and business alignment. It received the highest scores in all six use cases evaluated in the critical capabilities report.
Cloud Platforms: A Slowly Increasing Trend
iBPMS may be delivered in the cloud or on-premise. Although cloud platforms are increasing and impacting iBPMS vendors, the vast majority of customer adopting an ibPMS still choose to deploy on-premises. according to Gartner. 70 percent of customer references surveyed by Gartner as part of this research indicated that they deployed their solution on-premises. This could be for many reasons, such as data security, performance or data residency.
Download the 2018 Critical Capabilities for Intelligent Business Process Management Suites to see how all the top iBPMS providers scored.
---
Looking for more? Download our BPM Buyer's Guide for free to compare the top 24 BPM software vendors head to head! The guide also includes 4 key capabilities to consider while selecting a new BPM solution and 10 questions to ask yourself and the software vendor before purchasing.
And don't forget to follow us on Twitter, LinkedIn and Facebook for all the latest in Work Tech!

Latest posts by Elizabeth Quirk
(see all)