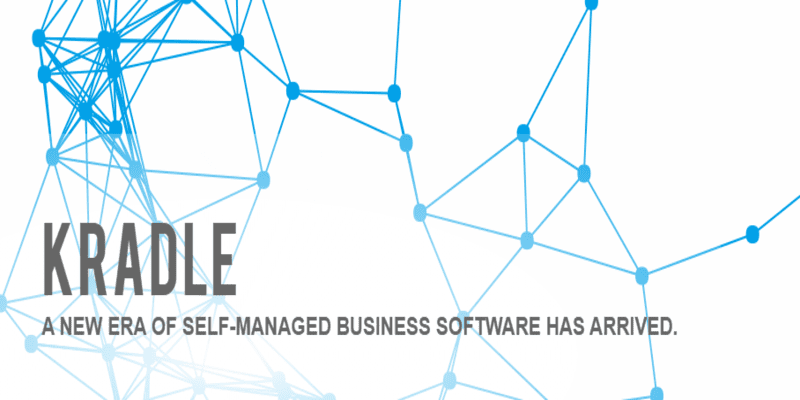 Kradle Software, a company redefining what business software means to businesses and enabling them to realize their competitive potential, today launched its flagship solution: a fully customizable, self-managed Business Process Management (BPM) solution for small and medium-sized businesses (SMBs) in any industry. The BPM tool allows them to manage their own business processes while freeing them from consultants and rigid systems.
As SMBs comprise more than 90 percent of all business in the U.S., they're typically hampered by the cost of pricey software solutions traditionally designed for large enterprises.
"Kradle levels the playing field for SMBs," Kradle CEO, Michael Haddon, says. "They now have access to tools which allow them to become more efficient, productive, and profitable." Kradle enables business users to build and manage their unique data model and tailored workflows while analyzing operational performance to gain valuable business insights.
Unlike other systems, which have pre-configured layouts and limitations on the number of workflow templates available, Kradle's BPM solution differs based on its flexible configuration and unlimited variations. All files and data are securely stored and maintained within the Kradle database, and the dashboard interface provides comprehensive visibility across the business.
As a result, "Kradle users can review insights of the business and improve operations," Haddon explains. "For example, a company might use Kradle to create customizable workflows which manage, track, and prioritize tasks within each project or phases of a project, and measure the estimated costs versus the actual costs of each job. Users can rapidly report on wins and losses, automate communication alerts via SMS, and email both internally and to contractors and clients."
Businesses can also monitor, evaluate, and manage tasks and processes from a single source to ensure optimal business efficiency and performance. The web-based access to the Kradle BPM platform also enables remote and distributed workforce to be as productive as the workforce at the head office location.
Workers have access to richer data sources, delivered when required. At the same time, many manual processes can be digitized. Kradle, in turn, enhances accuracy, accountability, and communication, especially critical during busy periods where human errors increase.
According to the company, Kradle's new software platform is the result of an intense two-year research and development project. Hosted within the Microsoft Azure cloud, Kradle eliminates the need for coding and reliance on costly specialists for system design and implementation.
---
Looking for more? Download our BPM Buyer's Guide for free to compare the top 24 BPM software vendors head to head! The guide also includes 4 key capabilities to consider while selecting a new BPM solution and 10 questions to ask yourself and the software vendor before purchasing.
And don't forget to follow us on Twitter, LinkedIn and Facebook for all the latest in Work Tech!

Latest posts by Elizabeth Quirk
(see all)