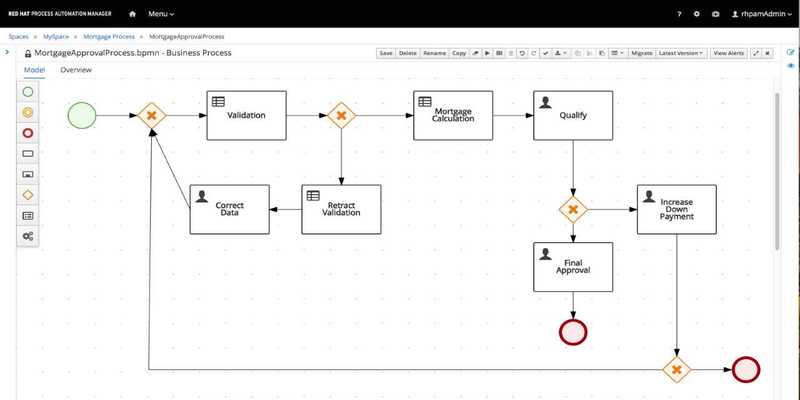 Red Hat, Inc., the world's leading provider of open source solutions, today announced the launch of Red Hat Process Automation Manager 7. The comprehensive, cloud-native platform is designed for developing business automation services and process-centric applications across hybrid cloud environments.
Process Automation Manager is the next-generation of the company's business process management (BPM) offering: Red Hat JBoss BPM Suite, and allows organizations to streamline, automate, measure and continuously improve business processes and business operations.
According to the company, this latest release of the platform introduces and expands on a number of key capabilities, including:
Cloud-native application development: With Process Automation Manager 7, Red Hat is expanding its business process automation capabilities native to Red Hat OpenShift Container Platform, the industry's most comprehensive enterprise Kubernetes platform. Customers can quickly and cost-effectively develop, test and deploy intelligent, cloud-native applications that automate business decisions and processes as containerized microservices spanning hybrid cloud environments.
Dynamic case management: New dynamic case management capabilities support dynamic and ad-hoc workflows that are otherwise difficult or impossible to represent in a traditional process model, which helps customers collaborate more easily and better manage unstructured processes. In scenarios such as fraud detection and investigation, Process Automation Manager can enhance process automation efforts with better visualization and organization of workflow goals, results, collaboration, and associated content.
Low-code user experience (UX): Process Automation Manager now includes new rapid application development tools for creating rich, device-independent user interfaces as part of a simplified and more intuitive experience for building process-driven applications.
Process Automation Manager includes Red Hat Decision Manager, a decision management platform that simplifies the development and deployment of rules-based applications and services, and a business resource planner based on the OptaPlanner community project.
Because of pressures from digital transformation initiatives, both business leaders and IT are seeing increased demands to deliver greater efficiency and agility throughout the application lifecycle. Luckily,  Process Automation Manager is designed to foster closer collaboration between the two groups by enabling business users to directly participate in creating new business applications using business-friendly concepts, while retaining the governance and oversight required by IT for application scalability and security.
Red Hat Process Automation Manager is available for download by members of the Red Hat Developer community. Customers can get the latest updates from the Red Hat Customer Portal.
"Process automation technology materializes the benefits of Red Hat's vision and strengths—open hybrid cloud, containers, DevOps, microservices—for the business," said Mike Piech, vice president and general manager, Middleware, Red Hat. "With Red Hat Process Automation Manager, business professionals can collaborate side-by-side with technical architects to optimize workflows, rapidly introduce new offerings, and drive operational efficiency in ways that delight customers and outmaneuver competitors in an increasingly digital world."
Read the full press release here.
---
Looking for more? Download our Business Process Management Buyer's Guide for free to compare the top-24 products available on the market with full page vendor profiles. The guide includes four key capabilities to look for in a BPM platform, plus questions to ask before purchasing. It's truly the perfect resource for anyone looking to find the right BPM for their business/organization, or those looking to replace an existing one.
And don't forget to follow us on Twitter, LinkedIn and Facebook for all the latest in Work Tech!

Latest posts by Elizabeth Quirk
(see all)