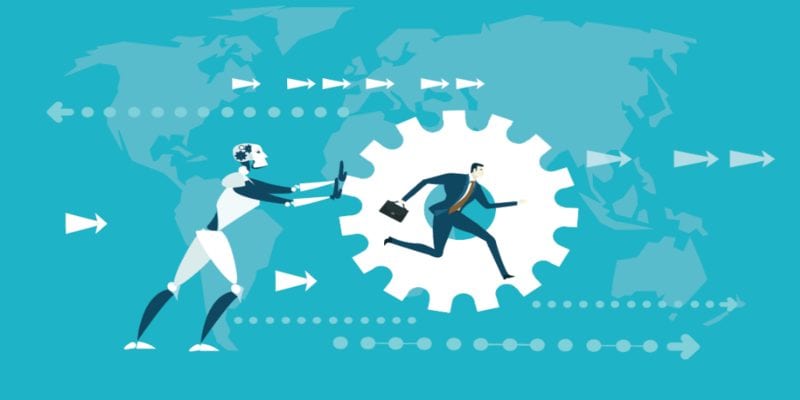 Robotic Process Automation (RPA) technologies create software-based 'robots' that are capable of following pre-set processes in order to complete work that would otherwise require manual labor. Similar to Business Process Management Software (BPMS), RPA offers a solution for enterprises that are suffering from inefficiencies and challenges associated with legacy software systems. Not to say one is better than the other though, because both RPA and BPMS are crucial to process-related solutions and essential to an organization's digital transformation.
BPM(S)
BPM is known to be a systematic approach to streamlining business processes in a way that drives profitability and ensures maximum efficiency within an organization. BPMS, on the other hand, is a process automation tool. It helps you map out your everyday processes to identify and eliminate bottlenecks, control your company's costs, make your day-to-day processes as efficient as possible, and ensure the effectiveness of the people involved in your processes.
These platforms allow teams to create process automation workflows which can then be integrated with multiple different systems. This can promote information and data exchange from one system to the next and turn mundane, manual processes into automated ones.
RPA
RPA is a much more recent development with roots firmly grounded in BPM. As stated previously, RPA technology create software-based 'robots' that are capable of following pre-set processes in order to complete work that would otherwise require manual labor. In this way, RPA approaches business process in a closer, more human-touch sort of way. RPA has the power to provide dramatic improvements in accuracy and cycle time and increased productivity in transaction processing while it elevates the nature of work by removing people from dull, repetitive tasks.
In the simplest terms, RPA "robots" are revolutionizing the way business leaders think about and administer business processes, IT support processes, workflow processes, remote infrastructure and back-office work.
Combining the two
Leveraging RPA and BPM to build a comprehensive automation strategy requires companies to take a look at different automation technologies in order to understand the interplay. Many businesses these days are stuck with complex business processes and legacy business systems that can create issues in the path of innovation. For these businesses, combining RPA and BPM can generate impressive results to build modern business applications while avoiding time-consuming and costly integration projects.
So far, RPA and BPM are not in conflict with each other, they just simply aim at completing the same goal with different implementation strategies. In times when you have to completely transform a process instead of relying on a surface level fix, BPMS comes in handy. If a business cannot afford to start over and build from the ground up like this, then RPA can be the most fitting solution in order to continue operations while searching for a deeper fix that will not decommission the process for long.
As digital transformation continues to evolve, BPMS is growing alongside this trend. According to Phil Simpson, Senior Principal Product Marketing Manager for Red Hat, BPMS is now being used to create new applications that engage with and bring value to their customers, as opposed to primarily automation back-office workflows.
While BPM systems were originally deployed to improve operational efficiency and lower cost, they now tend to be used as application development platforms that can contribute more to top line revenue. Simpson states, "BPMS is enabling useful and engaging apps focused on business processes and decisions, and as such, it is becoming an increasingly important part of the developers toolkit in the quest to build modern apps."
A great example of both technologies being utilized can be seen in Appian's partnership with Blue Prism. Integrating the Blue Prism RPA metrics along with Appian's BPM metrics can open up new areas of improvement within the organization. Appian's analytics & reporting can now slice and dice the data in multiple dimension to provide a deeper insight into the process automation and better understanding of optimizing and managing exceptions.
Today, having a BPM solution in place is crucial for a modern app development program, as well as streamlining workflows and automating business processes. Incorporate both BPM and RPA into your company strategy, and watch your business grow like no other.
---
Looking for more? Download our Business Process Management Buyer's Guide for free to compare the top-24 products available on the market with full page vendor profiles. The guide includes key capabilities to look for, a BPMS market overview, our bottom line analysis, plus questions to ask before purchasing. It's truly the perfect resource for anyone looking to find the right BPM for their business/organization, or those looking to replace an existing one.
And don't forget to follow us on Twitter, LinkedIn and Facebook for all the latest in Work Tech!

Latest posts by Elizabeth Quirk
(see all)