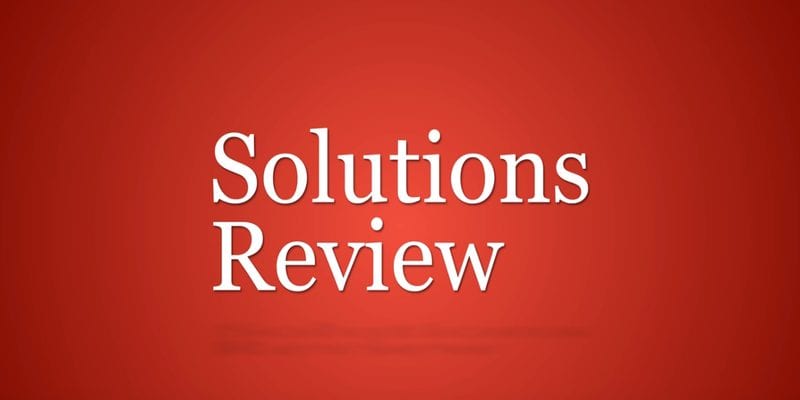 Solutions Review, enterprise technology and business software review site, is proud to release an all new resource for comparing business process management software, the Business Process Management Buyer's Guide. Solutions Review has developed this guide to assist buyers in search of the best possible tool to fit the needs of their organization. This resource features 5 important questions to ask during the buying process, key capabilities to be on the lookout for, and full, one-page vendor profiles that provide a solution overview, three key features, contact information and our own 'Bottom Line' analysis.
Top providers highlighted include: Appian, Pegasystems, TIBCO, Nintex Software and bpm'online.
Business Process Management (BPM) software is a technology solution which enables businesses to design, analyze, execute, monitor and optimize important processes. It is a valuable automation tool for enterprises to generate a competitive advantage through cost reduction, process excellence, and continuous process improvement.
BPM software helps managers and CEO's measure, respond and control all operational processes and apply IT solutions directly to them. BPM solutions also help coordinate the improvement of staff productivity by automating the daily workforce tasks they would be doing manually if a BPM system wasn't in place. By implementing a BPM solution into your organization, it helps to put into effect quick responses to challenges and opportunities, at the same time helping business leaders make the right decisions for overall company growth.
At a minimum, BPM software must address the four core elements of process-based application development:
Design – create process-based solutions to help your company operate smoothly.
Execute – make your processes come to life and fast.
Manage – keep you applications going to continually meet your goals.
Optimize – automate everything for consistent and continuous improvement.
In such a dynamic tech marketplace, business leaders are feeling the pressure to remain competitive, while decreasing costs and increasing productivity by improving business processes. In order to defeat these challenges, many organizations are looking to the benefits that BPM software can provide, such as enhanced operational efficiency, improved customer service and an increased service innovation.
Download the latest Business Process Management Buyer's Guide.
---
About Solutions Review
Solutions Review is a collection of technology news sites that aggregates, curates, and creates the best content within leading technology categories. Solutions Review's mission is to connect buyers of enterprise technology with the best solution sellers. Over the past four years, Solutions Review has launched more than ten technology buyer's guide sites in categories ranging from cybersecurity to wireless 802.11, as well as mobility management, business intelligence and data analytics, data integration, business process management, ERP, and cloud platforms.
Don't forget to follow us on Twitter, LinkedIn and Facebook for all the latest in Work Tech!

Latest posts by Elizabeth Quirk
(see all)