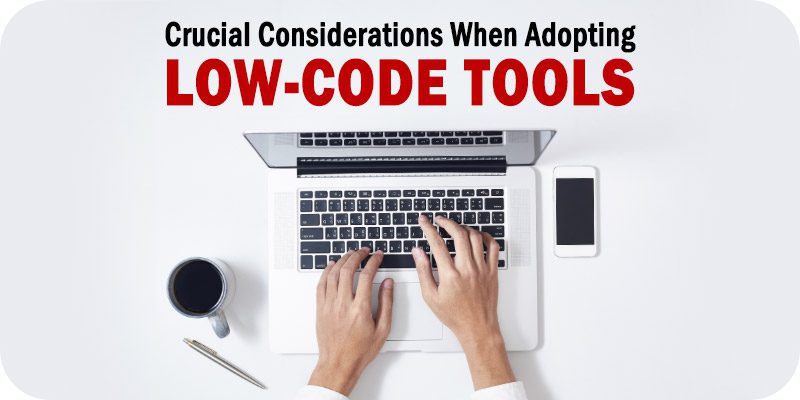 As part of Solutions Review's Premium Content Series—a collection of contributed columns written by industry experts in maturing software categories—Zdravko Kolev, the Product Development Manager at Infragistics, shares additional insights on adopting low-code development tools and platforms and the considerations companies should make when selecting a solution.

In a follow-up piece to 3 Reasons Companies Adopt Low-Code Development Platforms, Zdravko Kolev returns with additional insights into the process companies should go through when assessing, selecting, and optimizing low-code development tools and platforms for their business processes and operations. This article will cover integral considerations around the people who will be using the low-code tools, the usability of the tools, potential limitations, and scalability.
The Crucial Considerations to Make When Adopting Low-Code Tools
---
1) The Users of the Low-Code Platform 
As mentioned in the previous article, some low-code tools work seamlessly with design systems, enable cross-collaboration, and help eliminate prolonged processes like juggling designer-developer handoffs and POCs. This means that screen design, for example, is done with a drag-and-drop, design-time experience.
What is the difference between this method and the usual UX/visual design tool? Low-code platforms have a WYSIWYG interface and build a complete running app in the background with the ability to bind data, generate code, and enable and preview real-screen interactions. This means that any team member with an idea can express the design, not just someone with access to a designer.  
With that in mind, knowing who will be using the product and what skills they possess is essential. For example, remote developers might have different needs than citizens developers. In contrast, IT developers with less technical expertise will similarly need a more accessible solution than high-level developers looking for RAD. Companies also need to account for whether the low-code system will be used by design and dev teams, one or the other, and whether or not non-technical stakeholders will be using the solution.
When researching the most appropriate product, check whether it has a built-in function to translate design files into complete apps and an application life cycle manager. However, keep in mind that low-code tools are not entirely replacing the need for technical expertise and programming skills. Although citizen developers will have the opportunity to create simpler apps, large and complex business apps will still require the skills of more experienced developers. In other words, low-code app builders should be understood as a blend-in model that complements, reinvents, and streamlines traditional coding. With the right low-code tools, businesses can bridge the demand for innovations, fewer resources, and more collaboration.
2) Ease of Use, Interface, and Built-In Functionalities
Flexibility is critical in a low-code development platform. These tools automate app design and development operations by providing reusable drag-and-drop components. When looking at a platform's specifics or testing the functions in a trial version, look for building blocks that offer a simple way to repurpose and transform boilerplate content. 
Before adopting low-code tools, ask the following questions about the functionalities and interfaces it offers:
Is it intuitive enough for citizen developers with little tech expertise?

 

Does it include a disaster recovery plan and enterprise security?

 

Can users quickly assemble components into an entire full-stack app?

 

Will the tool incorporate databases and front-end UI with reporting engines?

 

Does it offer data and event services?

 

Is there a way to measure KPIs for the business?

 

What types of architecture does the tool use to deliver business apps?

Does it integrate with other design tools?

 

How consistent is the result compared to other frameworks?

 

Does it contain everything you need?
One of the drawbacks of low-code tooling is that most systems are limited to kits with UI elements for graphic designers and rarely offer features for UX designers. This is also something that must be considered when adopting low-code tools for cross-functional teams. As such, it's essential to evaluate how intuitive the low-code development software is and whether it delivers modular building blocks that streamline UI, UX, development, and deployment of tools for the departments that will be using it.
3) Scalability, Upgrades, and Subscription Pricing 
It's crucial to choose a robust low-code development platform with kits and capabilities that can grow alongside projects, teams, and companies in general. If it's locked to a particular set of software and services without the potential to evolve and be updated, businesses may want to choose another low-code tool. The best systems must be able to change, fit and evolve.
Questions to ask during the evaluation process include: 
Is this low-code tool being updated to meet business and end-user demands and needs like business-specific templates, clear choices for appointment scheduling, or curse registration?

 

Does its price exceed the capacity of features and work that can be done with it?

 

What is the subscription model? is it "per user" or "per application"? Is it an individual product or part of a bigger product bundle plan?

 

Is there a trial version, and is the duration of it enough to make a "purchase-driven" decision?

 
A low-code development platform should be scalable and capable of evolving with new components and capabilities to match changing trends in design and development, expectations, and business growth.
4) Limitations – They Are Inevitable
There is no one-size-fits-all solution. There will be compromises that you will have to make but evaluate them wisely. For example, some systems may have a low number of UI elements or visualization options limited to one or two chart types. And this may not be enough for your projects, especially if they are hyper-data-driven. Other low-code software solutions may be able to handle prototypes and offer no hand-coding development but lack the option to perform usability and user testing or options to customize designs.  
Companies need to be clear in the functionalities and specs and know the drawbacks of each given system to acknowledge the compromises they're willing to make. Since software limitations are inevitable, users must consider a few questions when selecting a low-code platform:
Is your goal to eliminate heavy coding and generate editable, testable, production-ready code?

Is this a temporary solution for use while working with remote developers?

 

Is the goal to eliminate the need for designing screens and use pre-built templates, layouts, and screens instead?

 

Does the system include all the tools the intended user will need but at a price that exceeds the budget?

 

Does it eliminate repetitive code and accelerate product delivery?

Will the solution requires companies to skill-up existing or new developers to use the low-code tool to its full potential?

 
In this highly digital era where velocity and quality in software development clash with the skilled developer shortage and increased customer demands, the use of modern-day low-code automation tools is a must for businesses and departments across industries. Adopting low-code tools is imperative to accelerate digital product development processes and digital transformation in businesses and can be a crucial addition to any company's evolving tech stack.
---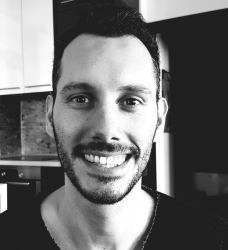 Latest posts by Zdravko Kolev
(see all)