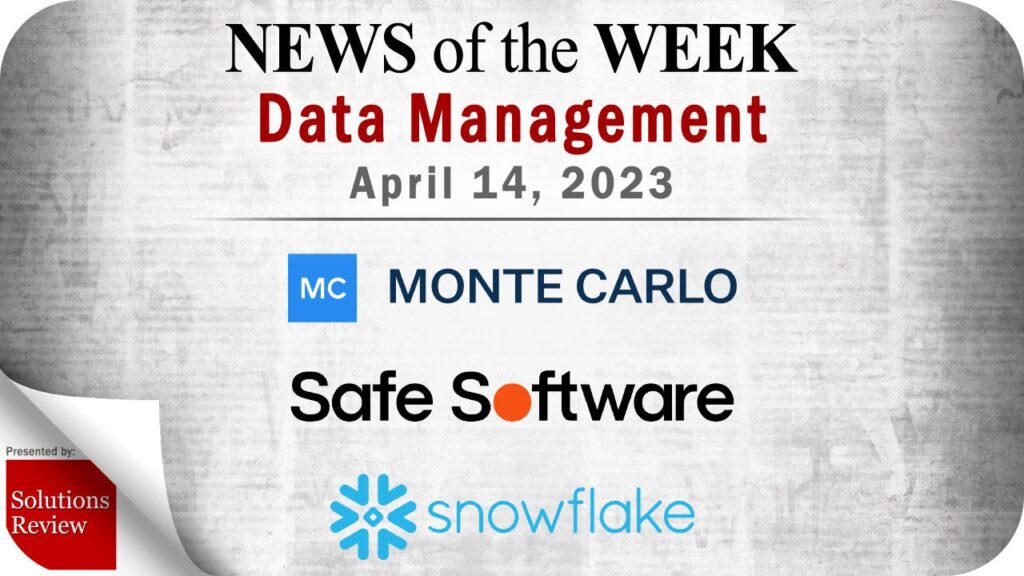 Solutions Review editors curated this list of the most noteworthy data management news items for the week of April 14, 2023.
Keeping tabs on all the most relevant big data and data management news can be a time-consuming task. As a result, our editorial team aims to provide a summary of the top headlines from the last week, in this space. Solutions Review editors will curate vendor product news, mergers and acquisitions, venture capital funding, talent acquisition, and other noteworthy big data and data management news items.
Top Data Management News for the Week Ending April 14, 2023
Aiven Unveils Free Plans for its Open-Source Database Services
The free plans include many advanced Aiven platform features. These include dedicated instances, daily backups, Terraform integration and more. Once initiated, Aiven free plans can be seamlessly, securely, and automatically upgraded to larger, paid plans as required.
[hr style="single"]
Cybersyn Raises $62.9 Million in Series A Funding
Cybersyn is a data-as-a-service (DaaS) company, focused on making the world's economic data available to governments and businesses. Cybersyn aspires to combine public and proprietary data to create derived products useful for market intelligence, investment, and policy decisions.
[hr style="single"]
Melissa Offers Free Data Tools with New Education Portal
This new resource, available to individuals with a valid .edu email address, is designed to introduce future data scientists to the inherent value of data and its global relevance in an ever-increasing range of industries and applications. The portal further enables a practical approach to active learning, empowering students to request specific datasets for use in research and capstone projects.
[hr style="single"]
Redgate Drops New Test Data Management Tool Called Redgate Clone
Taking advantage of database virtualization technologies, Redgate Clone enables small and light clones of databases to be created manually or as part of an automated process, which can be used for development and testing, and as part of Continuous Integration and Continuous Delivery pipelines.
[hr style="single"]
Infragistics' Slingshot Unveils New Real-Time Data Catalog
Using Slingshot's new Data Catalog, companies can now bring together all data sources that track performance, process, people and profitability–across departments, platforms and channels–all in one place. As a result, teams can easily generate visual snapshots of their work, in real-time or over time, to better understand and drive action using data.
[hr style="single"]
Snowflake Launches Manufacturing Data Cloud Solution
The Manufacturing Data Cloud empowers manufacturers to collaborate with partners, suppliers, and customers to improve supply chain performance, product quality and factory efficiency. Snowflake's ecosystem of manufacturing partners delivers pre-built solutions and industry datasets to support a diverse set of manufacturing and industrial use cases.
[hr style="single"]
ThinkData Works Releases Automated Data Warehouse Discovery Solution
Customers will be able to automatically gather metadata from their preferred warehouse environment, in addition to automatically scanning and virtualizing multiple datasets within minutes, enabling streamlined sharing and management of data.
[hr style="single"]
Expert Insights Section
Watch this space each week as Solutions Review editors will use it to share new Expert Insights Series articles, Contributed Shorts videos, Expert Roundtable and event replays, and other curated content to help you gain a forward-thinking analysis and remain on-trend. All to meet the demand for what its editors do best: bring industry experts together to publish the web's leading insights for enterprise technology practitioners.
Solutions Review Set to Host Monte Carlo for Exclusive Webinar on April 27
With the next Solutions Spotlight event, the team at Solutions Review has partnered with leading reliability vendor Monte Carlo to provide viewers with a unique webinar called Architecting for Data Quality in the Lakehouse. Join us for a live tech talk and learn about architecting for data quality in the lakehouse with Delta Lake and PySpark.
For consideration in future data management news roundups, send your announcements to the editor: tking@solutionsreview.com.