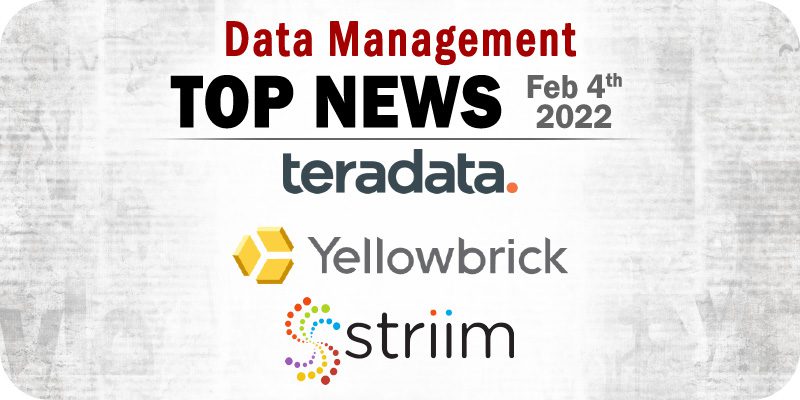 The editors at Solutions Review have curated this list of the most noteworthy data management news items for the week of February 4, 2022. In this week's roundup, partner news from Teradata, Yellowbrick Data, Striim, Microsoft and more.
Keeping tabs on all the most relevant big data and data management news can be a time-consuming task. As a result, our editorial team aims to provide a summary of the top headlines from the last week, in this space. Solutions Review editors will curate vendor product news, mergers and acquisitions, venture capital funding, talent acquisition, and other noteworthy big data and data management news items.
Top Data Management News for the Week Ending February 4, 2022
Teradata and Microsoft Partner Up on New Global Initiative
The partnership will integrate the Teradata Vantage data platform with Microsoft Azure. With this announcement, businesses seeking to modernize their data analytics workloads with security, reliability, and elasticity – even on a massive scale – can leverage the technology of both companies. Teradata Vantage on Azure is already heavily integrated with the Azure ecosystem, including more than 60 Azure data services.
Yellowbrick Data Announces Partnership with Nippon Information and Communication Corporation (NI+C)
The partnership aims to advance Yellowbrick's global expansion strategy by offering simplicity of the cloud experience, across private and public deployments or at the edge, for mission-critical applications to Japanese markets. NI+C provides computer hardware and software solutions, including management-related solutions for customers in various fields like systems development, products & services, and network services.
Striim and Microsoft Unveil Collaboration for Database Modernization on Azure
This collaboration accelerates the data modernization journey to Azure, helping enterprises modernize their business applications and deploy new cloud-native applications, while maintaining business continuity. This service offering is the latest addition to Striim's relationship with Microsoft, which currently provides continuous, real-time data movement and in-stream transformations to Azure data and analytics services.
MariaDB Corporation Set to Go Public via Combination with Angel Pond Holdings
MariaDB is highly relevant in the open source software community and cloud, and its next growth phase will be primed by NYSE listing and enhanced capital access. This transaction implies a pro forma MariaDB enterprise value of approximately $672 million. Upon closing of the transaction, the combined company will be named MariaDB plc and led by MariaDB's CEO Michael Howard.
Tamr Core is Now Available on SAP Store
Tamr's data mastering platform integrates with SAP Master Data Governance and SAP Data Intelligence and helps companies to power their SAP®technologies. Data mastered by Tamr Core can be published to existing applications such as enterprise resource planning systems, customer relationship management platforms, master data governance, and data warehouses for broad consumption across a business to drive initiatives around creating a single view of customers, spend classification, and supply chain management, among others.
Informatica Aims to Support Growing Demand for Data Management in the UK
Informatica is expanding the availability of its Intelligent Data Management Cloud (IDMC) in the EMEA region with a new UK Point of Delivery (PoD) to support organizations in the UK with a growing need for data sovereignty. With the UK now outside of the European Union, businesses are navigating increasingly complex data privacy and locality regulations, making UK-hosted cloud services an attractive proposition.
DataOps.live Nabs $10.3 Million Seed Funding Round
DataOps.live enables organizations to secure and govern their data, automate testing, orchestrate data pipelines, build full data applications, and so deliver new value to stakeholders: reduce time to insight and accelerate time to value. DataOps customers already include the world's largest biotech company Roche, the world's second-biggest satellite operator OneWeb, and Canadian e-commerce and digital content delivery provider Mavtek.
Onehouse Secures $8 Million in Seed Funding for Open-Source Data Lakehouse Service
Onehouse is a cloud-native, managed foundation for your lakehouse that automatically ingests, manages and optimizes data for faster processing. The solution is a self-managing data layer that interoperates with any of the popular query engines or data/table formats and vendors out there so you can pick what best suits your needs.
For consideration in future data management news roundups, send your announcements to tking@solutionsreview.com.

Latest posts by Timothy King
(see all)