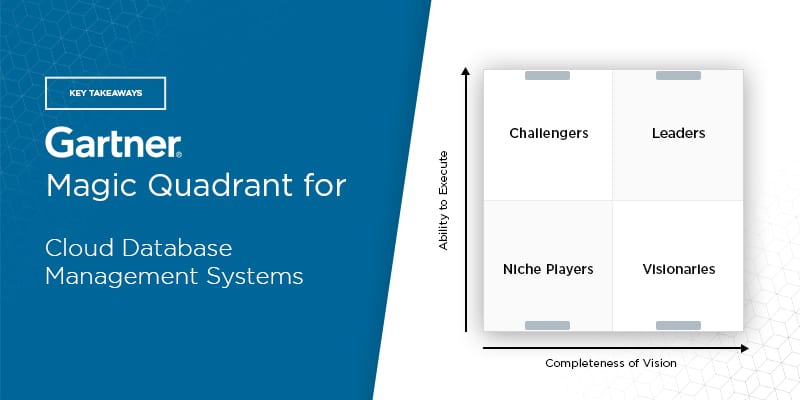 The editors at Solutions Review provide their key takeaways from Gartner's 2020 Magic Quadrant for Cloud Database Management Systems.
Analyst house Gartner, Inc. recently released its new 2020 Magic Quadrant for Cloud Database Management Systems. Gartner defines the market as being for products from vendors that "supply fully provider-managed public or private cloud software systems that manage data in cloud storage. Data is stored in a cloud storage tier (such as a cloud object store, a distributed data store or other proprietary cloud storage infrastructure), and may use multiple data models — relational, nonrelational (document, key-value, wide-column, graph), geospatial, time series and others."
Vendors listed in this space reflect optimization strategies designed to support transactions or analytical processing for one of several important use cases. The researcher does not include vendors that only provide DBMSs hosted in infrastructure as a service. In terms of strategic planning, Gartner projects that 75 percent of all databases will be deployed or migrated to a cloud platform by 2022. By 2023, cloud preference for data management will "reduce the vendor landscape while the growth of multicloud increases the complexity for data governance and integration" according to Gartner.
While the cloud DBMS market is now new, what is new, according to Gartner's client inquiry service, is the growth in cloud revenue, the percentage of revenue in the cloud versus overall DBMS revenue, and the decreasing interest in on-prem products. There are also several major trends currently underway in this space, including multicloud, intercloud and hybrid cloud, flexible pricing models and financial governance, open-source software, serverless and cloud object stores multimode versus "best-fit engineered" dbPaaS, and cloud data ecosystems.
Gartner highlights the following representative providers in cloud database management systems to consider: Alibaba Cloud, Amazon Web Services, Cloudera, Databricks, Google, Huawei, IBM, InterSystems, MarkLogic, Microsoft, Oracle, Redis Labs, SAP, Snowflake, Tencent, and Teradata. At Solutions Review, we read the report, available here, and pulled out the key takeaways.
Amazon Web Services tops the chart
AWS offers a range of database services based on a number of use cases. For operational use cases, organizations should consider Amazon Relational Database Service, Amazon Aurora, and Amazon DynamoDB. For analytic ones, customers should test-drive Amazon Redshift, Amazon Athena, and Amazon EMR. Not only is AWS the largest cloud database service provider on the planet, but it is also the most mature. Gartner sample users speak highly of the performance when using Aurora, Redshift, and DynamoDB. Amazon also has a better track record for availability and reliability than other hyperscale providers, according to the report.
Magic Quadrant Leaders feature mature product offerings
Take a quick glance at this Magic Quadrant's Leaders column and you will see that all the major players in this space tout long track records in multiple product categories. While AWS leads the pack, the Leaders column also includes names like Microsoft, Google, Oracle, SAP, IBM, Alibaba Cloud. and Teradata. What's also interesting is that companies like Snowflake, Redis Labs, MarkLogic, InterSystems, and Databricks project to enter the Leaders bracket in subsequent reports based on each vendor's current trajectory.
Cloudera's position is questionably low
Hurting Cloudera's position in this Magic Quadrant is its entrenched base of on-prem users, though it continues to support and update these during the transition to its new CDO platform and the ongoing movement of customers to the cloud. According to Gartner "Its hybrid architecture for management and governance will smooth this transition." Many know Cloudera as an innovator in open-source (Flink, Hadoop, Spark) while the vendor continues to focus on cloud deployment via the creation of a governed architecture.

Latest posts by Timothy King
(see all)