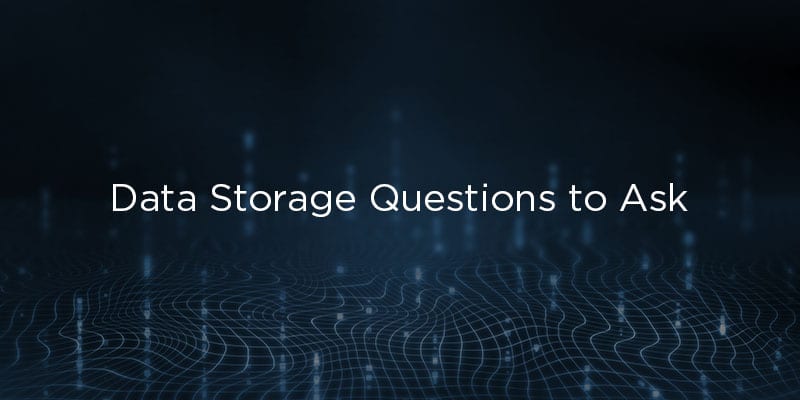 Data storage questions to ask solution providers is an annual sneak peak at the top-of-mind concepts to consider during product evaluation. For five key data storage questions to ask yourself, consult our Buyer's Guide for Enterprise Data Storage.
Cue the process of seeking out, evaluating, purchasing, and deploying a data storage solution. Each features a particular set of capabilities, strengths, and drawbacks. Choosing the right vendor and solution is a complicated process—one that requires in-depth research and often comes down to more than just the solution and its technical capabilities.
To help you evaluate prospective data storage solutions, these are five data storage questions to ask solution providers during product evaluation. If you find these questions helpful, check out our Buyer's Guide which features five more questions to ask yourself, a comprehensive overview of the market, and full, one-page profiles of the top-28 offerings, as well as our 'Bottom Line' analysis.
Are you government compliant?
To mitigate legal concerns, it's essential to be sure that your data storage provider is up to date with all government regulatory compliances, including PCI, HIPAA, and SOX. Each governing body has a specific approach for testing for compliance. Therefore, you'll want to have an understanding of the parameters of compliance and be able to validate that your potential provider has all compliance metrics enforced strictly.
What are your security measures?
Data breaches are very prevalent today, and you want to do everything you can to avoid that experience. Determine the methodology and technology that your provider will use to protect and control access to your data and ensure that it meets current security trends and regulations. Look into the frequency and depth of a provider's penetration testing and authentication methodology. Look for vendors that offer two factor authentication, as that capability can protect against brute force attacks.
What are your billing policies?
It's imperative to learn your provider's billing method and how often you will be billed up front. Data storage providers will usually set a fee for PUT, COPY, POST, or LIST commands, and then set another fee for GETS. For example, placing data in cold storage can be relatively cheap, but when accessing data through the GET command, you may be billed at a higher cost per transaction. Pricing will also be based on the speed of the storage, as well as the aforementioned commands. Billing can be complex, so getting all the information you can on billing policies will make the decision-making process simpler.
Where will my data be stored?
The location where your data will be stored is critical. It is essential that your data is stored in the country that you are doing business in, and that your data storage provider is bound by, and following the compliance regulations of that country. By learning where your data will be stored, you will gain insight into possible compliance or data sovereignty risks to consider. Take into account if the are is prone to natural disasters or network outages. Additionally, vendors with multiple locations are usually more readily equipped to handle geo-distribution needs.
What method of encryption do you use?
If a provider offers data encryption, ask them what encryption method they use. Some methods are more secure than others, such as 128 bit versus 256 bit encryption. Additionally, inquire as to if they utilize SSL transfer encryption, which delivers another layer of protection during the file transfer. Another option to consider is whether or not the provider allows third-party encryption to be implemented. If they do, this will allow you town the security keys, and further protect yourself from ransomware and cyber attacks.
Latest posts by Timothy King
(see all)