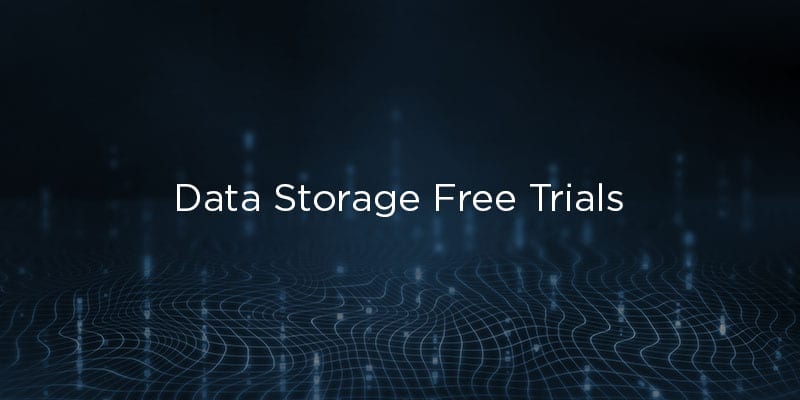 Enterprise data storage solutions have evolved over the years to include technologies that greatly improve the data management process. There are a wide variety of options out there for organizations small and large, many offering advanced capabilities. However, identifying the data storage products that are best for your organization can be a painstaking process, often involving lots of research and long hours speaking to vendor representatives. To make the vendor selection process an easier one, Solutions Review has compiled this list of 8 data storage free trials to explore during the vendor selection process.
Though testing out different solutions could add more time to the process of seeking out and selecting the vendor that's right for you, we believe it to be worthwhile. It will also provide you more exposure to the tools available in the space, and perhaps even make you aware of features you weren't before. Without further ado, these are the top providers in the enterprise data storage market offering free trials and a brief synopsis of each. Clicking on the

buttons will send you directly to each company's free trial details where you can learn more or sign up and get started.
Cloudian
Cloudian is an independent provider of object storage systems, offering S3 compatibility along with a partner ecosystem. The vendor's flagship solution, HyperStore, offers scalability, flexibility, and economics within the data center. Cloudian's data fabric architecture allows enterprises to store, find, and protect object and file data across sites. These processes can take place both on-prem and in public clouds. The Cloudian Hyperstore free trial is good for 45 days and includes 100TB of free storage.

Caringo
Caringo offers object-based technology for accessing, storing, and distributing unstructured or file-based data. The vendor's flagship product, Caringo Swarm, provides private cloud storage that enables users to deploy storage clusters without being locked into proprietary hardware. In addition to data storage, the provider offers enterprise IT, medical, high-performance computing, and media and entertainment solutions. Caringo's storage platform is available via private, public and hybrid cloud environments.

Nutanix
Nutanix provides cloud software, compute and storage infrastructure, and hyperconverged infrastructure solutions. The company's converged compute and storage architecture can scale manage petabytes of data while running thousands of virtual machines. Nutanix Acropolis offers built-in AHV virtualization, networking services, platform services, and enterprise storage features like data protection and disaster recovery.

Pure Storage
Pure Storage is an all-flash enterprise storage provider that enables broad deployment of flash in data centers. The vendor's platforms accelerate random I/O-intensive applications such as server virtualization, desktop virtualization (VDI), database (OLTP, rich analytics/OLAP, SQL, and NoSQL), and cloud computing. Pure Storage also enables users to adopt next-generation technologies like artificial intelligence and machine learning. This trial is limited to non-production workloads using VMWare only.

Qumulo
Qumulo is an enterprise data storage startup whose solutions are available on Qumulo storage servers, on hardware from companies such as Dell and HPE, and natively on AWS in the public cloud. The provider was formed by professionals from Isilon Systems, Adobe, and Wily Technology. The vendor offers Qumulo File Fabric (QF2), a scale-out NAS tool that runs on-prem and in the public cloud, as well as preintegrated Qumulo Core appliances.

Rackspace
Rackspace provides hybrid cloud-based services, Infrastructure as a Service (IaaS), and web hosting. The vendor offers Cloud Files and Cloud Block Storage, and public cloud services are offered in data centers in the central and eastern United States, the United Kingdom, Australia, and Hong Kong. Though many know Rackspace as primarily a web hosting and managed service provider, the company has shifted its strategy toward public cloud tools.

SUSE
SUSE is an open source software provider that delivers software-defined infrastructure and application delivery solutions. SUSE Enterprise Storage (SES) is based on Ceph and provides unified access for block, file, and object protocols. The provider is one of eight founding organizations on the Ceph Advisory Board, and a contributor to the Ceph open source community. SES is delivered as software or as reference architecture through hardware OEMs with Dell EMC, Supermicro, HPE, Lenovo, Huawei, Fujitsu, and Cisco.

SwiftStack
SwiftStack provides private cloud storage, offering the benefits of public cloud on infrastructure IT controls. The vendor's public cloud storage offerings come from Amazon, Google, and Microsoft. SwiftStack storage can be addressed over file services or via object APIs for use in content delivery, active archive, collaboration, and other data-centric workflows. SwiftStack is the main contributor to the OpenStack Swift project, as well as 1space and ProxyFS, which are dedicated to hybrid/multicloud and file access.

Latest posts by Timothy King
(see all)