The 12 Best Distributed File Systems and Object Storage Solutions for 2023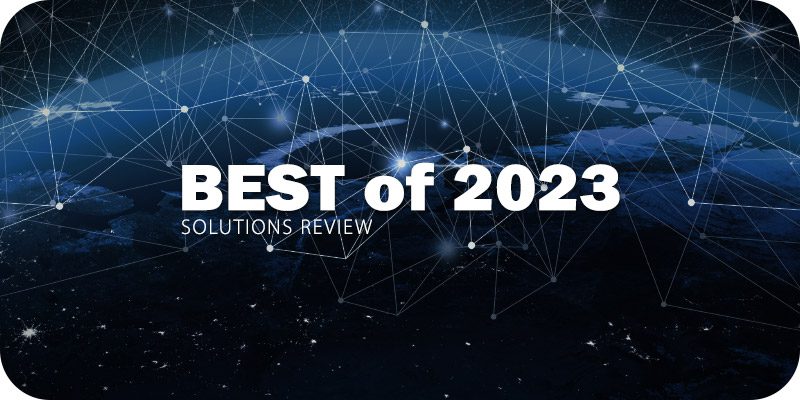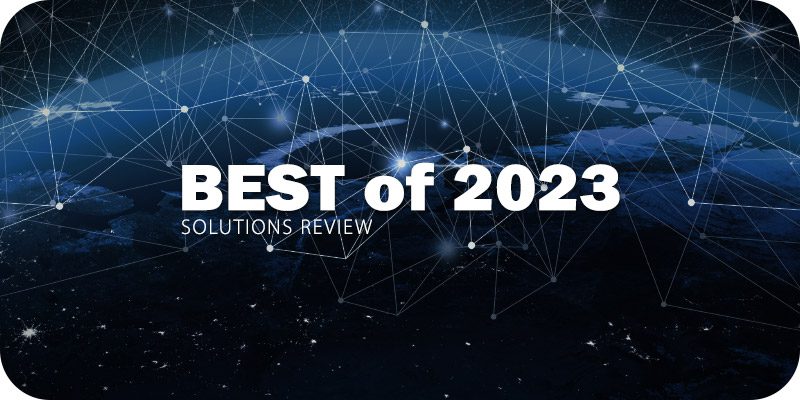 Solutions Review's listing of the best Distributed File Systems and Object Storage solutions is an annual mashup of products that best represent current market conditions, according to the crowd. Our editors selected the top Distributed File Systems and Object Storage solutions based on each solution's Authority Score, a meta-analysis of real user sentiment through the web's most trusted business software review sites, and our own proprietary five-point inclusion criteria.
Distributed file system storage utilizes a single parallel file system in order to cluster multiple storage nodes together. This system presents a single namespace and a storage pool to deliver high-bandwidth data access for multiple hosts in parallel. Data is then distributed over nodes in the cluster to provide data availability and resilience, and to scale capacity and throughput in a linear manner. Conversely, object storage references systems and software that store data in structures called "objects."  These tools serve users data through RESTful HTTP APIs, which have, in effect, become the standard for accessing object storage.
Though they are separate methods of storage, the distributed file systems and object storage markets are steadily merging. Distributed file systems and object storage platforms are software and hardware-based on distributed design. These solutions support object and/or scale-out file technology as a means to address business needs resulting from unstructured data growth. The market for these platforms is based on distributed computing architecture where there is no single point of failure or contention across the system. To put a finer point on it, the solutions must have a fully distributed architecture where data and metadata are replicated, distributed, or erasure-coded over a network across multiple nodes in a cluster.
Selecting the best distributed file systems and object storage solutions to use can be a daunting task, and we're here to help. That's why our editors have compiled this list of the best distributed file systems and object storage products to consider if you're looking for a new solution.
Check out our online data storage best practices section for even more guides, advice, and how-to content.
Caringo Inc. provides object-based technology for accessing, storing, and distributing unstructured or file-based data. Its flagship product, Caringo Swarm, delivers private cloud storage that enables users to deploy storage clusters without being locked into proprietary hardware. The provider delivers a scalable SDS solution with universal support for traditional file data, object storage APIs, and public cloud data. Caringo's storage platform is offered in private, public, and hybrid cloud environments. Users also have the ability to scale on–premise with any mix of x86 hardware. Caringo was among the first generation of object storage vendors and has provided an object solution for over 13 years.
Cloudian is an independent provider of object storage systems, offering S3 compatibility along with a partnership ecosystem. The vendor's flagship solution, HyperStore, is a scale-out object platform designed for high-throughput object storage workloads. It provides scalability, flexibility, and economics within the data center. HyperStore also delivers an add-on file gateway to manage file workloads. Additionally, Cloudian's data fabric architecture allows enterprises to store, find, and protect object and file data across sites. These processes can take place both on-prem and in public clouds within a single, unified platform.
DataDirect Networks, also known as DDN, is a provider of scalable storage and processing solutions, as well as professional services. Organizations have the ability to use a range of DDN storage platforms to capture, store, process, analyze, collaborate, and distribute data, information, and content at a large scale. DDN's solution, EXAScaler, is a distributed file system that runs on-prem and in the cloud.  EXAScaler is aimed at large-scale, high-throughput file workloads and WOS (DDN's secondary platform) is positioned as a long-term repository and as a tier for EXAScaler. The vendor provides services to financial services firms, healthcare organizations, energy companies, government facilities, and cloud service providers.
Hitachi Vantara assists enterprises with storing, enriching, activating, and monetizing their data. The provider offers four solutions under the umbrella of object storage, namely, Hitachi Content Platform (HCP), HCP Anywhere, Hitachi Data Ingestor (HDI), and Hitachi Content Intelligence. Each provides object storage, file synchronization, sharing, end-user data protection; a cloud file gateway; and search and analytic insights. The HCP portfolio is a component of broader strategic initiatives for data management and analytics and offers an ecosystem that spans a range of verticals and solution domains. The vendor is a wholly–owned subsidiary of Hitachi, Ltd., and also offers backup and disaster recovery solutions.
Huawei Technologies is a telecom solutions provider that offers infrastructure application software and devices with wireline, wireless, and IP technologies. Regarding storage, Huawei provides all-flash storage, hybrid flash storage, cloud storage, Hyperconverged Infrastructure (HCI), and data management. The vendor offers OceanStor 9000 V5 as a file systems platform and OceanStor 100D (formerly FusionStorage) as a block and object storage solution. OceanStor 100D is a good fit for private cloud, archiving, and content distribution, whereas OceanStor 9000 is typically utilized for video surveillance, rich-media distribution, and commercial high-performance computing (HPC). In the coming years, Huawei will position OceanStor 100D as its flagship solution for all unstructured data needs.
IBM offers various technology and consulting services, including predictive analytics and software development. The provider offers a range of storage options, including flash storage, Software-Defined Storage (SDS), data protection software, hybrid storage arrays, Storage Area Networks (SAN), and tape storage. IBM Spectrum Scale is the vendor's file system product, which runs on-prem and in public clouds. Its object storage offering, Cloud Object Storage (COS), also runs on-prem and in the IBM Cloud. Spectrum Scale is recommended for commercial HPC and analytics, while COS is a better fit for archive and private cloud storage. Spectrum Scale offers support for OpenShift containers and IBM COS recently added higher-performance appliances, as well as certified new third-party servers.
Inspur provides big data services, cloud data centers, cloud services, and smart enterprises. The provider's Inspur AS13000G5 series platform delivers a unified software solution for both file and object storage. Inspur provides three AS13000G5 products for petabyte-scale applications for high-definition video, high performance, high reliability, and cloud-based deployments. The vendor's storage platform is a good fit for commercial HPC, backup and archiving, analytics, and hybrid cloud. While Inspur provides many services, its storage business is the second-largest within the company, after its server business. 
While NetApp predominantly offers on-prem storage infrastructure, the provider also specializes in hybrid cloud data services that facilitate the management of applications and data across cloud and on-prem environments. The vendor's object storage solution, StorageGRID, is a platform available as software and hardware appliances that can run in the public cloud and on-prem. NetApp also supports tiering of data from on-prem StorageGRID to the public cloud services, AWS and Azure. Additionally, the provider offers information life cycle management (ILM) at ingest, a per-node capacity increase to 2.8PB and 1 billion objects, active-active high-availability load-balancing software, and multi-factor authentication.
Pure Storage is an all-flash enterprise storage provider that enables the broad deployment of flash in data centers. FlashBlade is the provider's purpose-built unified file and object product. Pure Storage provides a scale-out distributed file system that can handle tens of billions of files and objects for maximum throughput and parallelism by adding blades to scale capacity and performance. Additionally, the vendor offers support for scaling to 150 blades, as well as replication and file system rollback for its Purity//FB software. Pure Storage also enables users to adopt next-generation technologies, including artificial intelligence and machine learning, to maximize the value of their data. In 2020, Pure Storage acquired Portworx for $370 million.
Qumulo is an enterprise data storage provider whose solutions are available on Qumulo storage servers, on hardware from companies such as Dell and HPE, and natively on AWS in the public cloud.  Qumulo File System is a software-defined solution that runs on-prem and in the public cloud. The platform is designed for large-scale, high-throughput file workloads with capacity management and performance analytics. Qumulo also provides a mixed hardware node and enhanced SMBv3 support, as well as the capability to copy files from the Qumulo cluster into AWS S3. Additionally, the provider offers software that is available on AWS Marketplace, third-party hardware, and standard hardware that Qumulo sells directly to customers.
Red Hat is a software provider that offers open-source software products to the enterprise community. Red Hat provides Red Hat Ceph Storage and Gluster Storage. Ceph Storage supports block, object, and file storage access, whereas Gluster Storage is a file product. Ceph Storage also supports the underlying storage for Red Hat OpenShift Container Storage (OCS) and Red Hat Hyperconverged Infrastructure for Cloud. Ceph is recommended for content delivery and hybrid cloud, while Gluster is suited for backup, archiving, home directories, and rich media. The provider offers a multi-cloud gateway, automation, back-end storage, and installation utility.
Scality is a venture-backed software provider that delivers large-scale storage management and infrastructure solutions. The vendor's flagship solution, RING, delivers integrated file and object storage for high-capacity unstructured data workloads, runs as software on commodity hardware, and makes x86 servers scale to hundreds of petabytes and billions of objects. Additionally, RING has an end-to-end parallel architecture and a patented object storage core that increases availability and durability. The platform integrates with applications through standard storage protocols such as NFS, S3, OpenStack Swift, and Cinder. Scality differentiates itself from other vendors through its integrated file and object architecture.