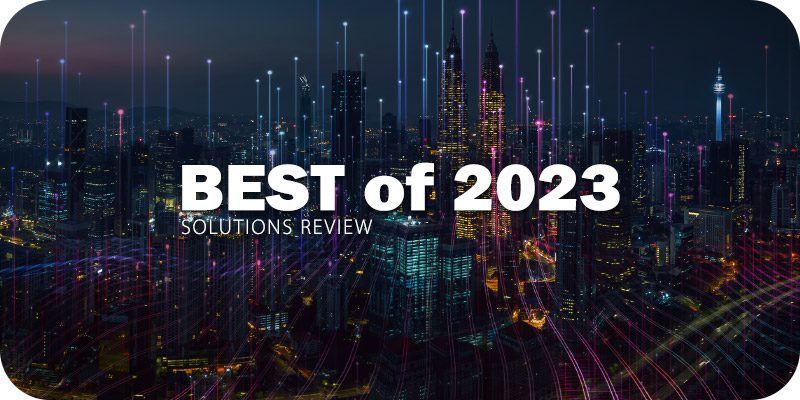 Solutions Review's listing of the best Hyperconverged Infrastructure solutions is an annual mashup of products that best represent current market conditions, according to the crowd. Our editors selected the best Hyperconverged Infrastructure solutions based on each platform's Authority Score, a meta-analysis of real user sentiment through the web's most trusted business software review sites, and our own proprietary five-point inclusion criteria.
Hyperconverged infrastructure (HCI) solutions deliver compute, storage, networking, and cloud management from a single instantiation running on server hardware. HCI software was initially used as an alternative to costly and complicated storage arrays for VMware environments. These tools, formerly referred to as hyperconverged integrated systems (HCIS), were mainly sold as appliances by a single hardware provider. However, as the market has evolved a distinction between HCIS and HCI has developed.
All HCI solutions include a specific set of capabilities, including virtual compute, storage, and networking, using a scale-out, shared-nothing architecture. Additionally, HCI software includes unified management, local direct-attached storage (DAS) in each node, high availability, data services, and a level of choice of server and network hardware. Some of these features may be enabled by hypervisors, management tools, and networking, or via a storage platform combined with third-party software providers to complete the software stack. Additionally, some HCI providers have begun to offer cloud services.
Selecting the best hyperconverged infrastructure vendor to use can be a daunting task, and we're here to help. That's why our editors have compiled this list of the 14 top hyperconverged infrastructure vendors to consider if you're looking for a new platform.
Check out our online data storage best practices section for even more guides, advice, and how-to content.
Cisco's hardware, software, and service offerings are designed to provide easy access to information from any location, at any time. The vendor's hyperconverged infrastructure tools are based around its HyperFlex product line. The platform is available in a variety of configurations, such as HyperFlex Hybrid Nodes, which is aimed at hosting general-purpose workloads. Additionally, Cisco offers HX220c M5, HX240c M5, and the large form-factor version of the HX240c. Cisco HyperFlex is also enhanced with Intersight, a cloud-based SaaS solution that delivers predictive failure analysis, proactive problem-solving, and remote edge deployment and management for HyperFlex Edge.
DataCore Software specializes in storage virtualization, storage management, and storage networking. The vendor enables users to virtualize storage, expand capacity, enhance access to data, and centralize and automate storage administration for Windows, UNIX, Linux, macOS, and Netware systems. Its HCI platform, DataCore SANsymphony is mainly used for mission-critical, core IT, and edge use cases. The vendor recently delivered integration with backup software and improvements to its predictive analytics solution, DataCore Insight Services. DataCore also integrates hyperconverged storage with storage area networks (SANs) and servers, and supports the independent scaling of compute and storage resources.
Dell EMC enables digital transformation through hybrid cloud and big data solutions built on a data center infrastructure that brings together converged infrastructure, servers, storage, and cybersecurity technologies. The provider's VxRail appliances are based on VMware's Virtual Storage Area Network (vSAN) technology. Additionally, Dell EMC provides a VMware Cloud Foundation designed as a turnkey hybrid cloud platform for businesses that want to run Kubernetes at cloud scale. The vendor also provides HCI software for organizations that have standardized around Microsoft technologies, as well as a Microsoft Azure Stack HCI system.
Hewlett Packard Enterprise (HPE) is an industrial technology company with a portfolio that includes cloud, data centers, and workplace applications, among others. The vendor differentiates itself from its HCI competitors through its Nimble disaggregated HCI (dHCI) platform. The solution enables IT professionals to scale storage and compute resources independently of each other, helping their businesses to circumvent wasteful spending. Nimble Storage dHCI is a good fit for organizations that need to support applications with unpredictable data growth, and applications that need a high level of data resiliency or storage performance.
Microsoft is a multinational company that develops, manufactures, licenses, supports, and sells various software services and products. The vendor offers enterprise tools through Microsoft Azure, including virtual machines, cloud storage, application service, and cloud backup. Microsoft's Azure Stack HCI platform integrates on-prem and an edge service into the Azure Cloud. Azure Stack HCI is offered as a subscription-based, cloud-managed platform, and is based on the version of Hyper-V and the HCI stack used in the Azure Cloud. The platform also offers common management with the Azure Cloud Platform and the ability to use Azure cloud services.
NetApp is a storage, cloud computing, information technology, and data management solution provider. In addition to predominantly offering on-prem storage infrastructure, the provider also specializes in hybrid cloud data services that facilitate the management of applications and data across cloud and on-prem environments in order to accelerate digital transformation. NetApp uses hyperconverged infrastructure as the foundation for its hybrid cloud. While there are several hardware platforms that could be configured to act as the on-prem component of a hybrid deployment, NetApp HCI allows for consistent management across multiple clouds.
Nutanix provides cloud software, compute and storage infrastructure, and hyperconverged infrastructure solutions for implementing enterprise virtualization without complex and expensive network storage, whether it is SAN or NAS.  Nutanix HCI software and services are supported in Nutanix Clusters, delivering hybrid cloud infrastructure, management, and operations from a unified console. The platform also supports multiple hypervisors and covers a range of use cases through integrated native storage services, database management, application life cycle management, microsegmentation, backup, and disaster recovery services. Additionally, Nutanix recently raised $750 million from Bain Capital Private Equity.
Pivot3 provides Dynamic Hyperconverged and PCIe Flash Arrays, as well as hybrid cloud and Internet of Things (IoT) solutions in order to deliver maximum resource utilization. The vendor's offerings are optimized for server virtualization, virtual desktop, data center consolidation, video surveillance, business continuity, disaster recovery, and remote and branch office. Pivot3's HCI platform, Acuity, is developed for mission-critical, large-scale, video-based workloads. The vendor's Intelligence Engine also offers automation, AI, auto-healing, quick node rebuild, intelligent monitoring, and analytics functionality to address the data protection and system availability needs for large-scale HCI deployments.
Sangfor Technologies provides IT infrastructure solutions, specializing in cloud computing, network security, and network optimization. Its HCI software platform is designed for data center modernization, enterprise application, cloud transformation, virtual desktop infrastructure (VDI), backup, and disaster recovery. Sangfor also has its own hypervisor, enabling Sangfor HCI to provide a secure, managed platform for small and midsize enterprises. The provider also has an industry-vertical market approach, creating partnerships with independent software vendors and developing knowledge of specific regulations in order to meet the needs of government, healthcare, manufacturing, and education organizations.
Scale Computing provides hyperconvergence for midsized businesses. The vendor's HyperCore3 (HC3) platform integrates servers, virtualization, and storage into a single solution that is highly scalable. HC3 is typically used as an edge infrastructure or virtualization platform. Scale Computing's product differentiates itself through its self-healing features. HC3 automatically identifies problems and takes corrective action without the need for human interaction. Additionally, the solution was developed to be an all-inclusive system, referred to as "a data center in a box." Scale Computing also recently expanded its support for server hardware OEMs, launched the HE150 as a low-cost edge solution, and released integrated VDI and resilience solutions.
StarWind delivers hyperconvergence and storage virtualization platforms. Though the vendor offers hyperconverged appliances, it also provides software-only or storage appliance variants of its solution, allowing it to adapt to any data center. The StarWind HyperConverged Appliance (HCA) is mainly positioned towards edge and mission-critical use cases for distributed data centers. The provider recently added support for all-flash nodes, nonvolatile memory express over fabrics (NVMe-oF), over TCP, and AI functionality provided by StarWind ProActive Premium Support.
StorMagic offers storage and security solutions for enterprises with thousands of sites. The provider's SvSAN platform is mainly focused on edge and mission-critical use cases for distributed data centers. SvSAN integrates with existing virtualized environments, allows for centralized deployment and management, and enables small hyperconverged clusters. StorMagis is also part of the HPE Complete program as a replacement for HPE StoreVirtual software. Additionally, the vendor recently added multi-site, push-button software deployment, a subscription pricing model, cloud-enabled Witness as a Service, and Key Management as a Service.
Stratoscale is a cloud infrastructure company, delivering comprehensive cloud infrastructure software solutions for enterprise IT, development teams, and service providers. The Stratoscale HCI platform is aimed at businesses that want to build public, private, or hybrid clouds. The solution is based around the KVM hypervisor and supports multiple storage architectures, including block, file, and object. Stratoscale also supports the use of external storage arrays, unlike some HCI platforms. Many of Stratoscale's management tools are cloud-oriented, and its orchestration capabilities allow admins to scale applications by launching or removing instances in response to changing workload conditions.
VMware offers cloud and virtualization services that power complex digital infrastructure. The VMware vSAN primarily provides an HCI software platform as a component of an extensive portfolio that extends into virtual application management on-prem, at the edge, and in the cloud. VMware's HCI solution is comprised of VMware vSphere hypervisor, vSAN, NSX, and vRealize Suite. The provider has also expanded its HCI as a Service capabilities from AWS and IBM Cloud to give users the ability to run VMware HCI in six of the largest hyper-scale environments.