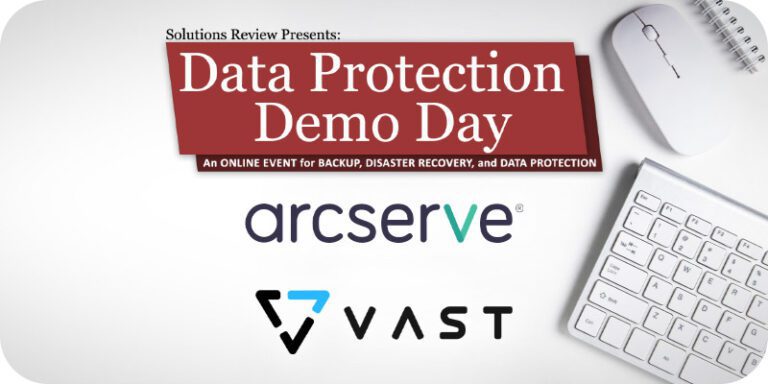 Data Protection Demo Day Q1 2023 will feature live product demonstrations from leading enterprise storage and data protection vendors Arcserve and VAST Data.
What is Data PDemo Day?
Data Protection Demo Day for Q1 2023 is an exclusive virtual event featuring an inside look at the technologies of prominent enterprise storage and data protection solution providers. Solutions Review is hosting this online event as a way to present the latest data protection tools from the comfort and safety of your own desk, and the best part? It's free to attend!
Join the largest data protection end-user community
Solutions Review Data Protection is the largest enterprise storage, backup, and recovery software buyer and practitioner community on the web. Our Universe of Influence reach is more than 7 million business and IT decision-makers, as well as C-suite and other top management professionals. Our readers primarily use us as an enterprise technology news source and trusted resource for solving some of their most complex problems.
Our Expert Insights Series resources are designed to provide forward-thinking analysis that helps business software practitioners and buyers remain on-trend, offer best practices for successful implementation, deployment, and piloting, and provide decision support during product/vendor evaluations. Solutions Review's collection of vendor-agnostic buyer's resources also aims to help data protection practitioners during the research and discovery phase of a buying cycle.
Featured Solution Providers
Arcserve offers several different backup products, including Arcserve Unified Data Protection (UDP), Arcserve Replication and High Availability, Arcserve UDP Cloud Direct, UDP Cloud Hybrid, and a legacy offering. UDP provides comprehensive Assured Recovery for virtual and physical environments with a unified architecture, backup, continuous availability, migration, email archiving, and an easy-to-use console. The product enables organizations to scale their IT environments easily while delivering against recovery point and recovery time objectives, on-prem, or in the cloud.

VAST Data has developed the first all-flash storage platform that transforms the economics of flash storage in order to make flash infrastructure affordable for all classes of data, effectively making the hard drive and storage tiering obsolete. VAST's platform is applied across a range of industries, offers next-generation life science advancements, and helped financial services organizations to stabilize the economy during the coronavirus outbreak.
FAQ
What: Solutions Review's Data Demo Protection Day, Q1 2023
When: Thursday, March 30, 2023, from 12:00 PM to 1:00 PM Eastern
Where: Zoom meeting (see registration page for more detail)