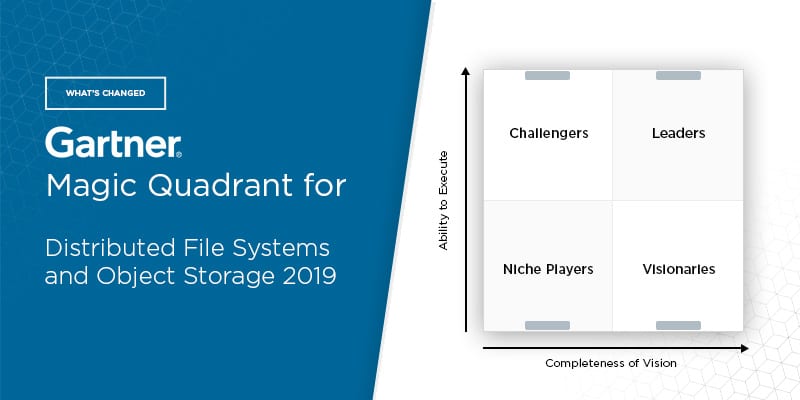 Analyst house Gartner, Inc. recently released the 2019 version of its Magic Quadrant for Data Distributed File Systems and Object Storage. The researcher defines distributed file systems and object storage as software and hardware solutions that are based on "shared-nothing architecture" and that support object and/or scale-out file technology to address requirements for unstructured data growth." However, as Gartner notes, most IT professionals pair shared-nothing architectures with systems that keep centrally stored state information in a database or server.
With unstructured data growth increasing between 30 and 60 percent year over year, enterprises are increasingly seeking flexible on-prem storage products. As a result, the vendors in this space have begun to invest in scalable storage clustered file systems that focus on cost, speed and limitations in scalability. As a strategic planning assumption, Gartner projects that enterprises will triple the amount of unstructured data they have stored in the next four years.
In this Magic Quadrant, Gartner evaluates the strengths and weaknesses of 16 providers that it considers most significant in the marketplace, and provides readers with a graph (the Magic Quadrant) plotting the vendors based on their ability to execute and their completeness of vision. The graph is divided into four quadrants: niche players, challengers, visionaries, and leaders. At Solutions Review, we read the report, available here, and pulled out the key takeaways.
Dell EMC remains the runaway leader in the distributed file systems and object storage space, though it did give up a little ground to IBM on the horizontal axis. The vendor's Elastic Cloud Storage solution is primarily used as an archive and cloud storage for unstructured data, offering an expansive capabilities portfolio and multiprotocol support. IBM's position as the main challenger to Dell EMC continues, with its two main product lines (Spectrum Scale and Cloud Object Storage) having been recently updated to include support for containerized workloads and a KAFKA integration to notify customers when new objects are stored or altered.
Scality and Qumulo are also positioned in a near-identical manner to Gartner's last iteration of the report, with both straddling the lower portion of the leader column. Scality offers RING, an object and scale-out file storage software solution. RING features an integrated virtual file system that provides file storage services without the need for an external file gateway. Scality RING is a top choice for those in need of object storage where geographical distribution and hardware independence are important. Qumulo's distributed file system product is designed for large-scale and high-throughput file workloads, and can scale up to 1,000 nodes and 360PB capacity. Qumulo should be a consideration for enterprise unstructured data workloads.
The challengers quadrant features three familiar providers (Cloudian, Hitachi Vantara, Western Digital), though each has an updated position for 2019. Cloudian now leads this cluster, having improved slightly on each of Gartner's axes. The company raised $94 million in funding last August and recently updated its HyperStore product with support for Seagate's high-density hardware platform and improved regulatory compliance certifications. Hitachi Vantara offers four distinct object storage solutions and integrated solutions for data analytics and content intelligence, which make it very unique.
SwiftStack retains its position in the top-half of the visionaries bracket, with competitors Red Hat, NetApp and Pure Storage all within a stone's throw of the leaders column. Ranking these providers in 2020 could prove to be challenging for Gartner analysts Julia Palmer, Raj Bala and Chandra Mukhyala. Pure Storage made notable gains on the Magic Quadrant's completeness of vision axis while NetApp saw the most life vertically. NetApp's object storage product is called StorageGrid. It has a meaningful connection to other core products, including NetApp's Data Fabric that provides consistent capabilities no matter the environment.
Pure Storage specializes in solid-state arrays, though its FlashBlade distributed file systems and object storage solution has recently seen the addition of object versioning and life cycle management features, as well as Amazon S3 bucket performance statistics and APIs for bucket management. Pure Storage reference customers report ease of use with FlashBlade as opposed to other related products. Red Hat Storage is a consideration for IT leaders and enterprise architects looking for an open source and hardware-independent storage product.
Inspur and Caringo are two interesting names worth monitoring from Gartner's niche players quadrant as they do battle to decide which will challenge Huawei in specialized use cases moving forward. Inspur is based in China and has focused mainly on the development of joint partner solutions in recent months. Its distributed storage (AS13000) product has recently been updated with enhancements for ACLs, IPv6, object fuzzy query, and file remote copy. Caringo is a veteran to the object storage space and offers Swarm, which reference customers report as being easy to use with excellent hardware support. Caringo allows starting with small capacity so customers can deploy object storage for niche use cases before expanding.
Latest posts by Timothy King
(see all)