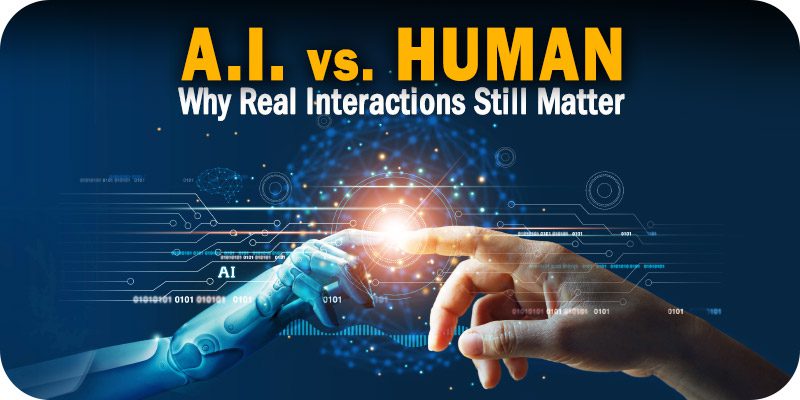 Solutions Review's Expert Insights Series is a collection of contributed articles written by industry experts in enterprise software categories. Mark Lee of Splashtop examines why when it comes to AI vs Human Touch, real interactions still matter in remote support.
A shortage of high-level tech skills has become an accepted fact of life for businesses these days, especially for small and medium-sized businesses that must compete with corporate behemoths and other larger organizations. Businesses have been working to close that gap with technology, investing in effective and affordable remote access technology and other tools, such as automated chatbots, to bolster their support teams.
The recent emergence of ChatGPT as an AI-powered all-purpose answer machine also raises the possibility of using artificial intelligence to further enhance support programs. But AI is a double-edged sword that could hinder as well as enhance businesses' remote IT strategies. And as impressive as ChatGPT is — and for all the possibilities AI has for business uses — it still does not replace person-to-person communications. As more companies default to AI for customer support and relations, human interaction, delivered via seamless remote access, will be the new gold standard.
AI vs Human Touch: Why Real Interactions Still Matter
---
Effective Remote Support is Critical
The large-scale shift to remote work during the pandemic and the Great Resignation that followed in its wake has put a strain on businesses' ability to provide effective support services. In the Enterprise Strategy Group's 2022 State of Remote Support Market Trends report, 94 percent of respondents said the Great Resignation had impacted their organizations, hindering their ability to meet support goals (67 percent), causing unsustainable stress levels among workers (29 percent), and increasing workloads for other employees (58 percent). Meanwhile, 72 percent said that the need for remote support had increased since the pandemic, and nearly all respondents — 97 percent — agreed that remote support would remain the dominant support model for the foreseeable future.
Companies that have implemented remote support tools to help solve staffing challenges have generally seen good results, with 71 percent saying that remote session technology is tied to improvements in key performance indicators (KPIs). However, it also has led to lower adherence to service-level agreements (SLAs) for response, and increased employee strain for the majority of support teams.
Where AI Can Take Off
Innovations in AI and machine learning have led to the emergence of tools like ChatGPT, which hold immense potential to impact customer service by automating repetitive tasks that, in turn, can reduce response times and ease the pressure on human agents, particularly where staffing shortages exist. These technologies can be helpful in answering basic questions, such as how to reset a password or apply multifactor authentication. They can also be used to route requests to the correct person in an organization for more complex or sensitive situations that require a personal touch. In fact, what could revolutionize the IT/help desk world is AI's ability to filter and categorize requests before routing them to a human support agent.
Tools like ChatGPT can also help businesses expand and refine their knowledge bases, which in turn can better train AI solutions to improve their understanding and responses to queries. In this way, conversational AI has the potential to reduce the friction that customers and employees feel when looking for help via chat, streamlining the process of answering their questions so they can be on their way. However, the technology is not ready to take on complex support and service scenarios.
Where AI Models Fall Short
Since its debut in November 2022, ChatGPT reportedly has been put to use by nearly half of U.S. companies for customer service inquiries and a range of other uses, including external communications, writing emails, creating presentations, and as a personal assistant. It can be tempting for short-staffed companies to delegate increasing amounts of their workloads to automated tools, but chatbots (even extremely powerful chatbots like ChatGPT) still have their limitations. Traditional chatbots are built on manually configured, rule-based decision trees that are resource-intensive to maintain and scale. Conversational AI goes further, using semantic analysis and intent detection algorithms to grasp the meaning of a request, providing a more personal touch in a more easily managed solution. Because of those capabilities, AI solutions are the natural replacements for traditional, automated chatbots.
But AI is still a long way from being able to take over more complex support scenarios that require in-depth technical knowledge, such as IT troubleshooting, product technical support, and providing expert advice on product implementation. These may be technical fields, but they require nuanced experience and understanding. When a customer needs help, there is no replacement for human insight and interaction. Companies planning to lean heavily on AI to take over as much of the support responsibility as possible for their organizations still need to take the time to train the model and monitor performance. Even powerful AI chatbots, which are still in their infancy, will need policing since a company could be legally liable for responses turned out by an untended machine.
Human Interaction is Good Business
As automated tools such as AI chatbots inevitably become more common, companies that apply this technology in a way that balances their potential with a human touch will, over time, have an even more pronounced competitive advantage. As an increasing number of companies transition their support services to automated resolution options, companies that prioritize human interactions and voice communications will inevitably build more genuine connections and trust with customers. The empathy and understanding that can be created between people having a personal (especially verbal) conversation is not something that can be emulated by AI today, and these factors will continue to be key drivers of customer satisfaction and word-of-mouth referrals that enhance a brand's reputation. When combined with remote access technologies, the use of AI tools can also magnify efficiencies for the IT support operation, as long as a balance of human interaction remains paramount to the experience. In that case, remote session tools become a key technology in helping IT teams align the support they provide with modern user requirements.
Final Thoughts on AI vs Human Touch
Companies will always want to maximize their efficiency, but they should not compromise the human factor in the process like some businesses, which have taken a static approach to support using online reference materials and very limited human interaction. Automated tools are essential to filling the gap created by staff shortages, but the dynamic nature of the future of work also requires human interaction to best meet the needs of customers and end-users. That is creating an urgency to invest in remote support solutions that directly and efficiently connect IT to users across a variety of endpoint hardware devices, operating systems, and applications.
Person-to-person communications are still at the heart of customer and employee support, which is why they need to be supported by optimized remote solutions and AI tools that can keep a business competitive and highly regarded by both its customers and employees.