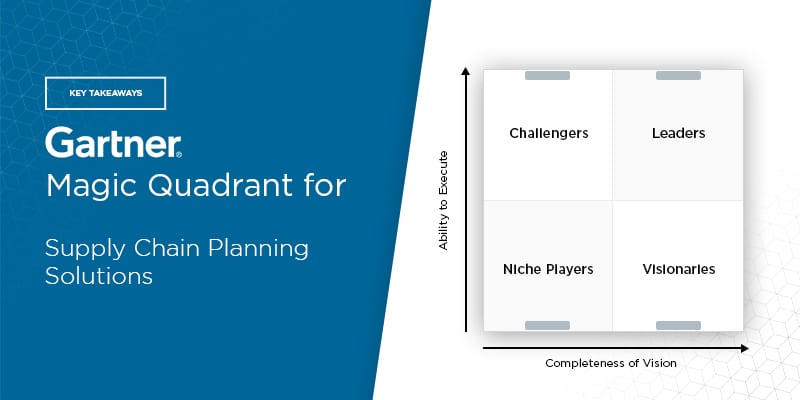 The editors at Solutions Review have highlighted the updates found in the 2021 edition of the Gartner Magic Quadrant for Supply Chain Planning and analyze the new report.
Analyst house Gartner Inc. recently released the 2021 version of its Magic Quadrant for Supply Chain Planning Solutions. Supply chain planning (SCP) solutions provide technology support that enables a company to manage, link, align, collaborate, and develop responsive, agile planning practices. In the last few years, SCP solutions have evolved into a unified data model environment that uses a single model of the supply chain for planning, which is why buyers of SCP software are prone to work with a vendor that covers most, or all, of their SCP technology needs.
According to Gartner's research, the most important characteristics consumers prioritize in an SCP are functionality, innovation, and overall thought leadership. The most successful SCP solutions have demand and supply planning solutions, a diverse collection of SCP functionalities, proven success in various environments, visibility in the marketplace, a high degree of customer satisfaction, and compelling supply chain strategies and capabilities.
In this new Magic Quadrant, Gartner identifies what it considers the 18 most significant SCP providers in the marketplace and evaluates both the strengths and weaknesses of each of them. Gartner's report also features the signature "Magic Quadrant" graph, providing readers with an illustration of how Gartner ranks the vendors' ability to execute their vision. The graph includes four unique quadrants: leaders, challengers, niche players, and visionaries. This is the first Magic Quadrant report for this category, and the full report is not yet available on Gartner's website.
A breakdown of each category and the companies associated with it is below.
Leaders
Blue Yonder and Kinaxis top the Leader category this year. According to Gartner, Blue Yonder's new Luminate Planning platform offers geographically diverse operations, machine learning capabilities, and end-user support make it one of the vendors with the highest number of users. Meanwhile, Kinaxis's RapidResponse solution focuses on providing concurrent planning services to operations worldwide. With a clear market understanding, thorough marketing strategies, and a strong vision for its offerings, Kinaxis is growing its reach and has found real traction in industries like discrete manufacturing, life sciences, consumer packages goods, and process manufacturing.
E2open and Logility are similarly ranked, with E2open ranking slightly higher on Gartner's list. The business planning products offered at E2open focus on integrating planning services with support for demand and supply network planning. The company primarily works with larger enterprises in process or discrete manufacturing industries and has a strong understanding of the market. The Logility Digital Platform has a range of capabilities around implementation and upgrades. Usually, it focuses on E2E enterprise and multi-enterprise planning operations for upper-to-midsize large enterprises in the manufacturing and retail sectors. It earns its place as a Leader with an "above average" product strategy, innovation strategy, and digital planning capabilities.
Skirting the line between Leader and Challenger is OMP. Its Unison Planning solution covers nearly every aspect of supply chain planning, ranking highly in demand and supply planning, advanced planning capabilities, scalability, process management, advanced analytics, and more. Its simple pricing model and continued focus and investment in supply chain planning make it an SCP Leader, especially in North American and European markets.
Challengers
SAP is the highest-ranked Challenger on Gartner's list by a considerable margin. The company's primary provider of SCP capabilities is its Integrated Business Planning (IBP), but it also has additional capabilities through platforms like S/4HANA and SAP Ariba. SAP is a geographically diverse company and predominantly targets midsize and large enterprises in every industry, excluding retail. It also ranked highly on Gartner's Sales Strategy, Geographic Strategy, and Market Responsiveness/Record criteria.
Oracle is the next entry in the Challenger quadrant, as its Cloud Supply Chain Planning solution offer geographically diverse operations to midsize and large enterprises. The company's near-term investment strategy focuses on enhancing its product scheduling and manufacturing planning capabilities, which will allow it to become a more prominent vendor in more industries.
Dassault Systèmes is another Challenger with operations focused on large enterprises and discrete manufacturing industries in North America and Western Europe. Gartner identifies the company's product offering, geographic strategy, and overall viability as its primary strengths. Demand Solutions and Infor are the final two Challengers, and Gartner reports both companies to exhibit strong geographic strategies. Infor's SCP solution covers nearly every area of supply chain planning, which has lead to it receiving high scores for customer experience and market responsiveness. Demand Solutions sports "above average" product capabilities and a competitive price point, which results in it ranking slightly higher than Infor on Gartner's Magic Quadrant graph.
Visionaries
Gartner has listed four companies as Visionaries in the SCP solution category. o9 Solutions ranks the highest for completeness of vision and ability to execute and offers integrated demand-supply planning services to midsize-to-large organizations in North America, Western Europe, Eastern Europe, and APAC. A relative newcomer to the SCP market, o9 Solutions offers a unique product strategy (which capitalizes on its Enterprise Knowledge Graph) and a suite of capabilities covering planning decision automation, scalability, demand planning functionality, and linking decisions between planning laters.
GAINSystems focuses its services in the enterprise planning, demand management, and supply network planning verticals and tends to cater to midsize enterprises in discrete manufacturing and distribution-intensive environments. Its investments focus on the continued enhancement of decision support capabilities like advanced analytics and machine learning.
Arkeiva's Orbit platform delivers various planning capabilities encompassing demand through scheduling. It targets midsize and larger enterprises in process manufacturing and wholesale distribution and is currently moving from on-premises software to a complete SaaS. According to Gartner, Arkieva has an "above average" vision for its product and marketing strategy, especially in its demand planning functional strength, advanced planning capabilities, and data integration capabilities.
The final Visionary on the Magic Quadrant for Supply Chain Planning is Adexa, which delivers a digital SCP solution for end-to-end (E2E) planning capabilities. It focuses its midsize-to-large enterprise in North America, Western Europe, and APAC. It is currently investing in its artificial intelligence and machine learning functionalities for its demand and supply planning services. The company has strong supply planning capabilities, and architectural strength, especially in areas like linking decisions cross planning layers, decision automation, and analytical techniques that support SCP efforts.
Niche Players
There are four Niche Players identified in Gartner's report, and all of them are ranked highly in terms of their "ability to execute." Skirting the line between Niche Players and Challengers is QAD DynaSys, which offers an SCP called QAD DynaSys DSCP (Digital Supply Chain Planning) that is most effective within demand planning and midterm supply planning parameters. The company is natively developing and expanding its capabilities and currently supports industries in process manufacturing, discrete manufacturing, and distribution-intensive verticals.
Anaplan and ToolsGroup are similarly ranked in their ability to execute, with the latter slightly outpacing the former in its completeness of vision. Anaplan expanded its planning AI and predictive insight capabilities in 2019, with the acquisition of Mintigo, and it features robust, evolving sales strategies and customer experiences. ToolsGroup's solutions, Service Optimizer 99+, are designed for demand, inventory, supply planning, and optimizations and are often used by clients in consumer products, food, and automotive industries. Notable characteristics also include accessible pricing models, shorter implementation times, strong geographic strategy and global reach, and robust coverage of distribution-intensive industries.
Slimstock is the final Niche Player and focuses its operations in Western Europe with midmarket clients in manufacturing and distribution industries. The company's Slim4 product is less expensive than other SCP offerings—which boosted its customer base in 2019—offers multiple cloud deployment options and provides users with frequent upgrades.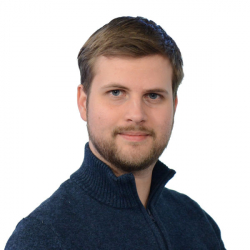 Latest posts by William Jepma
(see all)