SYSPRO has announced SYSPRO R2 2021, a new update for the company's ERP software. The release introduces new and expanded industry-specific capabilities tailored to the needs of manufacturers and distributors. These capabilities can help companies manage internal operations, improve self-service capabilities, maximize supply chain connectivity and flexibility, enhance decision-making with deeper insights, and more. The SYSPRO R2 2021 release is available now.
SYSPRO is a global provider of enterprise resource planning (ERP) software for companies of all sizes in manufacturing and distribution. SYSPRO's scalable ERP, CRM, and POS solutions can be deployed on-premises, in the cloud, or as a combination of both and can be accessed from any device that can connect to the internet. The company can also act as an advisor to clients, as it offers various support services.
The SYSPRO R2 2021 release introduces increased inventory control capabilities to give users more accurate control over stocking processes, new data analysis tools, additional low-code functionalities, and expanded self-service capabilities via SYSPRO's interactive web platform. These self-service features will help SYSPRO customers extend their account management capabilities to customers and suppliers alike, empowering them to review account statuses, obtain copy invoices, and reduce administrative burdens.
Paulo De Matos, the Chief Product Officer at SYSPRO, says, "There is no doubt that the pandemic impacted the way that manufacturing and distribution businesses operate. It altered the way that the industry interacts with suppliers and customers, consumer preferences shifted, and the workplace as we knew it forever changed. As a result, businesses have needed to re-align with the 'new normal.' With those key considerations top of mind, we looked at incorporating solutions into our roadmap that would allow our customers to not only focus on improving efficiencies across internal operations but also to help the industry to connect our customers to their suppliers and customers far more effectively and securely."
Learn more about SYSPRO.
---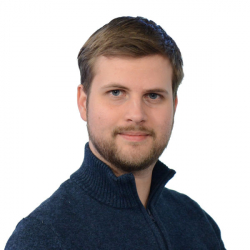 Latest posts by William Jepma
(see all)