The editors at Solutions Review have compiled some of the top benefits of white label ERP solutions, outlined what makes them different from open-source ERP solutions, and clarified the role these solutions can play in ERP consultancy and developer organizations. 
"White label" ERP solutions aren't a new idea, but they're just recently starting to find their place as a genuine option for ERP resellers, system integrators, and independent software vendors (ISVs). White label ERP solutions occupy a unique space between creating/updating your own ERP solution from scratch, using DIY and open-source software solutions, or selecting to resell an off-the-shelf, fully packaged ERP solution. They are developed by one company but sold by another and supplied without any branding, enabling the purchasing company to brand and customize the solution to meet their needs and augment their brand positioning.  
However, the difference between white label and open-source solutions can get murky, especially for companies unfamiliar with the ERP reselling market. To help clarify things, the editors at Solutions Review have partnered with GenetiQ ERP to explain the white label vs. open-source differences and outline five of the top benefits white label ERP solutions provide. 
White Label vs. Open-Source: Is There a Difference?

 
According to GenetiQ ERP, a white label and open-source ERP software solution are entirely different offerings. Think of open-source software like building a Lego set without instructions. With White Label ERP solutions, you get the education and a helping hand and if you want to tweak the result to help your LEGO creation stand out, you get help there too.    
Open-source solutions are economical but have limited guidance and ongoing support structures, meaning the potential risk is much higher. On the other hand, white-label ERP solutions are developed, tried and tested, and supported entirely by the white label ERP vendor. And robust partnerships are established to ensure that not only can the branding be customized for the partner, but each user can customize the solution to meet language and industry/ client-specific accommodations. 
For ERP ISVs, system integrators, or resellers, a white label ERP solution can provide the next version of their ERP software (e.g., browser ERP) without requiring them to invest in the resources necessary to build it from scratch or resell a global ERP product in an already competitive reseller landscape.   
With those clarifications made, let's explore some of the benefits of white label ERP solutions, as determined by GenetiQ ERP. 
The Top Benefits of White Label ERP Solutions
---
Technical Architecture
White label ERP solutions are built on well-tested, modern technical architectures, making it easier for independent software vendors and resellers to feel confident that the software they're investing in is a reliable, future-proof product. In addition to its modern tech stack, white-label ERP solutions also offer multiple user interfaces, deployment options, and licensing models. 
Customer Experience
White label ERP solutions are developed to enable optimization for specific markets and verticals. Partners have direct access to ongoing development resources from white label ERP HQ and receive a complete developer toolkit to allow their development team to extend and augment the solution for specific customer needs.  The codeless customization toolkit found in GenetiQ ERP takes this a step further, empowering consultants to tweak the solution in line with customer requests on-site without sacrificing any of the core architecture already there. These features make it easy for resellers and ISVs to tweak the out-of-the-box white label ERP solution to provide their customers with tailor-made solutions on the spot, thus enhancing their service offering.   
Faster to Market
If there is already a white label ERP solution on the market that broadly fits your business' needs and that of your clients, then there's no need to reinvent the wheel. This means no time or money is wasted on producing the best software solution when there is already one on the market that you can rebrand for your business. You get to sell a quality product and associate the product with your business. The extra months (or even years) that it would take you to develop your solution can force your customers to look elsewhere for answers. You avoid this with a pre-packaged solution that meets their needs immediately. 
Partnership
Open-source ERP solutions offer limited partner support. White label ERP companies like GenetiQ ERP operate a 'boutique style' partner program to ensure no two partners compete against each other. The limited number of companies permitted in the white label ERP partner community fosters deep collaboration, innovation, and learning. 
High Operational Reliability

 
White label ERP software entails much lower risks. Uptime and consistent functionality are the vendors' responsibilities. They are also responsible for maintaining, developing, and updating the system and data protection and security. Learn more about White Label solutions with GenetiQ ERP's free White Label ERP: The Future Of The Industry report.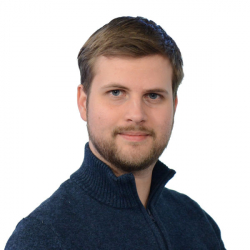 Latest posts by William Jepma
(see all)