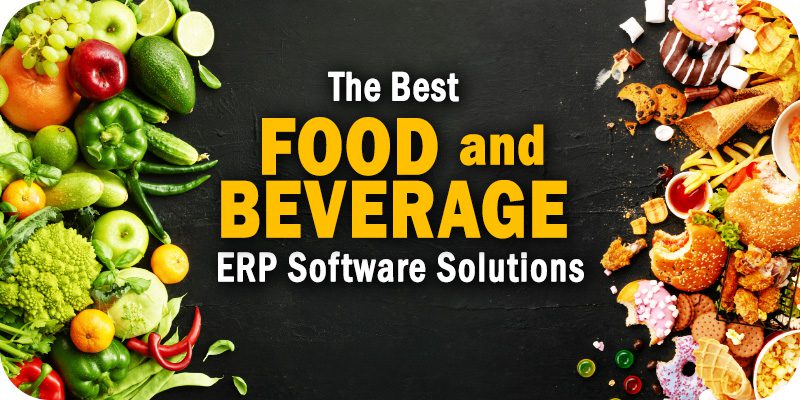 The editors at Solutions Review have compiled a list spotlighting some of the best food and beverage ERP solutions worth considering.
Food and beverage ERP solutions occupy a unique space in the ERP marketplace, as they often require additional distribution, manufacturing, and supply chain features in addition to traditional ERP functionalities. However, with so many factors to monitor—inventory levels, compliance regulations, market disruptions, documentation, quality assurance, etc.—finding the right software is easier said than done, especially for companies in an industry as unpredictable as food and beverage.
To help, the editors at Solutions Review have compiled a list to spotlight some of the best food and beverage ERP software solutions in the marketplace. These solutions can help companies of various sizes and types (i.e., distributors and manufacturers) satisfy customers, increase profitability, maintain quality control, remain compliant in a changing market, manage inventory levels across the food and beverage supply chain, and more. The list is organized in alphabetical order.
The Best Food and Beverage ERP Solutions to Consider
---


Description: Aptean is a global provider of industry-specific software solutions for manufacturers and distributors specializing in over 20 markets. The company offers four food and beverage ERP solutions, including the Enterprise, JustFood, bcFood, and LINKFRESH editions. These include features like bi-directional ingredient tracking, allergen management, expiration tracking, food waste reduction tools, catch weight management, product origin management, ingredient-level monitoring, and more.
LEARN MORE
---

Description: BatchMaster Software is a developer and implementer of process manufacturing solutions for food beverage, chemical, life sciences, pharmaceuticals, personal care, and other process industries. With BatchMaster's Food Manufacturing ERP software, companies can meet and manage requirements across production, inventory, quality, cost, BRC/SQF lot traceability, product development, planning, FDA compliance, warehousing, and scheduling. BatchMaster can also be added to a company's existing financial software, including platforms like Sage 100, Sage 300, Microsoft Dynamics GP, QuickBooks, and SAP Business One.
LEARN MORE
---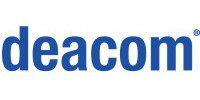 Description: Deacom, Inc. is a global ERP provider focused on helping growing distribution and manufacturing businesses resolve challenges, decrease TCO, and improve operational efficiencies with consolidated data forecasting capabilities to eliminate the need for third-party add-ons. The DEACOM ERP solution is one of the few ERP's that offer food and beverage companies with "Hyper-Tight Process Control" capabilities. Other features include document generation, in-depth inventory visibility, sales schedule forecasting tools, material requirements planning (MRP) functionalities, and traceability tools for the entire supply chain.
LEARN MORE
---

Description: DELMIAworks provides manufacturing and ERP software systems for repetitive, process, and discrete manufacturing industries. With the DELMIAWorks ERP and MES software, food manufacturers across the produce, frozen entreés, canned goods, and beverage verticals can reduce costs, automate industry audits, improve inventory management, track resource availability, and ensure customer delivery dates. Specific functionalities include two-way lot traceability, quick recall identification, shelf-life tracking, private labeling, compliance reporting, quality assurance, seasonal demand forecasting, and more.
LEARN MORE
---
Description: ePROMIS Solutions is a global software development company that offers a suite of solutions addressing a spectrum of enterprise functionalities. Its ePROMIS platform is designed to be a simple-to-use, fully integrated ERP system with core modules for Procurement, Project Costing, Financial Accounting, Purchase, Inventory Management, Sales, HR, Asset Management, Transportation, Manufacturing, and more. ePROMIS also offers capabilities tailored to the food and beverage industry. These include quality assurance, compliance, omnichannel sales management, planning, scheduling, supply chain management, marketing, and inventory control.
LEARN MORE
---
Description: ERPNext is an open-source DIY ERP solution for companies across the education, healthcare, manufacturing, nonprofit, agriculture, services, and distribution industries. The company's open-source, modern ERP solution for food manufacturers is outfitted with real-time inventory management functionalities, production analytics reports, item management, bill of material (BOM) capabilities, quality inspection templates, material resource planning (MRP), subcontracting features, shop management, and more.
LEARN MORE
---

Description: Fishbowl is an inventory management platform that specializes in MRP. It is often used as a lower-budget NetSuite alternative, and it offers perks like QuickBooks integration, personalized customer support, and business intelligence reporting features. Alongside its inventory management functionalities, the Fishbowl platform equips its food and beverage users with FDA compliance tools, expiration tracking, handling yields, auditing capabilities, unit-of-measure conversions, custom reporting, inventory tracking, and more.
LEARN MORE
---
---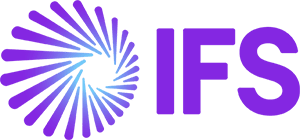 Description: IFS develops and delivers ERP software for global companies that manufacture and distribute goods, maintain assets, and manage service-focused operations. IFS's products are known for being user-friendly, modular in their design, and flexible. With IFS software, F&B companies will have 360-degree visibility and control of their supply chain and manufacturing processes. Features include advanced demand planning, forecasting, integrated HAACP, quality control, trade management, traceability, integrated CRM, supply chain management, integrated WMS tools on mobile devices, and more.
LEARN MORE
---
Description: Infor is a global provider of cloud software solutions for manufacturing, distribution, consumer products, public sectors, energy, healthcare, hospitality, and service industries. The company's ERP solution can be tailored to the needs of food and beverage companies and help them minimize waste, improve food safety, and create a more transparent supply chain. Capabilities include automated food safety processes, system-directed quality checks, product lifecycle management, product label generation, embedded AI, a modern user experience, and Industry 4.0 innovations.
LEARN MORE
---
Description: Intact is a global provider of ERP and business management software for small and medium-sized businesses across the merchant, distribution, retail, and other industries. The company's flagship product, Intact IQ, is an ERP and supply chain management software with built-in customization capabilities and flexibility. Intact works with its customers to build and implement a solution tailored to their needs. Food and beverage customers will have access to batch tracking, transport management, e-commerce functionalities, EDI, marketing tools, predictive stock management, and more.
LEARN MORE
---
Description: Katana's manufacturing ERP platform is easy to implement, offers its users an extensive collection of integrations, and comes equipped with features designed to meet the needs of manufacturers. Its platform can be easily tailored to the needs of food and beverage companies, as it includes a suite of manufacturing features. These include real-time master planning, total shop floor control, live inventory management, end-to-end traceability, production planning, omnichannel order management, custom workflows via API, accurate costing features, and more.
LEARN MORE
---

Description: MRPeasy is a cloud-based material requirements planning (MRP) and ERP system designed to meet the needs of small manufacturers in markets like 3D printing, biotechnology, automotive, chemical, aerospace, composites, electronics, food, agriculture, engineering, and industrial equipment. The platform offers various features tailored to the food and beverage industry, including production planning, CRM, accounting, purchasing, inventory management, stock movements, real-time shop floor reporting, and business performance tracking tools.
LEARN MORE
---
Description: NetSuite is a global provider of services for over 20 industries that need help growing, scaling, and adapting to industry changes. The company offers a "complete" solution built for the food and beverage industry to help companies of all sizes manage supply chains, streamline sales cycles, and more. Features include planning and scheduling tools, product data management, CRM, production control, quality management, warehouse management systems (WMS), shop floor control, order management, and supply chain management.
LEARN MORE
---

Description: NorthScope offers an ERP solution tailored to the needs of food manufacturers and distributors. The user-friendly platform is best suited for smaller companies looking to optimize their business processes, improve growth, make informed business decisions, and save money. Its features include lot tracing, general ledger, delivered freight management, workflows, UOM conversions, project accounting, third-party warehouse management, sales contracts, price lists, and more.
LEARN MORE
---
---

Descriptions: Plex Systems is a provider of cloud-delivered systems for aerospace, automotive, technology, food, and manufacturing industries. Its food and beverage manufacturing solution equips users with the tools they need to control all of their operations from a single system, from the top floor to the plant floor. The Plex Smart Manufacturing Platform includes automated compliance functionalities, quality management, plant performance monitoring, and supply chain planning.
LEARN MORE
---

Description: Priority Software provides organizations of all sizes with flexible, scalable, and end-to-end ERP solutions. Its fully integrated Food and Beverage ERP solution offerings can help companies streamline business processes, reduce manuals, automate the supply chain, increase productivity, and achieve a higher return on investment (ROI). Specific capabilities include advanced tracking and traceability tools, real-time business insights, KPI measurements, operations management, financial reporting, integrated analysis tools, new product development, and inventory management.
LEARN MORE
---
Description: ProcessPro is a mid-market ERP software provider working with companies in the process manufacturing industry. The company's Food ERP solution combines manufacturing, financials, sales, inventory, and reporting functionalities in one integrated system catered to the needs of food and beverage manufacturers. Other capabilities include reliable lot tracking, batch sizing, R&D functionalities, quality control, real-time inventory management, recipe management system, financial management, and compliance tools.
LEARN MORE
---

Description: QAD provides "next-generation" manufacturing and supply chain management solutions and cloud-based ERP software for global companies across industries. Its food and beverage offerings encompass ERP, supply chain, manufacturing, quality control, and transportation management capabilities and can help users respond to disruptions and streamline processes. Other features include global trade management, integrated supplier management, process documentation, supply chain planning, food safety compliance, and more.
LEARN MORE
---
Description: Sage is a technology provider offering cloud business management solutions for worldwide small and medium-sized businesses in professional services, wholesale distribution, construction, manufacturing, nonprofit, and food and beverage. The Sage X3 ERP solution can be tailored to the food and beverage industry and help users remain competitive and compliant with built-in recipe management, quality control, inventory management, lot tracking, and regulatory compliance capabilities.
LEARN MORE
---
Description: SYSPRO is a global enterprise resource planning (ERP) software provider for companies of all sizes in the manufacturing and distribution markets. SYSPRO's Food ERP software provides food and beverage manufacturers with a suite of features including forecasting tools, traceability, supplier management, purchase control, automated customer returns, compliance assurance, and more. The company can also act as an advisor to clients, offering various support services to clients.
LEARN MORE
---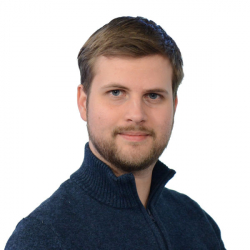 Latest posts by William Jepma
(see all)