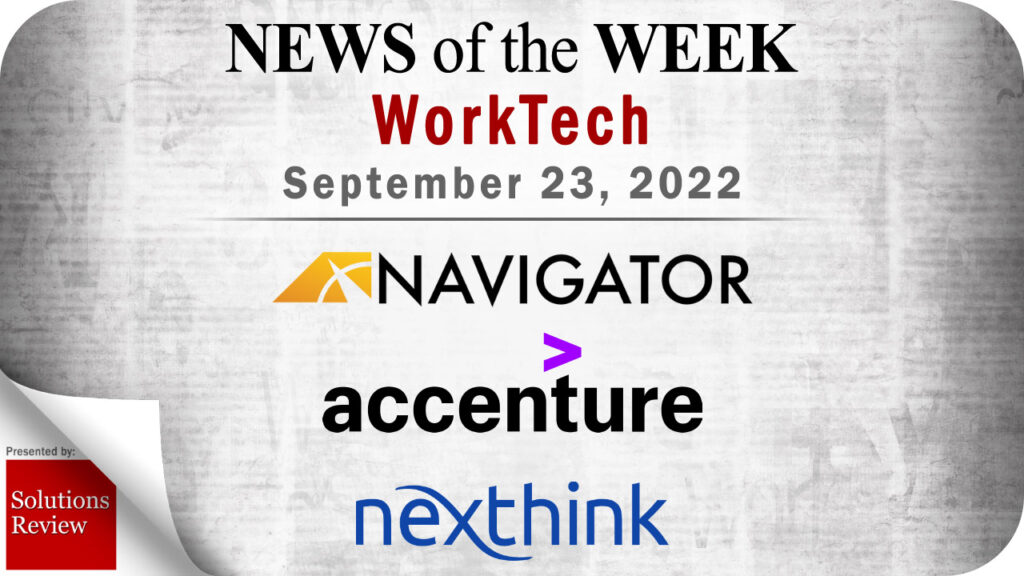 The editors at Solutions Review have curated this list of the most noteworthy WorkTech news from the week of September 23rd. This roundup covers announcements and updates from companies like Navigator, Accenture, Nexthink, and more.
Keeping tabs on the most relevant ERP and BPM news can be time-consuming. As a result, our editorial team aims to summarize the week's top headlines in the enterprise technology marketplace. The Solutions Review editors will compile a weekly roundup of vendor product news, mergers and acquisitions, venture capital funding, talent acquisition, and other noteworthy WorkTech information. With that in mind, here is some of the top WorkTech news for September 23.
Top WorkTech News From the Week of September 23rd, 2022
The company combines consulting and IP to help its clients manage their entire supply chain continuum from product ideation through delivery, with solutions that include product lifecycle management, demand planning, product and source material procurement, factory operations, delivery logistics, post-sale support, and financials.
The launch of the new B2B Customer Portal is a part of the fully integrated solution with the Kechie suite of products. The B2B Customer Portal enables you to create a single source of online services directly from your website. Plus, you can decide the pricing, attributes, and inventory levels you want to display, making it a seamless and efficient order management solution.
UBIX is an advanced analytics company that enables organizations of all sizes to leverage existing Customer Analytics, ERP & CRM infrastructure, and transactional data with external data to create new insights that drive intelligent action.  The combination of UBIX's advanced analytics and data science cloud platform with existing ERP capabilities can help midmarket organizations quickly and affordably solve challenging analytics problems that are not possible without data science.
Leveraging machine learning and benchmarking, the Infinity platform enables IT teams to diagnose any issue, automatically determine the root cause, and remediate millions of devices. The platform offers many integration capabilities because of its unique, proprietary architecture. It provides IT with data ingestion capabilities from any application—including collaboration apps like Zoom or Teams—to track degradation across any device: physical, virtual, or mobile.

The aim is to offer a unique webinar featuring an inside look at the vendor's new platform for automation and remediation, which enables visibility across all environments so IT teams can continuously improve the digital workplace by optimizing productivity and cost. Alongside a live product demo, the Spotlight event will also feature an interview about the product with a member of Nexthink's team.
As a part of this partnership, ARM will offer its clients WNS offshore-centric actuarial services and end-to-end insurance capabilities, including front, middle, and back-office solutions. WNS will leverage ARM's 250 senior-level credentialed actuaries to provide its BPM clients with complimentary, project-based strategic advisory services.
For consideration in future WorkTech news roundups, send your announcements to the editor: wjepma@solutionsreview.com.