Top WorkTech News from the Week of March 11th: Updates from Infosys, HCL, IFS, and More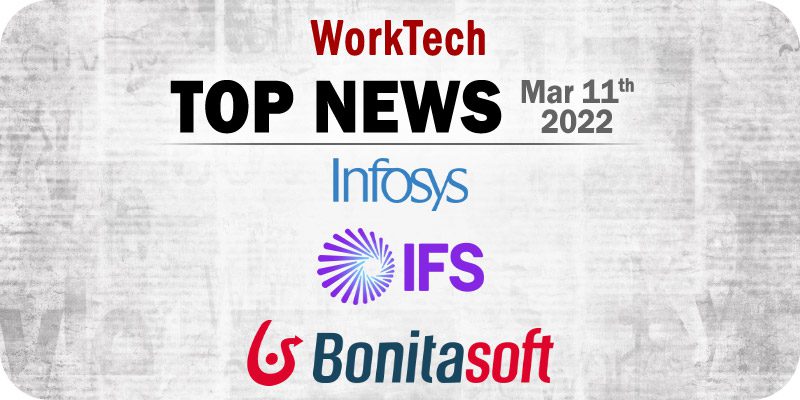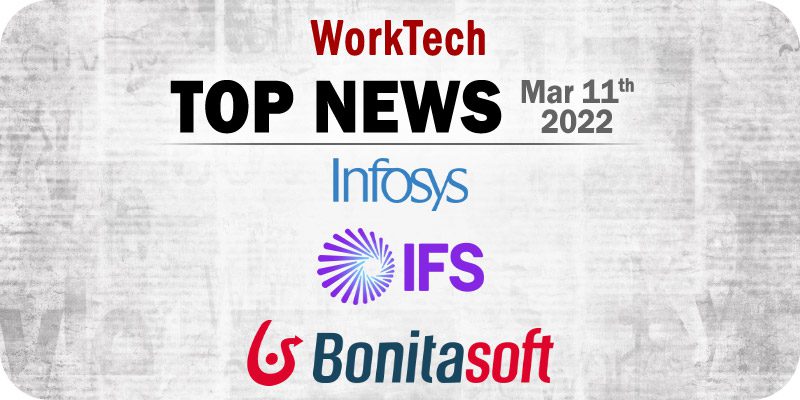 The editors at Solutions Review have curated this list of the most noteworthy WorkTech news from the week of March 11th. This roundup covers new announcements and updates for companies like IFS, Appian, Bonitasoft Infosys, and other brands in the marketplace.
Keeping tabs on all the most relevant ERP and BPM news can be a time-consuming task. As a result, our editorial team aims to summarize the week's top headlines in the enterprise technology marketplace. The Solutions Review editors will compile a weekly roundup of vendor product news, mergers and acquisitions, venture capital funding, talent acquisition, and other noteworthy WorkTech news.
Top WorkTech News from the Week of March 11th, 2022
---
ADS Solutions—a cloud-based ERP provider for distribution, manufacturing, and service businesses—has announced a new partnership with EasyPost, a provider of shipping APIs designed to solve logistics problems for online merchants. Companies that use ADS Solutions' Accolent ERP solution will gain access to EasyPost's Shipping APIs through the partnership. This will help Accolent ERP users maintain end-to-end control over their logistics processes and parcel shipping and position themselves for e-commerce success.
---
Appian has announced the newest version of the Appian Low-Code Platform, which introduces enhancements that bring together automation, process mining, record-level security, and workflow capabilities on a unified platform. The new record-level security will eliminate the need for users to configure and maintain security themselves. The other updates will help Appian users discover, design, and automate critical business processes. The updated Low-Code Platform also introduces Appian Portals, which can help designers use low-code to develop and manage secure external websites that capture data from Appian applications.
---
Bonitasoft recently announced that Fortino Capital Partner, a B2B software investor, had acquired a majority stake in the company from former investors. The transaction will involve Bonitasoft founders Miguel Valdes and Charles Souillard teaming up with Fortino Capital during this growth phase to accelerate sales of its new Cloud offering and develop its platform with new product innovations in the Process Analytics field. As part of the investment, Edouard Fourcad—a software executive with former leadership roles at Anaplan and BMC—will also be joining Bonitasoft's Board of Directors as Chairman.
---
HCL Technologies (HCL) recently updated its ADvantage Experience platform with a new Design to DevOps framework, which will help companies bridge the gap between creative and technical teams and empower them to build better customer experiences. The Design to DevOps framework can automate the conversion of UX designs from multiple sources, streamline design and development pipelines with an "automated handshake," and ultimately improve the strategy, design, and delivery of new experiences and campaigns.
---
IFS and BearingPoint have announced a new joint venture named Arcwide, scheduled for a formal launch in April 2022. The new firm will expand the partnership between BearingPoint and IFS by offering professional, technology, and IFS Cloud deployment services to business leaders across Europe and other sectors. Arcwide will provide value assessments, managed services, change management consulting, deployments, and training to help companies get the most from the IFS Cloud platform and its SM, FSM, ERP, and EAM capabilities.
---
Infosys has announced a growing collaboration with Dow Jones, The Wall Street Journal publisher and a leading news and business information provider. The partnership will involve Infosys building and delivering a suite of analytics and machine-learning capabilities to help decision-makers save time and leverage the most relevant information available to them. These new capabilities will build on Dow Jones' digital ecosystem, data foundation, and technology platform and reflect its commitment to expanding its product portfolio.
---
Vanilla, an ERP consulting firm specializing in IFS ERP implementation projects, recently announced that it had been acquired by Baker Tilly, an advisory CPA firm. The acquisition will be in effect as of May 1st, 2022. It will help both companies expand the industry expertise, digital-first capabilities, and IFS service offerings to clients across the United States, United Kingdom, and other territories.
---
Latest posts by William Jepma
(see all)