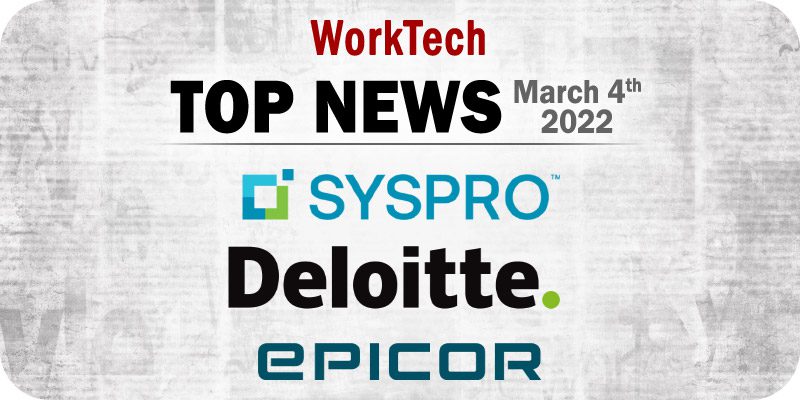 The editors at Solutions Review have curated this list of the most noteworthy WorkTech news from the past week. This roundup covers new announcements and updates for companies like Aptean, Deloitte, Epicor, SYSPRO, and other brands in the marketplace.
Keeping tabs on all the most relevant ERP and BPM news can be a time-consuming task. As a result, our editorial team aims to summarize the week's top headlines in the enterprise technology marketplace. The Solutions Review editors will compile a weekly roundup of vendor product news, mergers and acquisitions, venture capital funding, talent acquisition, and other noteworthy WorkTech news.
Top WorkTech News from the Week of March 4th, 2022
---
Aptean recently announced the launch of Aptean EAM, a new cloud-based enterprise asset management (EAM) solution for manufacturing companies and other businesses that use complex equipment to support production efforts. The new tool can meet the needs of small and mid-sized companies and offers capabilities that scale from a standalone computerized maintenance management system (CMMS) to more advanced EAM functionalities. Companies can use Aptean EAM to manage work orders, track spare parts inventory, assign appropriately skilled labor, automate approvals, conduct mobile compliance inspections, and schedule preventative maintenance.
---
Deloitte has revealed details on AIOPS.D, a new AI-powered, plug-and-play module microservices platform designed to help users. The AIOPS.D platform is built on Deloitte's CortexAI platform and offers users a standardized yet configurable platform for jumpstarting their AI adoption efforts. Other uses for the platform include accelerating time to deployment for autonomous business processes, reducing costs, optimizing an organization with real-time business insights, augmenting existing ERP systems with intelligent applications, and more.
---
Epicor has acquired Grow Inc., a no-code, cloud-based, and full-stack business intelligence (BI) platform that equips users with interactive dashboards and easy-to-use dashboards to help them make data-driven decisions. The easy-to-use Grow platform combines data warehousing, data integrations, and visualization tools to help companies improve their data management and utilization. The acquisition complements and expands Epicor's portfolio of analytics capabilities.
---
GTreasury, a treasury and risk management platform provider, recently announced a new partnership with Infor. With this partnership, GTreasury and Infor customers will have access to a new automation and data integration between GTreasury's digital treasury platform and Infor's cloud-based financial ERP solution. The integration uses an application programming interface (API) to connect data from bank statements, payments, general ledger (GL) journal entries, accounts receivable, accounts payable, bank confirmations, sub-ledgers, and more.
---
MyCarrier, a transportation management system (TMS) provider, has expanded its shipping management platform with three new packages. The new packages coming to MyCarrierTMS—Startup, Growth, and Enterprise—will be added to the company's standard carrier-sponsored plan and introduce new features and capabilities. These features include external shipment tracking, invoice audits, ERP integrations, advanced analytics, and more. While the carrier-sponsored program will remain available at no cost, the new paid plans can help companies expand the platform's features, improve efficiencies, lower risk, and meet shipping management needs.
---
Software AG has announced its acquisition of StreamSets, a leading brand in data integrations for modern data stacks. With this acquisition, Software AG will accelerate its growth in the hybrid integration marketplace, expand its business with StreamSets' enterprise-grade data integration platform, and help customers move data security to and from their digital backbone. The two companies will provide businesses with a hybrid iPaaS platform to deliver consolidated, conformed, and continuous data to applications and connected enterprises. Software AG acquired StreamSet for approximately €524 million.
---
SYSPRO USA, a global ERP software provider, recently announced a new partnership with ZAP, a data management and analytics provider in the SaaS marketplace. The partnership will help SYSPRO offer customers a business intelligence solution that expands its ERP data and analytics reporting capabilities. ZAP Data Hub will integrate with SYSPRO's ERP software and provide both company's customers with a data warehouse that pulls data from SYSPRO using pre-defined ETL tools. Users can also import data from other sources to improve their insights' accuracy.
---
Zoho has revealed details on the newest version of its low-code Zoho Creator Solution. The latest version will help IT teams and business users build modern and compliant solutions with a low-code, easy-to-use, and custom-fit development platform. The latest version of Zoho Creator introduces innovations for its unified solution builder, AI-powered assistant, process blueprinting tools, serverless functionalities, Unified Data Modeling UDM), embedded analytics engine, centralized governance, Integration Status Dashboard, and more.
---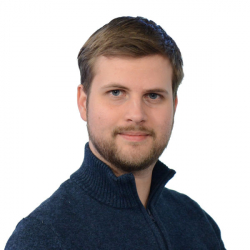 Latest posts by William Jepma
(see all)