Top WorkTech News From the Week of November 10th: Updates from SAP, Progress, UiPath, and More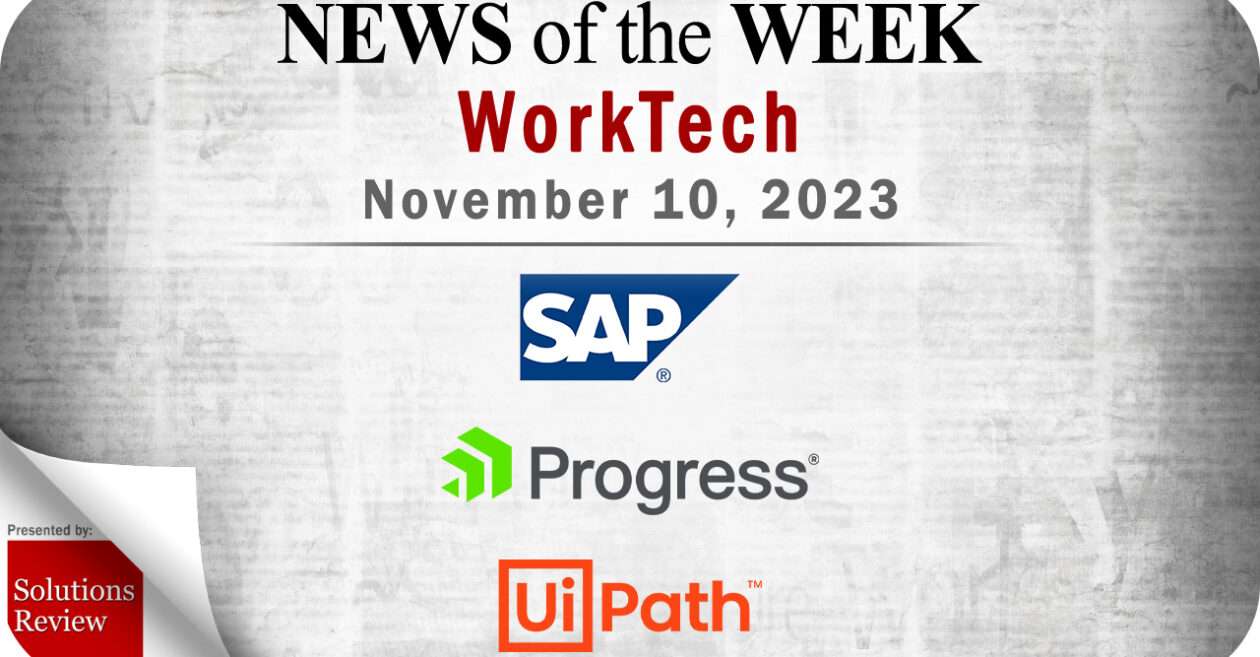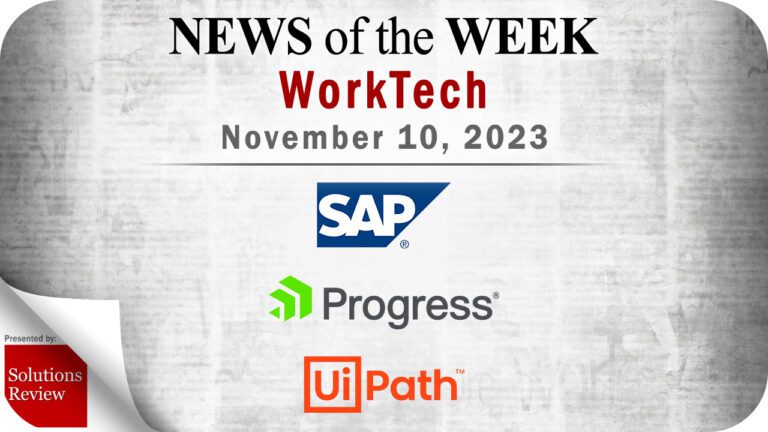 The editors at Solutions Review have curated this list of the most noteworthy WorkTech news from the week of November 10th. This round-up covers announcements and updates from companies like SAP, Progress, UiPath, and more.
Keeping tabs on the most relevant ERP and BPM news can be time-consuming. As a result, our editorial team aims to summarize the week's top headlines in the enterprise technology marketplace. The Solutions Review editors will compile a weekly round-up of vendor product news, mergers and acquisitions, venture capital funding, talent acquisition, and other noteworthy WorkTech information. With that in mind, here is some of the top WorkTech news for November 10th.
Top WorkTech News From the Week of November 10th, 2023
---
Acumatica, a business software solution provider, has announced that its ERP solution can now integrate with Shopify's B2B commerce capabilities. This will provide businesses with a single, unified tool for managing their omnichannel sales experiences. The integration will combine Shopify's commerce platform with Acumatica's business management functionality suite to address the growing need for businesses to use multiple channels to connect with and sell to their target customers.
---
Advantive—a software provider for manufacturing and distribution businesses—has acquired Abaca Systems, a packaging software solution provider. The acquisition will help Advantive continue to expand its expertise in the packaging and corrugated space for European markets. Benoit de la Tour, the CEO of Advantive, says. "The addition of Abaca Systems helps us to fuel these aspirations globally. We look forward to using these new solutions to improve efficiencies and continue to deliver value to our global customers."
---
Chainguard, a software supply chain security provider, has completed a $61 million Series B funding led by Spark Capital with participation from existing investors Sequoia Capital, Amplify Partners, The Chainsmoker's Mantis VC, and Banana Capital. The company will use the new funding to support its growth, expand its global go-to-market team, invest in its product research efforts, boost innovation, and grow its customer support services. This round of funding brings Chainguard's total fundraising to $116 million.
---
Digital.ai, a provider of AI-powered software delivery solutions, has launched Denali, the latest release of its AI-powered DevSecOps platform. With the newest update for Denali, organizations can use artificial intelligence to further automate software delivery, orchestrate and govern code from AI-assisted development, unlock better insights across every phase of the software delivery lifecycle, save developers time, and improve their access to internal knowledge. Other updates include self-guided workflows, templates, and support for cloud-native application development.
---
Progress—an application development and infrastructure software provider—has announced the availability of Progress Sitefinity 15. This release introduces generative AI (GenAI) support throughout the platform, allowing marketers to create personalized content at scale. It also adds new no-code data connectivity features via the Sitefinity Integration Hub, which can facilitate unified customer profiles, drive digital modernization efforts, eliminate departmental silos, unlock additional customer insights, and make it easier to provide personalized experiences.
---
Rewst, a "purpose-built" automation solution for managed service providers (MSPs), has unveiled the App Platform, a low-code application builder designed to help end-users create apps and interact with Rewst-generated forms, data, and workflows. The App Platform will be an extension of Rewst's Automation Platform. It will help users drive operational efficiency, consistency, and visibility while enabling MSPs to differentiate themselves with engaging front-end experiences.
---
SAP has completed its acquisition of LeanIX, an enterprise architecture management (EAM) software provider. The acquisition, announced on September 7th, will help SAP expand its business transformation portfolio, provide customers with tools for facilitating their AI-enabled process optimization efforts, and more. Now that it's complete, SAP has taken another step toward its plan of "building a comprehensive transformation suite to help customers navigate change more easily and permanently improve their business processes."
---
Snyk, a developer security solution provider, has announced a joint solution with ServiceNow to help software engineers improve the vulnerability intelligence they get from their software bill of materials (SBOMs). With the Snyk Vulnerability Intelligence for SBOM solution, developers will have an end-to-end visibility of the vulnerabilities in their software supply chain. The combination of Snyk's security intelligence capabilities and Service Now's platform will also help global enterprises maximize security and centralize their visibility, prioritization, and automation efforts.
---
Tabnine, an AI-powered assistant for developers, has raised $25 million in a Series B funding round led by Telstra Ventures, with additional participation from new investor Atlassian Ventures. The company's existing investors, Elaia, Headline, Hetz Ventures, Khosla Ventures, Qualcomm Ventures, and TPY Capital, also contributed. This brings Tabnine's total funding to $55 million and helps the brand extend its mission to integrate generative AI into the end-to-end software development lifecycle (SDLC) and develop its sales and global support teams.
---
UiPath, an enterprise automation software company, has announced several new features for its platform that will help companies use AI to uncover new automation opportunities, expand the kind of tasks that can be automated, and make those automations faster, easier, and more accessible to all users. The update introduces updates for UiPath's Autopilot, Document Understanding, Communications Mining,  Process Mining, Task Mining, and Automation Cloud products. UiPath will host a Platform Spotlight event on November 15th for a deeper look at the updates.
---
Expert Insights Section
---
Watch this space each week as our editors will share upcoming events, new thought leadership, and the best resources from Insight Jam, Solutions Review's enterprise tech community for business software pros. The goal? To help you gain a forward-thinking analysis and remain on-trend through expert advice, best practices, trends and predictions, and vendor-neutral software evaluation tools.
---
As you can expect, there was a lot of discussion around the Executive Order, what it might mean for AI regulation, and how it will affect the trends involved in governing, developing, and using AI in enterprises across industries. See critical commentary from industry experts who shared their thoughts on the EO and how it will change AI's role in business.
---
With the next Spotlight event, the team at Solutions Review has partnered with Monte Carlo (and their partner Salesforce) for an informative webinar show. While GenAI has its fair share of hype, data leaders are being tasked by executives with investing in AI across the business. But how can we ensure that these technologies are valuable and impactful?
---
For consideration in future news round-ups, send your announcements to wjepma@solutionsreview.com.
---