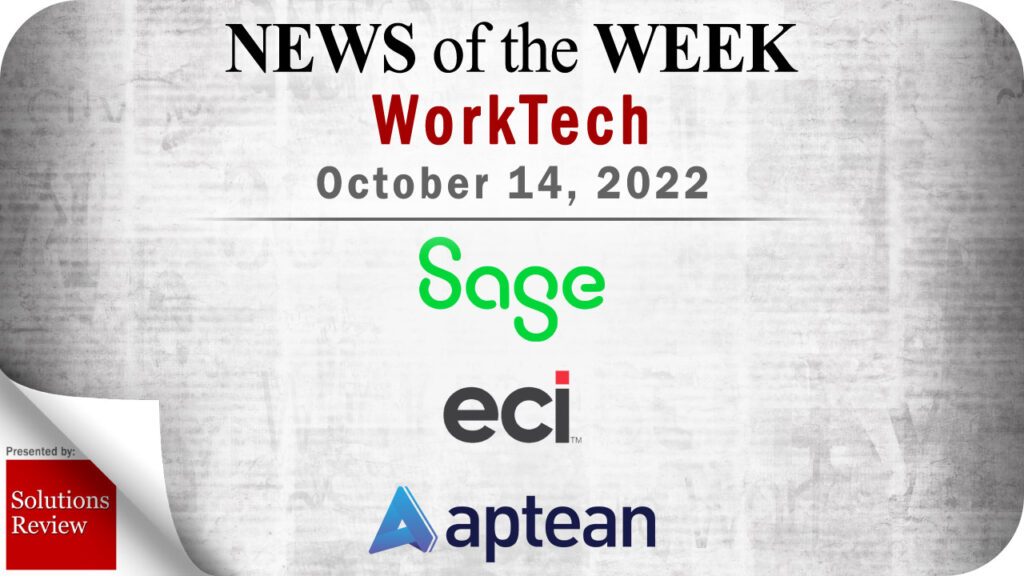 The editors at Solutions Review have curated this list of the most noteworthy WorkTech news from the week of October 14th. This roundup covers announcements and updates from companies like Sage, ECI Software Solutions, Aptean, and more.
Keeping tabs on the most relevant ERP and BPM news can be time-consuming. As a result, our editorial team aims to summarize the week's top headlines in the enterprise technology marketplace. The Solutions Review editors will compile a weekly roundup of vendor product news, mergers and acquisitions, venture capital funding, talent acquisition, and other noteworthy WorkTech information. With that in mind, here is some of the top WorkTech news for October 14th.
Top WorkTech News From the Week of October 14th, 2022
---
Acumatica has announced a new Services Partner Program, which will help it expand its current ecosystem of customer engagement support services with implementation specialists, who will join the company's existing list of Value-Added Resellers (VARs) and Independent Software Vendors (ISVs). With the new program, Service Partners can provide Acumatica customers with implementation, configuration, development, technical consultation, and customization services. These new Service Partners will be considered "industry authorized" after completing two implementations of an Acumatica Cloud ERP industry edition.
---
Aptean has acquired Frontix BV, a cloud-based energy management and Overall Equipment Effectiveness (OEE) solutions provider for process manufacturers in Belgium, the Netherlands, and other countries worldwide. The company plans to use its global resources to bring Frontix's OEE monitoring capabilities to clients in additional markets. Jaap de Wildt, Managing Director of Frontix, stated: "Like Aptean, Frontix has always focused on delivering cloud-based, industry-specific software solutions that are easy to implement and easy to maintain and scale. As part of Aptean, we will have the resources to grow, and our customers will have access to a greater range of solutions tailored to meet their unique needs."
---
Aptean also announced that it received a strategic investment from Insight Partners and existing Aptean investor TA Associates. As a result of the definitive agreement signed, TA Associates will become the lead shareholder of Aptean. Charlesbank Capital Partners, a middle-market private investment firm, will continue as a shareholder, while Vista Equity Partners will fully exit its stake in the company. Aptean will use the additional investments to continue its global expansion strategy and "accelerate the market success" of its cloud-based solutions and growth initiatives.
---
Deloitte has launched a new Oracle MyCloud ERP offering to help private clients accelerate the business transformation initiatives that Oracle's integrated SaaS cloud platform enables. The latest offering is backed by Deloitte's proprietary methodologies and industry accelerates, which can help companies get "up and running" on the Oracle Cloud platform without the high upfront costs and talent constraints usually associated with ERP implementations. Deloitte's bundled subscription offering, available at a consistent monthly fee, includes access to Oracle Cloud products alongside Deloitte implementation and support services.
---
ECI Software Solutions, a cloud-based business management solution provider, has completed its acquisition of ES Tech Group, a UK-based B2B e-commerce software company that works with small and mid-sized (SMS) distributors, manufacturers, and wholesalers. ES TeGroup's e-commerce platform is primarily used in the industrial, business supplies, electrical, plumbing, welding, and medical supplies markets. ES Tech's products will join ECI's suite of business applications and help the company expand its existing e-commerce portfolio, further its investment in the digital economy, and expand into new markets.
---
Sage has announced several new product integrations with Microsoft to help small businesses simplify and automate workflows. With Sage Intacct and Sage Active now available on Microsoft Azure, customers can submit and approve processes directly in Microsoft Teams instead of going through Sage's applications. For example, users can now manage expenses, eliminate expensive manual processes, improve efficiency, and submit expenses on the go from a mobile app, all from Microsoft's secure cloud environment.
---
Sage also announced an increased investment in its Sage Intacct solution, which will help the company launch new product updates and enhancements to customers worldwide. These updates include the launch of Sage Intacct's core financial offering in Europe, the 2023 release of Sage Intacct Manufacturing in the United States, and the debut of new solutions like Sage Intacct Inventory Automation and Sage Intacct for Construction and Real-Estate, which are both generally available to North American customers now. The company also announced early adopter programs for Sage Intacct Lease Accounting, Sage Intacct Accounts Payable (AP) Automation, and Sage Intacct 1099 E-filing powered by TaxBandits.
---
For consideration in future WorkTech news roundups, send your announcements to wjepma@solutionsreview.com.
---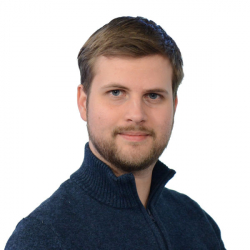 Latest posts by William Jepma
(see all)