Top WorkTech News From the Week of October 20th: Updates from NetSuite, Accenture, Deloitte, and More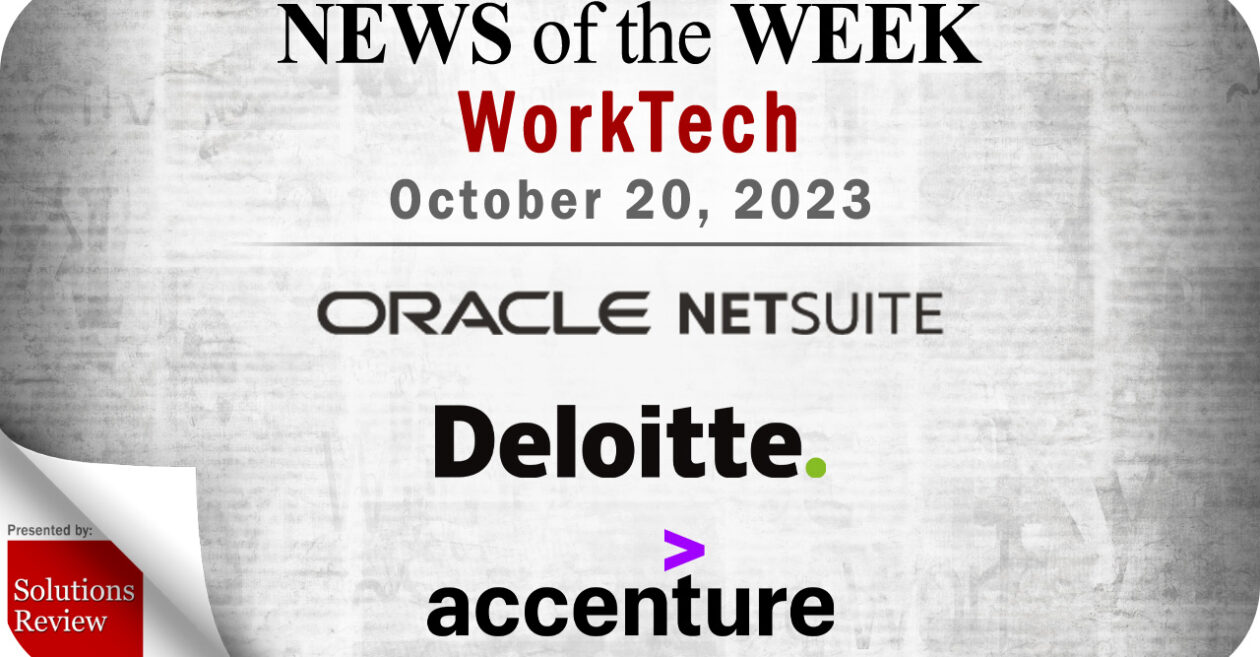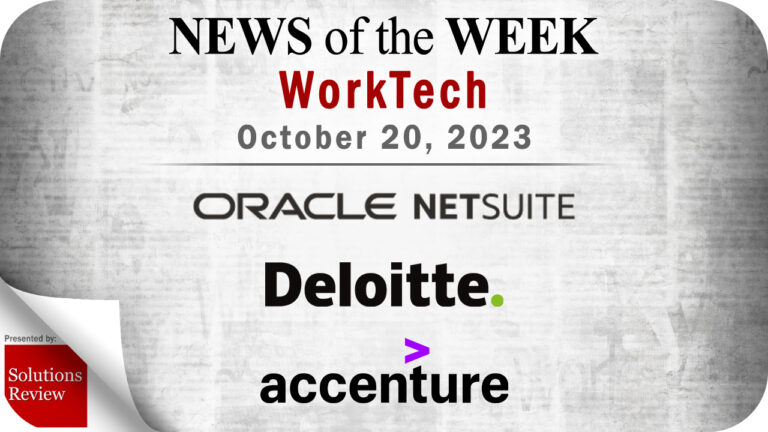 The editors at Solutions Review have curated this list of the most noteworthy WorkTech news from the week of October 20th. This round-up covers announcements and updates from companies like NetSuite, Accenture, Deloitte, and more.
Keeping tabs on the most relevant ERP and BPM news can be time-consuming. As a result, our editorial team aims to summarize the week's top headlines in the enterprise technology marketplace. The Solutions Review editors will compile a weekly round-up of vendor product news, mergers and acquisitions, venture capital funding, talent acquisition, and other noteworthy WorkTech information. With that in mind, here is some of the top WorkTech news for October 20th.
Top WorkTech News From the Week of October 20th, 2023
---
Accenture and SAP have announced a new collaboration to help organizations adopt generative AI technologies across their business processes. As part of the collaboration, Accenture will expand its capabilities in the SAP Business Technology Platform (SAP BTP) and SAP Business AI technologies and support organizations utilizing Joule, SAP's new natural-language generative AI copilot. The partnership will also help companies accelerate the transition from legacy SAP systems to SAP S/4HANA Cloud, improve the interoperability of their "digital core," and use a digital twin chatbot to optimize ad-hoc reporting and analysis.
---
Cognizant and Vianai Systems have announced a global strategic go-to-market partnership to help accelerate the development and utilization of human-centered generative AI offerings. The collaboration will leverage Vianai's hila Enterprise platform alongside Cognizant's Neuro AI solution to create a unified interface for unlocking predictive, AI-driven decision-making. Their partnership is also expected to support additional growth opportunities for their respective customer bases via Cognizant's plans to resell Vianai solutions.
---
Deloitte and Google Public Sector have announced that they will expand their strategic alliance to accelerate innovation and use emerging technologies like generative AI to help higher education and government clients solve business problems. The companies' shared expertise at the federal, state, and local levels will enable them to launch a new portfolio of solutions that combine Deloitte's engineering capabilities with Google Cloud's AI, machine learning, data analytics, and generative AI functionalities. This will enable clients to improve constituent engagement, drive better insights, and enhance geospatial planning.
---
Deltek, a global provider of project-based business solutions, has released new updates for its platform. The news was announced at the Deltek ProjectCon event in Florida and provided details on the new generative AI capabilities Deltek is adding to its solution. With these functionalities, Deltek customers can improve how they organize high volumes of data, utilize predictive capabilities, distill data sets into executive summaries, and leverage a digital assistant to perform tasks, explore information, and educate users with natural language interactions.
---
ECI Software Solutions, a global cloud-based business management software provider, has announced that its JobBOSS² and M1 manufacturing ERP solutions comply with the CMMC 2.0 standards. As a result, JobBOSS² and M1 can integrate seamlessly with customers' contractual requirements and overall CMMC implementation strategy. This will help clients maintain a framework that meets the CMMC compliance standards, maintain cybersecurity best practices, avoid costly fines, and develop a competitive advantage in the market by allowing them to work with government contractors.
---
GMO GlobalSign—a global Certificate Authority (CA) and leading provider of identity security, digital signing, and IoT solutions—has partnered with airSlate. The partnership will enable airSlate to expand its current offering of advanced electronic signatures, specifically in Europe and Latin America, and provide companies with enhanced security, compliance, and authentication services. Additionally, GMO GlobalSign's advanced electronic signatures have been integrated with signNow, one of airSlate's products.
---
Oracle NetSuite has announced several new product updates to help organizations reduce costs, run more efficiently, and grow their top and bottom lines. These updates introduce traditional and generative AI-powered functionalities across the NetSuite solution portfolio. These include new field service management and enterprise performance management solutions alongside new capabilities to help financial and customer experience professionals improve the speed and accuracy of their business processes. The financial and CX capabilities include NetSuite Text Enhance, NetSuite Planning and Budgeting, NetSuite Bill Capture, and NetSuite Analytics Warehouse.
---
Nulogy, a supply chain collaboration solution provider, has announced a strategic partnership with Formic, a robotics company that helps companies across American manufacturing sectors adopt automation technologies. The partnership will strengthen manufacturing supply chains through the companies' SaaS (Software as a Service) and RaaS (Robotics as a Service) product offerings. This will enable customers to implement value-driven digital shop floor solutions with more speed, flexibility, and agility.
---
Sage—an accounting, financial, HR, and payroll technology for small and mid-sized businesses (SMBs)—has launched Sage HR for Sage 50 in the United States and Canada. The industry-first solution will provide better integration between accounting, HR, and payroll processes, enabling teams to stay more agile, keep up with the demands of modern workforces, onboard new hires, connect data from various parts of the businesses, automate HR workflows, and create a "holistic" view of the organization. The Sage HR integration is available exclusively to Sage 50 customers with a Payroll service plan.
---
Sirion, an AI-powered contract lifecycle management (CLM) solution provider, has collaborated to embed IBM watsonx to help enterprises improve their CLM efforts. IBM will also deploy Sirion CLM to help streamline its order-to-cash (O2C) and source-to-pay (S2P) processes. Sirion's generative AI offering, embedded with IBM watsonx, will make contracting accessible to everyone in a company and help them mine insights from their contracts, enterprise data, and other data resources. This will enable them to establish connections between business processes and outcomes.
---
Trust Your Supplier, a supplier information network provider, has partnered with Signzy, an AI-based digital onboarding and risk management solution provider for retail and financial institutions. The collaboration will focus on helping large enterprises improve how they manage their customer application and identify verification processes. It will also provide users with a single point of transparency, visibility, and risk assessment during supplier onboarding processes throughout the supplier lifecycle.
---
Expert Insights Section
---
Watch this space each week as the Solutions Review editors will use it to share new articles from the Contributed Content Series, Contributed Shorts videos, Expert Roundtable videos, event replays, and other curated content to help you gain a forward-thinking analysis and remain on-trend with changing industry expectations. All to meet the demand for what its editors do best: bring industry experts together to publish the web's leading insights for enterprise technology practitioners.
---
As part of Solutions Review's Contributed Content Series, Adrian Wood, Strategic Business Development Director at DELMIA, provides some insights into automation's integral role in the manufacturing supply chain.  In the article, Wood explains why supply chain automation can improve company collaboration, lower the risk of delays, help companies stay agile amidst changing industry trends, and keep systems up-to-date.
---
As part of Solutions Review's Contributed Content Series, Sanket Akerkar, the Chief Revenue Officer at Acumatica, explains why a business management system is crucial to effective remote and freelance workforce management. Specifically, Akerkar says that business management tools can help companies improve their hiring, onboarding, collaboration, performance monitoring, payment processing, compliance, reporting, and onboarding processes.
---
For consideration in future WorkTech news round-ups, send your announcements to wjepma@solutionsreview.com.
---