Top WorkTech News From the Week of September 1st: Updates from insightsoftware, Aptean, IFS, and More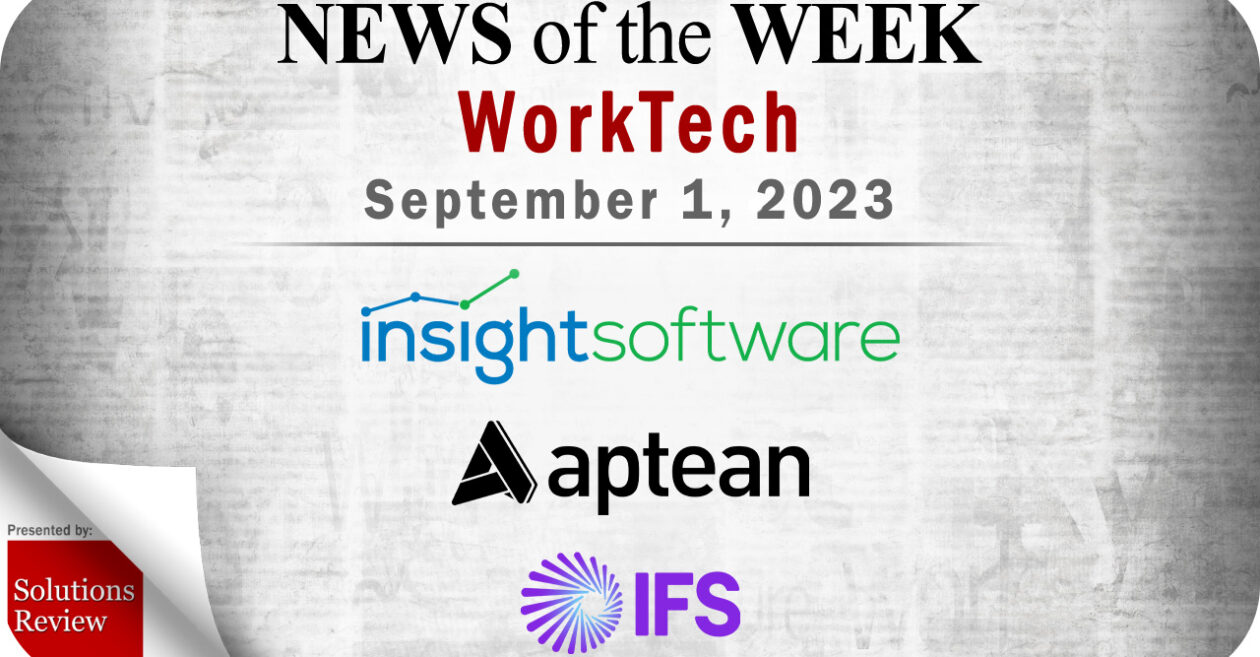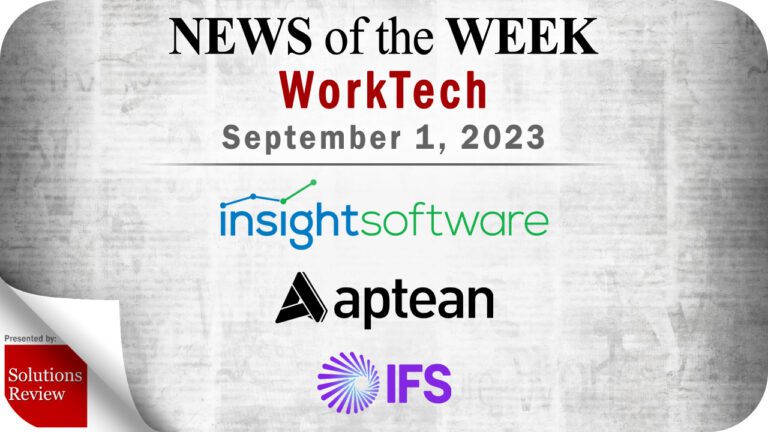 The editors at Solutions Review have curated this list of the most noteworthy WorkTech news from the week of September 1st. This round-up covers announcements and updates from companies like insightsoftware, Aptean, IFS, and more.
Keeping tabs on the most relevant ERP and BPM news can be time-consuming. As a result, our editorial team aims to summarize the week's top headlines in the enterprise technology marketplace. The Solutions Review editors will compile a weekly round-up of vendor product news, mergers and acquisitions, venture capital funding, talent acquisition, and other noteworthy WorkTech information. With that in mind, here is some of the top WorkTech news for September 1st.
Top WorkTech News From the Week of September 1st, 2023
---
Accenture has acquired ATI Solutions Group (ATI), a Perth-based consulting service provider that helps mining, energy, and rail companies implement operational technology (OT) into their businesses. The acquisition will help Accenture expand its capabilities in the West Australian market, where digital and industrial talent is in especially high demand. ATI's employees and contractors will join Industry X, Accenture's digital engineering and manufacturing service.
---
Aptean, a global provider of enterprise software solutions, has appointed Miguel Gernaey as its new Chief Marketing Officer (CMO). In the role, Gernaey will use his decades of experience in B2B enterprise software marketing to help Aptean transform its global marketing strategy and drive growth. Gernaey previously served as the EVP of Digital and Demand Marketing at Sage and spent eight years at Dell Technologies, where he held multiple marketing roles and helped found its global marketing analytics, insights, and strategy functions.
---
IFS, a global cloud enterprise software provider, has acquired Falkonry, an Industrial AI software company providing automated, high-speed data analysis solutions to companies in the manufacturing and defense industries. Falkonry's AI-based, self-learning platform is designed to monitor large data sets and identify unusual behaviors or errors. The acquisition will help IFS expand its AI-based enterprise simulation, scheduling, and optimization capabilities to help clients drive automation initiatives and optimize processes.
---
insightsoftware—a global reporting, analytics, and performance management solution provider—has acquired Vizlib, a UK-based software company developing Qlik Sense products. The purchase will provide Qlik users with new capabilities for improving their operational planning, analytics, and reporting capabilities. Martin Mahler, CEO of Vizlib, says, "This acquisition seamlessly connects insightsoftware's expertise and product offerings with our extensive visualization library. Together, we're able to offer continued best-in-class solutions for an expanding customer base, particularly for core lines of business, including the Office of the CFO."
---
ShipEngine, a shipping API provider, has launched ShipEngine for Platforms. This new product provides e-commerce platforms with capabilities for embedding pre-integrated shipping components into their solutions. The solution will help these e-commerce platforms provide merchants with shipping experiences that sync into existing product workflows without requiring customer software development. For example, ShipEngine for Platform enables "seamless" fulfillment and shipping capabilities alongside access to discounted rates.
---
Expert Insights Section
---
Watch this space each week as the Solutions Review editors will use it to share new articles from the Contributed Content Series, Contributed Shorts videos, Expert Roundtable videos, event replays, and other curated content to help you gain a forward-thinking analysis and remain on-trend with changing industry expectations. All to meet the demand for what its editors do best: bring industry experts together to publish the web's leading insights for enterprise technology practitioners.
---
As part of Solutions Review's Contributed Content Series, Bernd Ruecker, the Co-Founder and Chief Technologist at Camunda, identifies the four steps needed to develop and maintain a successful process automation journey. They are Discover, Design, Automate, Improve your processes, and then repeat.
---
As part of Solutions Review's Contributed Content Series, Venkat Thiruvengadam, the Founder and CEO of DuploCloud, outlines seven ways companies can automate compliance processes throughout the dev cycle. These include automating compliance-related workflows, using built-in compliance standards, setting up automatic reminders, maintaining compliance, and more.
---
As part of Solutions Review's Contributed Content Series, Richard Tester, the President of QAD Redzone, outlines seven ways companies can improve manufacturing processes. These include doing purpose-driven work, understanding the value workers provide, committing to process improvement initiatives, investing in worker retention, harnessing multiple levers to improve processes, and more.
---
As part of Solutions Review's Contributed Content Series, Rick Rider, the Vice President of Product Management at Infor, explains why enterprise simulations can help your company onboard emerging technologies (like generative AI). In the article, Rider talks about the value of trying before buying new technology, maintaining a cautious mindset, and taking a methodical, strategic approach to innovation.
---
For consideration in future WorkTech news round-ups, send your announcements to wjepma@solutionsreview.com.
---

Widget not in any sidebars

Latest posts by William Jepma
(see all)