Top WorkTech News From the Week of September 2nd: Updates from Accenture, Newgen, NTT Data, and More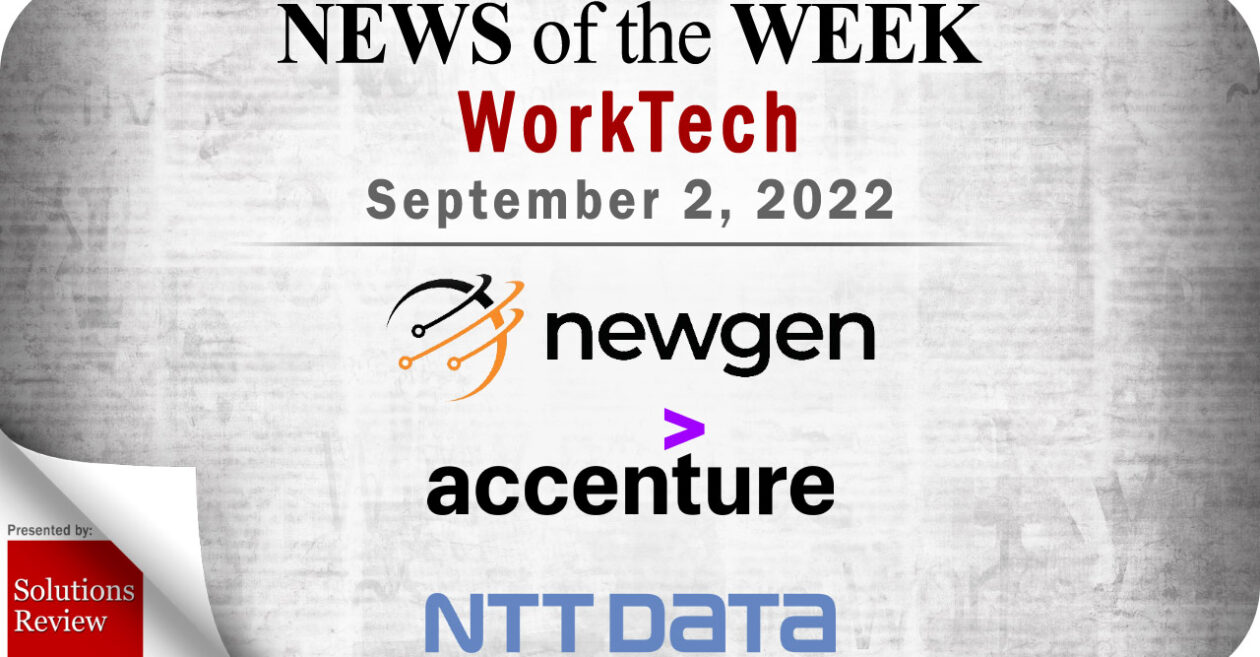 The editors at Solutions Review have curated this list of the most noteworthy WorkTech news from the week of September 2nd. This roundup covers announcements and updates from companies like Accenture, Newgen Software, NTT Data, and more.
Keeping tabs on the most relevant ERP and BPM news can be time-consuming. As a result, our editorial team aims to summarize the week's top headlines in the enterprise technology marketplace. The Solutions Review editors will compile a weekly roundup of vendor product news, mergers and acquisitions, venture capital funding, talent acquisition, and other noteworthy WorkTech information. With that in mind, here is some of the top WorkTech news from September 2nd.
Top WorkTech News from the Week of September 2nd, 2022
---
Accenture, a global provider of professional services to companies across industries, has announced the completion of its acquisition of Eclipse Automation. Eclipse Automation—the manufacturing automation and robotics solutions provider—brings approximately eight hundred professionals to Industry X, Accenture's digital engineering and manufacturing service. The acquisition will help Accenture clients build factories and enable them to utilize automated production lines powered by the cloud, artificial intelligence, and data. Accenture's purchase of Eclipse Automation was initially announced on July 21st, 2022.
---
Accenture also announced its acquisition of MacGregor Partners, a supply chain consultancy and technology provider specializing in warehouse management and intelligent logistics. The transaction will help Accenture expand its supply chain network and fulfillment transformation capabilities. The team at MacGregor Partners, consisting of over 100 employees, will join Accenture's Intelligent Platform Services group, bringing years of experience in data visualization, analytics, inventory management, robotics, warehouse management systems (WMS), and transportation management systems (TMS).
---
Quali, a provider of Environments-as-a-Service infrastructure automation and management solutions, has announced details on a new global partnership with Interas Labs, a software engineering company specializing in cloud-native architecture, GitOps, microservices transformation, and container orchestration services. The partnership will combine Interas Labs' experience developing automation blueprints with Quali's orchestration platform. This will help Interas Labs provide clients with infrastructure provisioning and resource utilization solutions that improve governance and cloud costs.
---
Newgen Software has launched a new integrated robotic process automation (RPA) solution to expand NewgenONE, its low-code process automation portfolio. The new "in-situ integration" will provide users with decision tables, process data, business rules, and other tools. Companies can use these tools to help legacy applications communicate with modern solutions directly from workflows with a bot. This will accelerate processes around data extraction, document validation, third-party verifications, BL/AML checks in onboarding journeys, and more.
---
NTT Data, a global digital business services provider, has acquired a majority stake in the Natuvion Group. The acquisition through NTT DATA Business Solutions AG will expand NTT DATA's SAP S/4HANA transformation expertise. Norbert Rotter, CEO of NTT DATA Business Solutions AG, made the following statement to accompany the news: "By acquiring a majority stake in Natuvion, we are deepening the successful collaboration between the two companies and further strengthening our leading market position in the area of cloud migration globally. Natuvion's products relating to data transformation in particular and their industry know-how, above all in the energy and utility sector, will open up new joint growth potential."
---
SYSPRO, a global ERP software provider, has announced that Jaco Maritz has been named its new global CEO, while company co-founder Phil Duff will step into the role of Executive Chairman. The change is part of the transition plan implemented when Maritz was appointed Chief Operations Officer in 2019. Duff made the following statement to accompany the news: "Jaco is an exceptional leader and has been the driving force behind the global alignment of our strategy and vision. He lives our shared values of integrity, customer success, and partner success, and has created an empowered team globally that adds value at every touch point."
---
For consideration in future WorkTech news roundups, send your announcements to wjepma@solutionsreview.com.
---
Latest posts by William Jepma
(see all)