Top WorkTech News From the Week of September 8th: Updates from Celigo, Accenture, SAP, and More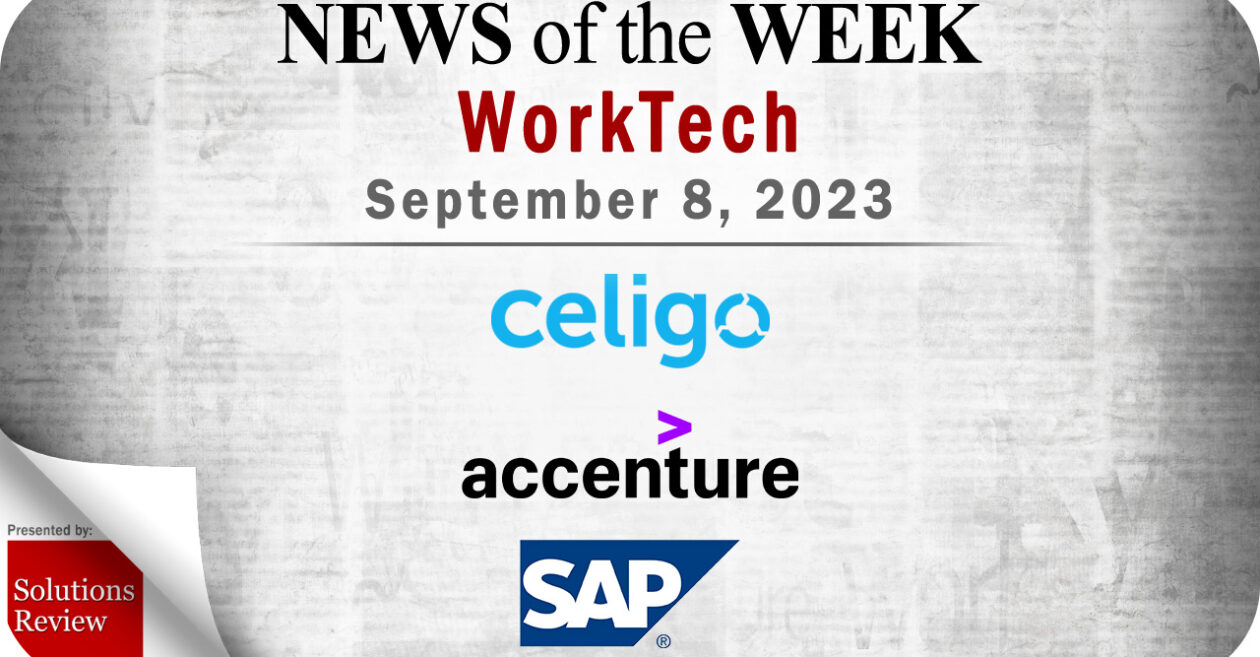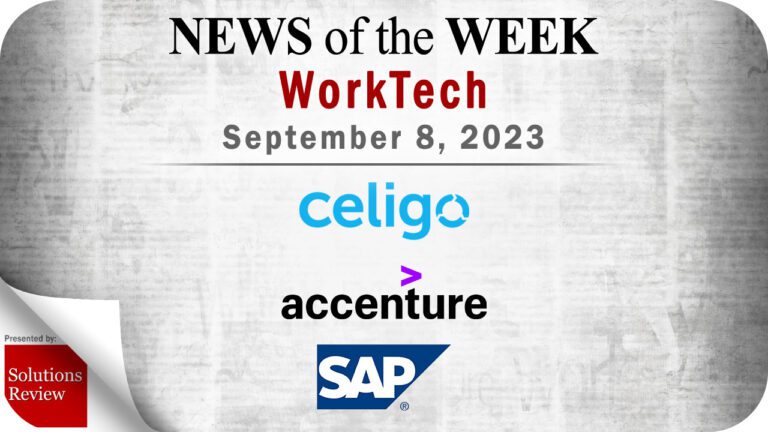 The editors at Solutions Review have curated this list of the most noteworthy WorkTech news from the week of September 8th. This round-up covers announcements and updates from companies like Celigo, Accenture, SAP, and more.
Keeping tabs on the most relevant ERP and BPM news can be time-consuming. As a result, our editorial team aims to summarize the week's top headlines in the enterprise technology marketplace. The Solutions Review editors will compile a weekly round-up of vendor product news, mergers and acquisitions, venture capital funding, talent acquisition, and other noteworthy WorkTech information. With that in mind, here is some of the top WorkTech news for September 8th.
Top WorkTech News From the Week of September 8th, 2023
---
Accenture and Workday have announced that they are expanding their partnership to continue to help organizations create financial functions that are agile, customer-centric, and data-driven. The companies will collaborate on developing a data-led, composable finance solution suite that users can configure (and reconfigure) to help clients in the technology, software, retail, and media industries. These solutions will integrate with the Workday Financial Management platform and use intelligent automation, AI, and machine learning technology to digitize processes and improve operations.
---
Celigo, an Integration Platform as a Service (iPaaS) provider, has launched Celigo AI, a new suite of embedded AI capabilities designed to improve end-user efficiency, help businesses unlock higher productivity levels, and accelerate the time to value of enterprise integrations and automations. The suite includes the following features: AI Error Management, an OpenAI Connector, and AI Assistance. Together, these tools will empower users to reduce manual integration tasks, deliver enhanced customer experiences, and eliminate time-consuming technical workloads.
---
Logility, a prescriptive supply chain planning solution provider, has signed a definitive agreement to acquire Garvis. This SaaS startup combines large language models like ChatGPT with AI-native demand forecasting tools. The acquisition will help both companies enable a "new supply chain planning paradigm" with DemandAI+. DemandAI+ is built for the cloud and will be embedded into Logility's Digital Supply Chain Platform, expanding it with additional demand forecasting capabilities. The acquisition is expected to be accretive within twelve months.
---
Silico, a process simulation solution provider, has released Silico 2.0. The new release will provide companies with the capabilities they need to streamline process simulation adoption, improve scalability, seamlessly integrate processes, and realize the potential of digital twins. Silico 2.0 introduces a new execution framework for running simulations, a process integration feature enabling users to transition between applications, AI-powered process optimization, and additional tools for building simulations.
---
StoreConnect, an e-commerce solution built on the Salesforce system, has secured $9 million in a round of seed funding led by Bellini Capital. The investment will help StoreConnect continue to address challenges in the e-commerce landscape by expanding its sales team, enhancing customer experiences, and expanding its partner network, which includes Salesforce integration partners.
---
Salesforce has announced the general availability of Bring Your Own Lake (BYOL) Data Sharing with the Snowflake Data Cloud and Salesforce Data Cloud solutions. The release builds on the existing partnership between Salesforce and Snowflake, bridging the data between the platforms and allowing customers to combine customer data from the two solutions, providing users with more insights into customer behaviors, market trends, and operational efficiencies.
---
SAP has announced that it will acquire LeanIX, an enterprise architecture management (EAM) software provider. LeanIX is a privately held company that has been a strategic partner with SAP and SAP Signavio for the last ten years. Its acquisition will help SAP expand its business transformation portfolio and provide customers with the tools to facilitate their AI-enabled process optimization and continuous business transformation initiatives. The transaction is expected to close in Q4 2023.
---
Expert Insights Section
---
Watch this space each week as the Solutions Review editors will use it to share new articles from the Contributed Content Series, Contributed Shorts videos, Expert Roundtable videos, event replays, and other curated content to help you gain a forward-thinking analysis and remain on-trend with changing industry expectations. All to meet the demand for what its editors do best: bring industry experts together to publish the web's leading insights for enterprise technology practitioners.
---
As part of Solutions Review's Contributed Content Series, Chris Voce, VP of Market Research at G2, identifies how artificial intelligence (AI) affects B2B software buying habits. For example, Voce talks about how software buyers prioritize AI functionalities in their software purchases and explains why AI will drive legal teams to become more involved in those purchases.
---
As part of Solutions Review's Contributed Content Series, David L. Buss, the CEO of DB Schenker North America, explains how companies can protect their cargo from digital threats. In the article, Buss explains why cargo is being targeted by cyber-attacks and offers some suggestions for how companies can protect their cargo from these threats.
---
For consideration in future WorkTech news round-ups, send your announcements to wjepma@solutionsreview.com.
Latest posts by William Jepma
(see all)