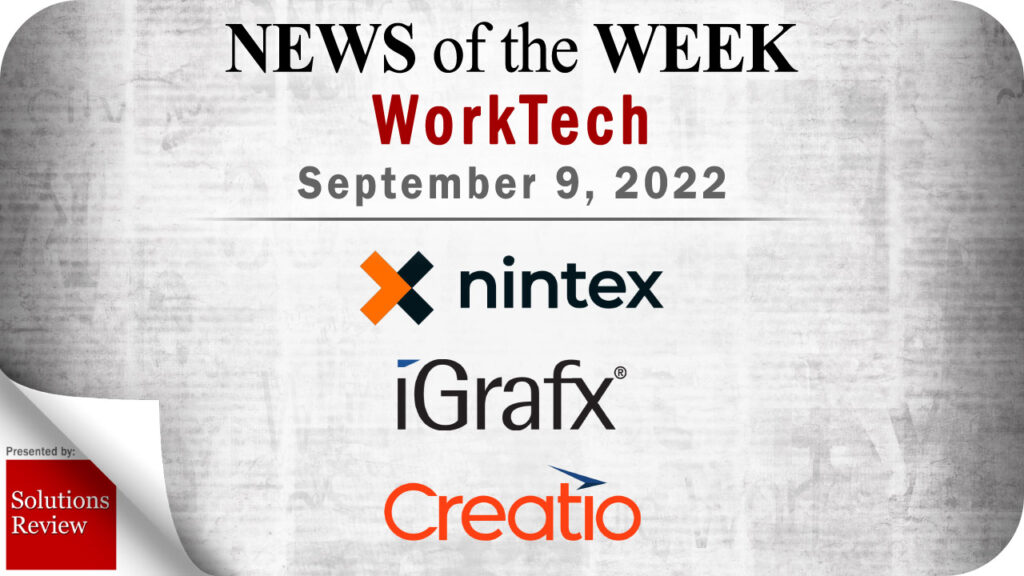 The editors at Solutions Review have curated this list of the most noteworthy WorkTech news from the week of September 9th. This roundup covers announcements and updates from companies like Nintex, Creatio, iGrafx, Capgemini, and more.
Keeping tabs on the most relevant ERP and BPM news can be time-consuming. As a result, our editorial team aims to summarize the week's top headlines in the enterprise technology marketplace. The Solutions Review editors will compile a weekly roundup of vendor product news, mergers and acquisitions, venture capital funding, talent acquisition, and other noteworthy WorkTech information. With that in mind, here is some of the top WorkTech news from September 9th.
Top WorkTech News from the Week of September 9th, 2022
---
Accenture has acquired Inspirage, an integrated supply chain specialist firm focusing on Oracle's technology solutions. The transaction will further expand Accenture's Oracle Cloud capabilities and improve its ability to help clients accelerate innovation with emerging technologies like touchless supply chains and digital twins. All 710 Inspirage employees will join the Accenture Oracle Business Group to bolster its Oracle supply chain skills and help product-centric clients develop intelligent, interconnected, and innovative supply chain networks.
---
Capgemini has announced its acquisition of Knowledge Expert SA, a digital transformation service provider specializing in Pega's technology solutions. Knowledge Expert is a registered Pega Service Partner and uses Pega's low-code scalable architecture to support European clients across the insurance, pharma, energy, consumer goods, finance, and telecommunications industries. The acquisition will help Capgemini grow its digital customer experience offerings in Europe.
Capgemini also acquired Aodigy Asia Pacific Pte Limited, which specializes in providing digital transformation services on the Salesforce platform. With the Singapore-based company's team of customer experience developers and consultants, Capgemini will expand its ability to offer scalable, end-to-end digital transformation services to its clients in the Asia Pacific region.
---
Creatio and its partner community have recently released an extensive suite of over three hundred new applications, add-ons, and connectors in the Creatio Marketplace. These new applications and connectors can help users improve team productivity, streamline workflows, boost efficiencies, and extend Creatio's native capabilities. These apps and connectors offer payment management, data migration, project management, time management, and more. The new apps are available now to all Creatio users.
---
iGrafx, a global provider of intelligent process management solutions, has announced a new partnership with Zeitworks, a provider of desktop process mining and productivity analysis technologies. The partnership will integrate Zeitworks' AI, real-time analytics, and automated desktop data collection tools into the iGrafx Process360 Live business transformation platform and its business process management and process mining capabilities. The iGrafx and Zeitworks partnership is effective now and will help clients improve customer experiences, remain compliant with industry regulations, and improve processes.
---
Nintex has launched the Nintex Promapp mobile application, which will help business teams improve efficiencies with mobile process management tools. With the Nintex Promapp tool, companies can help underserved frontline workers improve efficiency, manage risks, ensure compliance, drive consistent service, and ensure that everyone on a team has the most up-to-date information. Users with an active Nintex Promapp license can install the new mobile app on Android and iOS devices.
---
For consideration in future WorkTech news roundups, send your announcements to wjepma@solutionsreview.com.
---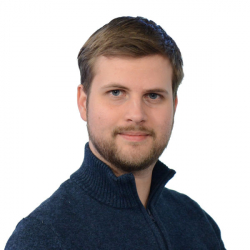 Latest posts by William Jepma
(see all)