What's Changed: 2020 Gartner Magic Quadrant for Cloud ERP for Product-Centric Enterprises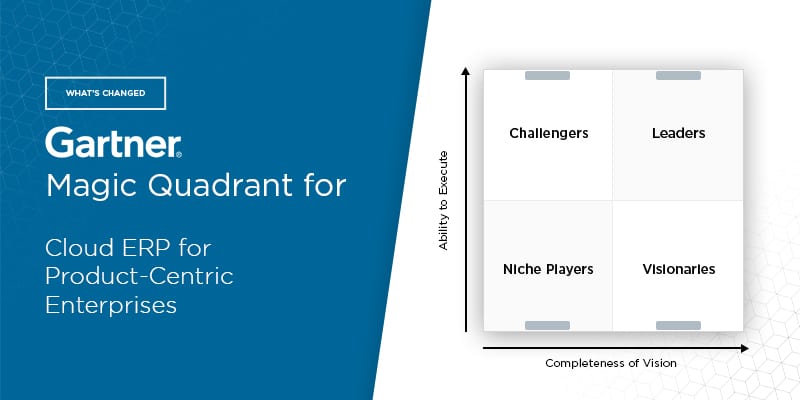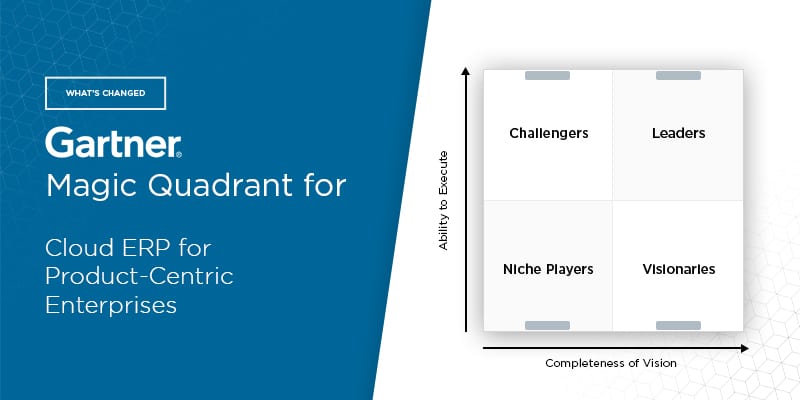 The editors at Solutions Review highlight what's changed since the last iteration of the Gartner Magic Quadrant for Cloud ERP for Product-Centric Enterprises and provide an analysis of the new report.
Analyst house Gartner, Inc. recently released the 2020 version of its Magic Quadrant for Cloud ERP for Product-Centric Enterprises. According to Gartner's report, product-centric cloud ERP is defined as a set of loosely coupled products comprising: operational ERP, financial management functionality, purchasing, HSM, and specialized, industry-specific modules. A product-centric cloud ERP must provide, at a minimum, operational ERP and financial management functionality.
This year's report reveals that the ERP market moves in a generational technology shift driven by the wider acceptance of cloud computing. HCM and financial management cloud solutions are leading the way, while supply chain, manufacturing and operations, and enterprise asset management adoption rates are moving at a faster pace in the last three years before. Gartner expects this growth trend to continue in the following years.
Specifically, Gartner predicts that by 2022, 30% of large enterprises will have moved to a platform- and product-centric approach with standardized ERP capabilities at the platform core. By 2025, the top four ERP vendors will rebrand themselves as business platform providers, and through 2025, 40% of ERP implementations will underachieve as a result of underinvestment in integration.

Widget not in any sidebars

What's Changed: Gartner Magic Quadrant for Cloud ERP for Product-Centric Enterprises
---
In this Magic Quadrant, Gartner evaluates the strengths and weaknesses of 9 providers that it considers the most significant in the marketplace and provides readers with a graph plotting the vendors based on their ability to execute and their complete vision. The graph is divided into four quadrants: niche players, challengers, visionaries, and leaders. At Solutions Review, we've read the report, available here, and pulled out the key takeaways.
Gartner adjusts its evaluation and inclusion criteria for Magic Quadrants as markets evolve. No vendors were added to this year's report while SAP was dropped.
Oracle ERP Cloud is the sole vendor in this year's Leaders quadrant. Suitable for midsize to large enterprises, Oracle's solution has been adopted in a wide range of industries and is used by customers in all major regions. It provides a wide range of functionalities and offers complimentary Platinum-level support for all SaaS customers. In addition to being the highest-rated vendor across multiple categories, Oracle has shown success in providing operational cloud ERP applications augmented with advanced technology.
Infor CloudSuite is at the top of the Visionaries quadrant, and its industry-specific ERP is used by a range of product-centric industries, including manufacturing, wholesale distribution, and retail. This vendor has proven capabilities for many vertical industries and offers strong competencies in a complex item and distribution management. Microsoft maintains a strong position in this quadrant, providing HCM, asset management, commerce, supply chain, warehousing, and transportation capabilities. The Dynamics 365 platform makes innovative use of analytics with embedded Power BI and real-time, in-memory, multidimensional analytics capabilities. Customers also cited Microsoft's product teams as strong partners.
Epicor Software serves a wide range of industries and has made progress in attracting companies larger than its traditional small to midsize market. It has a strong focus on the cloud and a good vision for the direction of cloud technology. Its solid operational ERP solution scored highly for its ability to deliver complex manufacturing. IFS has increased its efforts to engage with and enable more implementation and consulting firms. With its wide global presence, customers praise this vendor's ability to handle global operations for large enterprises. Customers have also highlighted its IFS Enterprise Asset Management solution as a key differentiator.
Oracle NetSuite ERP is a comprehensive ERP suite that serves customers in a wide range of industries, with high-tech, retail, and wholesale sectors as its largest customer bases for operational ERP. This vendor demonstrates a history of success in cloud delivery, good administrative and operational ERP functionality in a single cloud suite, and an open and extensible platform. QAD specializes in manufacturing ERP and supply chain solutions and is gaining traction with large enterprises. This vendor has extensive experience in the manufacturing, automotive, and life sciences sectors, and has a strong presence in North America.
Acumatica rises to the top of this year's Challengers quadrant with its popular resource-based licensing model. This vendor received high scores from customers for its ability to meet their needs; the
increasing catalog of APIs, flexibility of the Cloud xRP Platform service, and range of partner apps align well with Gartner's vision for postmodern ERP. Plex Systems offers strong operational ERP capabilities for midsize enterprises, including MES and quality control. The vendor has also recently expanded the solution to include extended IoT and supply chain planning capabilities. It uniquely features an unlimited user license model based on overall revenue, which is very popular with its customer base.