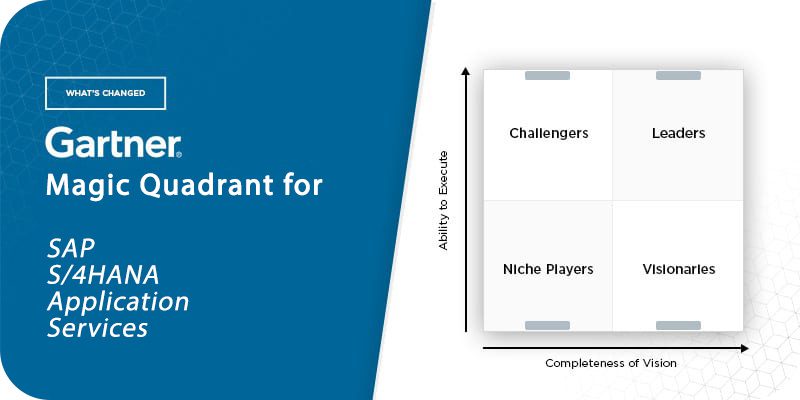 The editors at Solutions Review have highlighted the updates found in the 2021 edition of Gartner's Magic Quadrant for SAP S/4HANA Application Services.
Analyst house Gartner Inc. recently released the 2021 version of its Magic Quadrant for SAP S/4HANA Application Services, Worldwide. According to Gartner's definition, SAP S/4HANA application services include project-based assessments, implementation projects, and multiyear application management services (AMS). These services are meant to help SAP customers develop implementation roadmaps, analyze the efficiency of their business operations and technology strategies, and more.
The vendors listed in Gartner's report were chosen based on various factors. These include the number of S/4HANA resources they offer, the regions they primarily operate in, S/4HANA services revenue growth over the past year, the top five industries they serve in, and the amount of revenue made between their assessment, implementation, and ongoing management services.
What's Changed: 2021 Gartner Magic Quadrant for SAP S/4HANA Application Services
---
In this updated Magic Quadrant, Gartner identifies the 20 most significant SAP S/4HANA Application Service providers in the marketplace. The researchers behind the report evaluated the strengths and weaknesses of each provider listed and ranked them on the signature "Magic Quadrant" graph, which provides readers with an illustration of each vendors' ability to execute their vision. The diagram includes four quadrants: leaders, challengers, niche players, and visionaries. 
Gartner adjusts the criteria it uses to evaluate providers to reflect changing trends in the market, which means the 2021 edition of the Magic Quadrant for SAP S/4HANA Application Services, Worldwide looks different from last year's report. For example, BearingPoint, which was listed in the 2020 iteration of the report, was dropped from this year's update as it no longer met the inclusion criteria. 
A breakdown of each category and the companies associated with it is below.
Leaders
Deloitte is one of the top-ranked Leaders in the report, with Gartner citing its in-depth industry experience and overall size and scale of its SAP services as being among its strengths. Gartner says Deloitte's services are best suited for large, global enterprises, especially ones looking to use the S/4HANA platform as the foundation for a digitally enabled organization.
Like Deloitte, most of Accenture's SAP S/4HANA services involve assessments and implementations (86%), with a much smaller percentage (14%) going toward AMS. Gartner says Accenture is a good fit for global enterprises working with complex, digital transformation-centric S/4HANA engagements. According to the report, its continued investment in its S/4HANA delivery services, business process expertise, and global reach are its strengths.
IBM offers end-to-end S/4HANA services that cover the entire lifecycle of the software, and Gartner notes that the company has the largest percentage of completed and in-progress hybrid projects among the providers listed in the Magic Quadrant. These services include tools and accelerators for implementation, assessment, and management projects. It is a good fit for global enterprises that focus on outcome-based business transformation programs based on S/4HANA and hybrid conversions.
Capgemini is best suited for industrial organizations in Europe seeking to become a more adaptable, global enterprise. Gartner identifies its strengths as its industrial engineering focus, continued investment in improving its S/4HANA services, and its approach to S/4HANA-based transformations. Similarly, TCS is also notable for its consistent investment in its S/4HANA offerings. Like Capgemini, it is a good fit for global-centric, multinational enterprises looking for a partner with industry expertise and skills with integrations.
EY focuses on assessment and implementations services (86%) for global and regulated industry enterprises working on transformation-centric S/4HANA engagements. Gartner identifies its strengths as the breadth and flexibility of its S/4HANA expertise, scalable implementations, and ability to bring together assurance, consulting, strategy, transition, and tax services to client engagements.
PwC is the final Leader in the 2021 Magic Quadrant report and predominantly focuses on S/4HANA implementation services. It has recently expanded its focus to the global market. Gartner identifies its best qualities as its gradual growth in application managed services capabilities (although it's still gaining traction) and its expertise in strategy, business, tax, and technology consulting.
Challengers
Infosys works with larger organizations in need of platform implementation services. The company's team is well-versed in all of S/4HANA's variants, making it uniquely qualified to provide a balanced implementation experience for companies. Other strengths include its well-developed impact assessment services for S/4HANA transitions and its embedded OCM capabilities, which help promote business process iteration.
NTT Data is ranked similarly to Infosys—the two companies occupy nearly the same place on Gartner's Magic Quadrant graph—and is well equipped to help midsize clients looking for a technology-oriented service provider. Almost 30% of the company's assessment and implementation work is for clients with fewer than 1,000 employees. Gartner notes that many of NTT Data's clients appreciate the company's "client first" mindset and delivery capabilities.
Visionaries
SAP is the only Visionary in this Magic Quadrant and is an ideal fit for companies hoping for a more direct relationship with the software vendor. As the provider of the S/4HANA solution, SAP places equal emphasis on its assessment, implementation, and AMS services, which sets it apart from most of the other companies listed here, which often prioritize those services. Its strengths include an in-depth technical product and industry knowledge, co-innovation services, and its range of engagement services, including directly delivered, standardized, and comprehensive responsibility implementation strategies.
Niche Players
Wipro is the first Niche Player named in Gartner's report and is well-suited to large enterprises looking for a S/4HANA partner with skills in core industry verticals and an Agile/DevOps approach to implementation. The company offers a differentiated collection of services across the delivery life cycle and unites its transformation, implementation, and AMS capabilities in an agile model titled APEX 2.0. Its strengths as a S/4HANA services provider include the maintainability of its solutions and the strong relationships it develops with clients.
DXC Technology may have less brand recognition than other companies listed here. Still, its global presence covers 29 of the 31 countries tracked in this Magic Quadrant, making it a good partner for large global enterprises with complex environments. Gartner spotlights its industrialized SAP support and its Intelligent Migration framework, which minimizes disruption during the upgrading process, as notable strengths.
HCL Technologies excels at integrated service deals for extra-large organizations that need a predictable price and timeline for their S/4HANA platform upgrades. The company is well regarded for its flexibility, pricing, operational capabilities, and overall partnership mindset. HCL's industry reach isn't as broad as other vendors, but recent acquisitions have helped it begin to expand its services into new global markets.
delaware has shown impressive growth in its S/4HANA practice over the last year, as it has invested heavily in the upskilling and training of its team, alongside a focus on experienced hires. The company has ample experience implementing SAP's platforms and sports some strategic partnerships that help it offer hybrid migrations. While delaware does have a more narrow industry focus, its track record of developing lasting relationships with clients makes it a good fit for midsize-to-large companies looking for a collaborative S/4HANA partner.
Cognizant is well-suited to work with midsize and large organizations in need of a full-service provider. Gartner identifies its strengths as its approach to S/4HANA migrations, its flexible innovation framework, and flexibility to the needs of its clientele. The company works with a breadth of industries but focuses on a few specific sectors, including life sciences and healthcare, consumer products, manufacturing, energy and utilities, education, and technology.
Tech Mahindra doesn't have the capabilities needed to support large organizations across all industries. However, it does possess a proven track record of committed client relationships and a well-targeted focus on business growth markets. Thanks to some recent acquisitions, Tech Mahindra has also expanded and strengthened its industry and geographic coverage in the U.S., New Zealand, and Australia. Gartner says the company is an ideal partner for companies looking to leverage its core industry expertise,
Atos' OneCloud offering is a package of services that covers application transformation, cloud advisory consulting, prebuilt cloud accelerators, and artificial intelligence and machine learning (AI/ML) capabilities. It uses this end-to-end offering to help midsize to extra-large European enterprises optimize business processes, security efforts, and year-over-year carbon footprint reduction efforts. Gartner calls special attention to its European presence, track record, and focused industry expertise as its strongest traits as a S/4HANA service provider.
Fujitsu focuses its efforts on large-to-midsize Japan-oriented manufacturers and focuses most of its services on S/4HANA implementations and assessments. Its strengths include targeted regional capabilities in major manufacturing markets, positive client relationships, and its manufacturing heritage, enabling it to help clients outfit their SAP solutions with additional manufacturing-centric solutions.
LTI is a good fit for midsize-to-large companies in asset-intensive industries, specifically the engineering, construction, consumer products, high tech, industrial machinery, and life sciences markets. Gartner defines LTI's strengths as stemming from its well-regarded talent management efforts, expertise in asset-intensive industries, and its recent reinvestment in its industry cloud and platform modernization services.
Samsung SDS is the final entrant listed in the 2021 iteration of Gartner's Magic Quadrant for SAP S/4HANA Application Services. The research firm says Samsung SDS is an ideal fit for companies based in Southeast Asia and focusing on the high-tech industry. Its strengths as a S/4HANA service provider are its scalable delivery models, its commitment to expanding the areas it works in, and its Smart ERP accelerator, which provides ready-made assets developed on proven practices for targeted industries.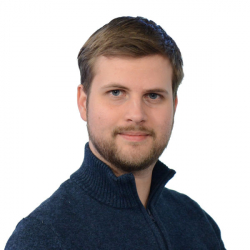 Latest posts by William Jepma
(see all)