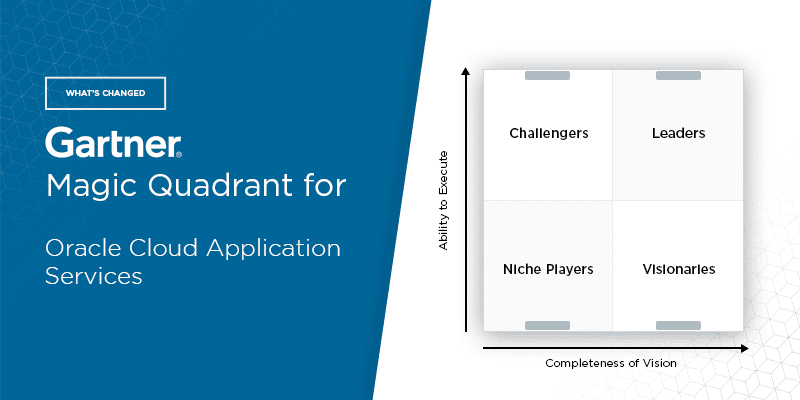 The editors at Solutions Review have highlighted the updates found in the 2021 edition of Gartner's Magic Quadrant for Oracle Cloud Application Services.
Analyst house Gartner Inc. recently released the 2021 version of its Gartner Magic Quadrant for Oracle Cloud Application Services, Worldwide. According to Gartner's definition, Oracle Cloud Application (OCA) services encompass consultancy, migration, implementation, post-implementation evolution, and optimization services for Oracle's various applications.
The vendors listed in Gartner's report all had to have an "anchoring" OCA product that correlated with at least one of the solutions named in Oracle's Cloud Excellence Implementer (CEI) Program. The most common services offered by the partners listed in Oracle's CEI program focus on customer experience (CX), enterprise performance management (EPM), enterprise resource planning (ERP), human capital management (HCM), and supply chain management (SCM).
What's Changed: 2021 Gartner Magic Quadrant for Oracle Cloud Application Services
---
In this updated Magic Quadrant, Gartner identifies the 18 most significant Oracle Cloud Application Service providers in the marketplace and evaluates the strengths and weaknesses of each. Gartner's report also features the signature "Magic Quadrant" graph, which provides readers with an illustration of how Gartner ranks the vendors' ability to execute their vision. The diagram includes four quadrants: leaders, challengers, niche players, and visionaries. 
Gartner adjusts the criteria it uses to evaluate providers to reflect changing trends in the market, which means the 2021 edition of the Magic Quadrant for Oracle Cloud Application Services looks different from last year's report. For example, Birlasoft, IT Convergence, and TransSys Solutions were not included in this report, while Huron and LTI were both added to the list for 2021.
A breakdown of each category and the companies associated with it is below.
Leaders
Accenture is the highest-ranked vendor in the Leaders quadrant, primarily because of its extensive Oracle Cloud services, which Gartner says are the largest providers listed in their report. However, the company has also overhauled its organizational structure since the 2020 version of this report, which, when paired with the power of the Accenture Oracle Business Group, has helped it provide OCA clients with the services they want.
Deloitte is just behind Accenture, though, as it offers a range of advisory, implementation, improvement, and transformation services that Gartner says have been well-received by the company's global clientele. In addition, while Deloitte's pricing packages are on the higher end, the company tends to work with larger enterprises that need help with complex transformation initiatives, which the Deloitte team is well-equipped to handle.
Gartner similarly ranks PwC, IBM, and Infosys in terms of their "Ability to Execute," but PwC ranks higher for its "Completeness of Vision." Based on Gartner's research, PwC's best strengths are its delivery capabilities, which rank highly in terms of customer satisfaction, and its collaborative approach to assessment, advisory, and transformation services.
IBM's Oracle Cloud services are best suited for midsize-to-large clients looking for multi-pillar and/or multi-geography cloud transformations. The company's Cognitive Enterprise for Oracle Cloud differentiates itself from other vendors by leveraging newer technologies like automation, machine learning, and IoT to help expedite its clients' transition to the cloud. Meanwhile, Gartner reports that Infosys' flexible pricing, outcome-based models, and customer service all earn high marks from users and make it a company that larger enterprises are often eager to work with.
Challengers
Wipro is the top Challenger in the report, but only by a small margin. Gartner cites its shared risk pricing models, which helps assure clients that Wipro will deliver significant strength. It allows clients to choose from bundled pricing, milestone-based pricing, outcome-based pricing determined by predetermined KPIs, and more. While the company isn't ideal for smaller enterprises and has some gaps in its industry coverage, its global reach and thoroughly developed Oracle Global Business Unit solutions are notable strengths.
Cognizant sits right next to Wipro in the Challenger quadrant, which marks an upgrade from its previous ranking as a Niche Player. Gartner cites Cognizant's growth in cloud implementations, its dedicated product development leads, and its well-regarded flexibility and responsiveness to clients as the primary strengths that helped it earn its rank as a Challenger.
TCS (Tata Consultancy Services) maintains its Challenger placement. Like Cognizant, TCS has also exhibited notable growth in the number of cloud implementations, as its "flexible and accommodating" service, cost reduction, and increased process compliance have made it a provider ideal for large, global companies.
Visionaries
KPMG has moved from its prior position as a Niche Player in 2020 into the Visionary quadrant for 2021. The company is headquartered in the Netherlands and primarily works with larger enterprises in North America. According to Gartner, KPMG has shown considerable growth in its Oracle services and has proven itself by completing extensive transformation and implementation projects with a level of agility and expediency that clients have appreciated.
Niche Players
The Niche Players quadrant is the most populated one in the report, and it's also where both new entrants make their debut. Evosys, Inspirage, and EY all cluster around the top spot alongside Oracle itself, which dipped into the Niche Player from its place as a Challenger last year.
Evosys primarily works with midsize enterprises looking to transition from an on-premise environment to various cloud applications. Like Wipro, Evosys is willing to participate in contracts with fees at risk, putting pressure on its teams to deliver the results clients want. However, the strategy worked in its favor, as the 20% of clients that have partaken in it drove ROI up by significant margins.
Inspirage, which overlaps with Evosys in terms of placement, also focuses on midsize organizations moving to the cloud. What makes Insoirage standout is its status as an "exclusively Oracle-specialized partner" with additional focuses on supply chain management (SCM) and ERP engagements. The company also acquired Vertical Edge Consulting Group, which has helped improve its leadership capabilities on OCA projects.
As a consulting division of Oracle, the Oracle Consulting (OC) team is uniquely qualified to help companies with their OCA needs. OC has the most certifications of any vendor listed in Gartner's report. In addition, its services benefit from the consulting team's direct connection with Oracle Product Development, which provides the team with insights other vendors wouldn't have. However, Gartner does note that Oracle Consulting has a limited offering of transformation services, which means it cannot work with as many companies as other vendors.
EY is once again a Niche Player, as its services are most sought after by midsize clients in the consumer products, healthcare, insurance, energy and utilities, and banking industries. The company has grown and scaled its Oracle Cloud consulting services over the last year while also leveraging its risk transformation practices to provide Oracle Cloud services that differentiate it from other providers.
Huron is one of the new additions to Magic Quadrant for Oracle Cloud Application Services. It works primarily with small and midsize companies in North America. The company has ample experience in EPM and ERP implementations, which make up over 80% of its Oracle Cloud revenue. It leverages that expertise to provide its clients with the commitment, flexibility, and quality they expect.
While Huron is limited by its predominantly North American presence, LTI—the other newcomer in this year's report—has built a series of strategic partnerships with companies and delivery centers in Poland, Africa, the Middle East, and ANZ.  The company is headquartered in Mumbai, India, and provides its clients with accelerated technology migration and cloud assessment services across all five OCA products. It has also acquired various AI and intelligence insights tools, which they use to deliver flexible cloud services.
DXC Technology specializes in infrastructure-led modernizations and technology transformations for companies focusing on banking, insurance, manufacturing, technology, telecommunication, healthcare, and capital markets. While Gartner does note that DXC has seen a dip in its Oracle growth, it also says that its clients appreciate the experience and flexibility of DXC's consultants.
Capgemini gears its OCA services toward large, global, and product-centric clients in need of advisory, Oracle cloud optimization, and post-implementation evolutions solutions. With quick-deployment assets, automated testing frameworks, certified OCA resources, and quick-value realization, Capgemini can overcome its limited geographic presence and stand out as a competitive player for companies looking for a single-vendor approach to OCA implementation.
Finally, Tech Mahindra rounds out the Niche Player quadrant, which has experienced a 188% growth in its OCA service revenue. Thanks to its acquisition of TransSys Solutions—which ranked as a Niche Player in last year's report on its own—Tech Mahindra has expanded its capabilities to midsize OCA engagements alongside its larger clients and projects. The company may lack comprehensive business advisory services, but its fixed-price approach and traditional application management have proven attractive to customers.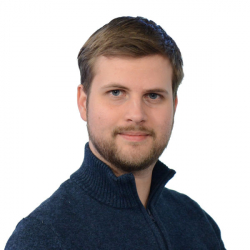 Latest posts by William Jepma
(see all)