How to Minimize the Identity and Access Risks Associated with Third-Party Relationships
From Identity Automation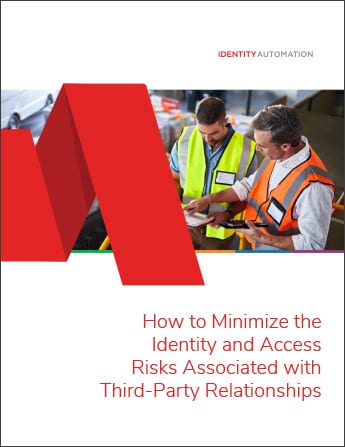 Modern businesses are increasingly reliant on third parties—contractors, contingent workers, and vendors—to drive down operational costs, increase productivity and agility, and bring products and services to market.
In industries like banking, it's not uncommon to enter tens of thousands of third-party business partnerships in order to outsource crucial lines of business, such as tax, legal, audit, sales, and customer relations. And then there are the subcontractors hired by your contractors.
The scale and complexity of these relationships and services are growing fast. In a 2016 Deloitte survey, 73.9 percent of respondents said they believe third parties will play a critical role in their businesses over the year ahead, up from just 60 percent a year earlier.2 That means more and more external users, contractors, temporary workers, outsourced IT providers, vendors, and supply chain partners that need remote access to internal networks and sensitive corporate resources and data.

Fill out the following to download this ebook