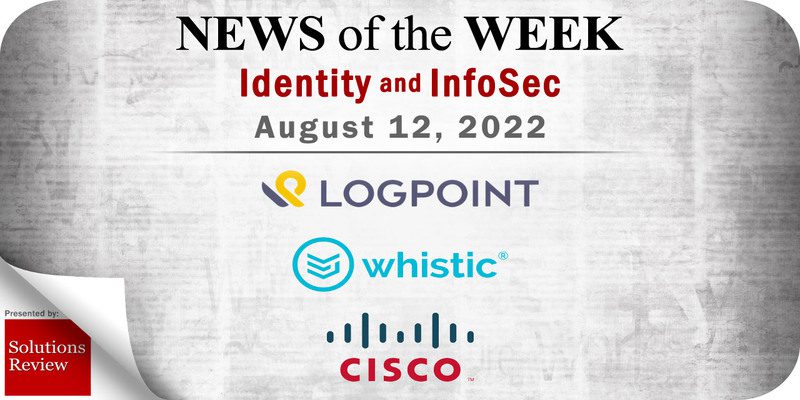 The editors at Solutions Review have curated this list of the most noteworthy identity management and information security news items for the week of August 12. This curated list features identity management and information security vendors such as Logpoint, Whistic, Cisco, and more.
Keeping tabs on all the most relevant identity management and information security news can be a time-consuming task. As a result, our editorial team aims to provide a summary of the top headlines from the last month, in this space. Solutions Review editors will curate vendor product news, mergers and acquisitions, venture capital funding, talent acquisition, and other noteworthy identity management and information security news items.
Identity Management and Information Security News for the Week of August 12
---
Logpoint Releases Logpoint 7.1 to Simplify Secure Digital Transformation
Logpoint announces the release of Logpoint 7.1 with upgrades to its SIEM, SOAR, and UEBA technologies to enhance the Converged SIEM platform and bolster cyber protection. The new features enable users to simplify security operations with improved UIs, workflows, and automation options for faster threat detection and response. In Logpoint 7.1, the SOAR tool has a new user interface (UI) for editing and managing playbooks, actions, and triggers. It makes modifying existing playbooks and creating new ones easier for every organization. Additionally, generic playbooks have been updated to allow multiple alternative tools for similar actions, enabling security analysts to select a generic action, regardless of the tool they use. All the upgrades in Logpoint 7.1 enhance the holistic approach to cybersecurity, minimize the time it takes for security teams to detect, orchestrate and respond to cyber incidents and reduce the risk of devastating cyber-attacks.
Concentric AI Launches New Security Solution to Protect E-Mail and Messaging Platforms
Concentric AI, a vendor of intelligent AI-based solutions for autonomous data security posture management, launched industry-first functionality that uniquely protects sensitive data shared as text or attachments across today's most popular business messaging platforms, including e-mail, Slack and Microsoft Teams. These new capabilities, available as part of the Concentric Semantic Intelligence platform, autonomously evaluate and manage data security posture to give security professionals the powerful, centralized remediation tools they need to find access issues and prevent data loss. The company's award-winning AI technology now extends accurate, comprehensive, and autonomous protection to data shared using these increasingly popular tools.
MedStack Announces Partnership with Whistic
As part of its ongoing goal to make healthcare innovation more accessible for digital health startups, MedStack is excited to formally announce its latest partnership with Whistic, the Vendor Security Network, to help digital healthcare companies proactively showcase their security posture and HIPAA compliance. As part of the partnership, Whistic is providing all MedStack customers with a free Whistic Profile. With a Whistic Profile, MedStack customers share not only their HIPAA compliance documentation curated by MedStack but also standard questionnaires and other security information providers need to conduct a security review. Proactively sharing this information builds trust with potential customers and significantly accelerates sales cycles.
North Korean Hackers Target Crypto Experts with Fake Coinbase Job Offers
A new social engineering campaign by the notorious North Korean Lazarus hacking group has been discovered, with the hackers impersonating Coinbase to target employees in the fintech industry. Coinbase is one of the world's largest cryptocurrency exchange platforms, allowing Lazarus to lay the ground for a lucrative and enticing job offer at a prestigious organization. When victims download what they believe to be a PDF about the job position, they are actually getting a malicious executable using a PDF icon. In this case, the file is named "Coinbase_online_careers_2022_07.exe," which will display the decoy PDF document shown below when executed while also loading a malicious DLL.
Cisco Confirms Ransomware Attack; Hacker Gang Claims It Stole 2.8GB of Data
Networking giant Cisco confirms hacking as ransomware group publishes a partial list of files it claims to have exfiltrated. On the same day that the Yanluowang ransomware group published a partial list of files it says were stolen from Cisco, the networking giant's Talos Intelligence Group confirmed that Cisco had, indeed, been hacked. The threat actor, confirmed as an initial access broker with ties to a Russian group called UNC2447, as well as the Yanluowang ransomware gang, was ejected from the network and prevented from re-entry despite many attempts over the following weeks. The tactics, techniques, and procedures (TTPs) also showed some overlap with the Lapsus$ group, many of whom were arrested earlier in the year.
CRA Study: Threat Intel Leveraged to Secure Systems and Educate Executives
According to findings in a survey from CRA Business Intelligence, the research and content arm of the cybersecurity data and insights company CyberRisk Alliance, they also leverage threat intel to educate executives. Early actionable access to credible threat intel is critical in today's rapidly changing threat landscape. According to the respondents surveyed, which included 183 security and IT leaders and executives, security administrators, and compliance professionals in the United States, threat intelligence is critical to arm Security Operations Center (SOC) and Incident Response teams with the data needed to make timely, informed decisions that prevent system downtime, thwart the theft of confidential data, and protect intellectual property. Many also credited threat intelligence for helping to protect their company and customer data— and potentially saving their organization's reputation.
Cybrary Unveils Next Generation Interactive, Hands-On Training Experience
Cybrary, a training platform for cybersecurity professionals, announced a major evolution of its offerings that includes new threat-informed and interactive training and assessment experiences designed to help teams better reduce organizational cyber risk resulting from the millions of unfilled positions in the industry. Cybrary's new capability architecture enables cybersecurity leaders to evaluate, measure, and upskill their workforce and take the guesswork out of the hiring process. Aspiring and existing cyber professionals can demonstrate their skills, build confidence, or reveal gaps in knowledge and areas for improvement as they apply for new roles, onboard, and perform their jobs. Managers will be able to quickly and continuously assess prospective and current team members' capabilities to help them become productive faster by creating training plans aligned to areas of opportunity.
SentinelOne Integrates with Proofpoint for Enhanced Ransomware Protection
SentinelOne, an autonomous cybersecurity platform company, announced a new integration with Proofpoint to orchestrate unified ransomware protection. With SentinelOne Singularity XDR and Proofpoint Targeted Attack Protection (TAP), enterprises enjoy the benefits of threat intelligence and multi-layered detection and response from email to endpoint, cloud, and identity management. Proofpoint TAP detects, analyzes, and blocks advanced threats before they reach employee inboxes, including ransomware and other email threats delivered through malicious attachments and URLs. SentinelOne unifies prevention, detection, and response in a single platform driven by patented machine learning and intelligent automation. With SentinelOne, organizations can detect malicious behavior across all vectors and rapidly eliminate threats with autonomous response capabilities across enterprise attack surfaces. With this integration, Proofpoint TAP offers unique visibility into email-based threats and streams data to the SentinelOne Singularity XDR platform for defense-in-depth protection.
Neustar to Partner with Snowflake to Bring Privacy-Enhanced Identity Management
Neustar, an identity security company, announced the launch of Neustar Unified Identity natively on Snowflake Marketplace, offering customers the ability to execute advanced identity resolution across the Snowflake Media Data Cloud without data leaving the platform. Neustar developed the solution using the Snowflake Native Application Framework, currently in private preview, with the goal of providing joint customers the privacy-enhanced data hygiene, enrichment, and data collaboration capabilities they need to thrive in a privacy-first marketing world through the Neustar Unified Identity application. The native Unified Identity application gives clients direct access to Neustar's data, identity graph, and machine learning capabilities to power advanced identity resolution use cases across their first-party customer and second-party partner data. Clients can more safely and easily connect disparate consumer data across offline and online sources to ensure accuracy across people, devices, and households.
A Cure for the Obscure: JavaScript Deobfuscation
Ben Baryo, Senior Security Researcher for PerimeterX and HUMAN (the two companies merged last month), has announced he has created a new JavaScript deobfuscation tool on GitHub called REstringer. It is also available as an online tool. REstringer automates the deobfuscation process to minimize the need for manual intervention. This is achieved by analyzing the code's syntax and detecting obfuscation structures within. Once detected, REstringer resolves the obfuscated code snippet and restores the string back to its original value.
For consideration in future news round-ups, send your announcements to mcostello@solutionsreview.com.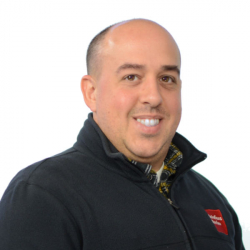 Latest posts by Mike Costello
(see all)