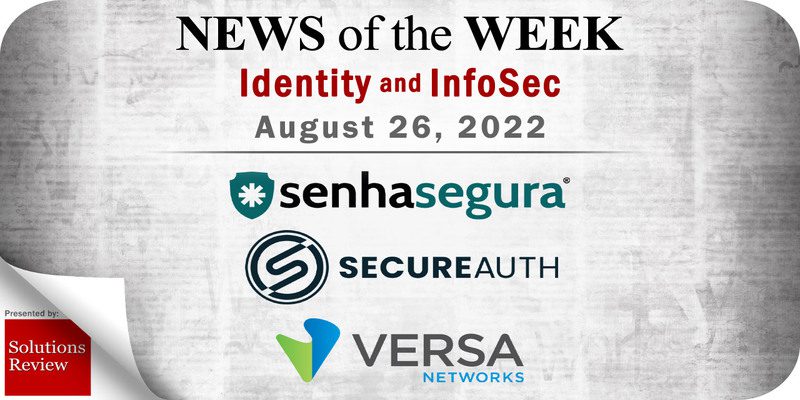 The editors at Solutions Review have curated this list of the most noteworthy identity management and information security news for the week of August 26. This curated list features identity management and information security vendors such as senhasegura, SecureAuth, Versa Networks, and more.
Keeping tabs on all the most relevant identity management and information security news can be a time-consuming task. As a result, our editorial team aims to provide a summary of the top headlines from the last month, in this space. Solutions Review editors will curate vendor product news, mergers and acquisitions, venture capital funding, talent acquisition, and other noteworthy identity management and information security news items.
Identity Management and Information Security News for the Week of August 26
---
senhasegura Expands Global Reach, Launches Next-Generation PAM Offering In North America
senhasegura, a Privileged Access Management (PAM) solutions provider, officially launched its North American operations with new offices in San Francisco and New York. senhasegura, which translates to 'secure passwords' in Portuguese, offers a robust, best-in-class PAM solution that helps secure an enterprise's increasingly complex mix of privileged users and machines. senghasegura's PAM offering is widely recognized by industry analysts for its advanced technical features and by customers for its intuitive, easy-to-use design and low cost of ownership. With its official expansion into the North American market, senhasegura protects thousands of privileged users in more than 55 countries worldwide.
Plex Breach Exposes Usernames, Emails, and Encrypted Passwords
Streaming media platform Plex sent out an email to its customers earlier today notifying them of a security breach that may have compromised account information, including usernames, email addresses, and passwords. While Plex's message says, "all account passwords that could have been accessed were hashed and secured in accordance with best practices," it is still advising all users to change their passwords immediately. Plex is one of the largest media server apps available, used by around 20 million people to stream video, audio, and photos they upload themselves, in addition to an increasing variety of content the service provides to paid subscribers.
443ID Announces Expansion of Executive Team as Market Demand Increases for Identity Security Innovation
443ID, an identity, and access management open-source intelligence cybersecurity company, announced it is expanding its leadership team to support continued scale and growth. In addition to doubling its number of employees in less than a year, 443ID has achieved a successful beta launch of its OSINT Risk Score product and its no-code integration with Auth0's IDaaS. Kristen Komatz has been named Vice President of Engineering. In her new role, she will improve how identity security decisions are made through her experience in recruiting and retaining top talent, delivering high-impact products for enterprise use cases, and impacting how the leadership team will pay dividends.443ID also named Paul Oshan as VP of Global Sales. Oshan will help customers and partners apply out-of-the-box integrations with market-leading solutions that will make it easier to immediately benefit from 443ID's platform.
Medical Breaches Accounted for 342 million Leaked Records from 2009 to 2022
Since 2009, medical organizations in the US have suffered nearly 5,000 data breaches, affecting over 342 million medical records. Comparitech's team of researchers analyzed data from 2009 to June 2022 to find out which US states suffer the most medical breaches and how many records have been affected each year. They also took an in-depth look at breaches from January 2021 to June 2022 to find the most significant cause of these breaches and the most-affected healthcare organizations. The study covered breaches that have crippled healthcare facilities, many of which led to the exploitation of personal medical data, putting patients' health and, in some cases, lives at risk. Breaches can often lead to healthcare systems going offline, meaning medical workers are left without critical information. Threat actors may also gain access to Social Security numbers, health insurance information, prescription information, medical history, and even financial data linked with medical billing.
Concentric AI Grows Leadership Team to Meet Accelerating Demand for Data Security Posture Management Solutions
Concentric AI, a vendor of intelligent AI-based solutions for autonomous data security posture management, announced it has named former Fidelis Cybersecurity sales executive Daniel Emanuele as its first Senior Vice President of Sales. Emanuele will lead the company's expanding sales team by focusing on revenue and market expansion to meet the rapidly increasing demand for Concentric AI's data security posture management solutions. Emanuele is a seasoned 15-year sales leader with a primary focus on building relationships, leading sales teams with transparency, and solving customer problems in the data security software industry. His experience spans identity and access management (IAM), cyber range training solutions, advanced threat hunting, data loss prevention, and ten years in data access governance. Prior to joining Concentric AI, Emanuele spent three years with Fidelis Cybersecurity, where he led the North American and LATAM sales organization with consistent growth and success. He also served for three years providing cyber warriors with the hands-on cyber range training they need to stay effective in an ever-changing threat landscape. Prior to that, he spent ten years leading the North American Sales team at Stealthbits and building out the North Central U.S. territory for Varonis. He holds a bachelor's degree in Business from Wagner College in New York.
PlainID Announces Its General Availability Release of PlainID's SaaS Enabled Authorization Platform
PlainID, the Authorization Company, announced the general release of its highly anticipated "Authorization-as-a-Service," SaaS-enabled Authorization Platform. Designed to solve the broad enterprise challenges associated with advanced access control, PlainID's Cloud-first, Authorization-as-a-Service Platform has been architected both for scale and to meet the performance demands of the largest global companies. Additionally, PlainID announces the release of several new PlainID Authorizers, including Data Authorizers for Snowflake, Google BigQuery, Denodo, and SDK for SQL filtering. PlainID Authorizers allow authorization policies to provide advanced data security by enforcing vital access points across a distributed computing environment, including authorization for API gateways, microservices, and data. This release also introduces PlainID's powerful Visual Policy Map, which enables administrators to visualize the impacts of policies, resulting in a better understanding of the relationships between who can access what and when.
(Re)Introducing The Forte Group, An Advocacy and Education Non-Profit Organization for Women in Cyber
Formed in the summer of 2020 by a small group of friends and like-minded individuals, the Forte Group began as a way for women in InfoSec to connect and stay connected. Today (August 25th), the group has officially launched Forte as a not-for-profit entity whose mission is to support current and emerging female leaders in cybersecurity and related industries. Their hope in taking this next step is to formalize some of the mentorship and education opportunities that they all have been managing ad-hoc and expand the group of women that they can reach and who can benefit from a relationship with other Forte members.
SecureAuth Extends FIDO Alliance Membership and Reinforces Commitment for FIDO2 Certifications for Arculix Passwordless Authentication
SecureAuth, a provider of access management and authentication, announces the continuation of its membership to the FIDO (Fast Identity Online) Alliance, and it has extended its commitment to FIDO2 certification standards. For more than a decade, SecureAuth has supported the FIDO Alliance through its suite of FIDO2-certified products that enable the utilization and implementation of FIDO-certified technologies. Since 2015, SecureAuth has enabled FIDO2 WebAuthn-compliant devices to seamlessly deploy within its Administration Console. Arculix, SecureAuth's next-generation authentication platform, enables the ability to use a mobile device as a FIDO2 certified authenticator. Forging advances in passwordless continuous authentication, SecureAuth is focused on enabling secure engagement with the digital world by leveraging industry standards. SecureAuth is committed to delivering FIDO2-certified methods to authenticate through WebAuthn-compliant devices and a mobile app authenticator, providing flexibility for the users.
Total Economic Impact Study Reveals Virtual Edge Platform with Versa Networks Delivered 130 Percent ROI to Organizations
Versa Networks, the recognized secure access service edge (SASE) leader, announced findings from a commissioned Total Economic Impact (TEI) study conducted by Forrester Consulting. The study, Total Economic Impact of Dell Virtual Edge Platform (VEP), commissioned by Dell Technologies, revealed that organizations using Dell VEPs powered by Intel processors running Versa Operating System (VOS) realize benefits of $1.53 million over three years versus costs of $663,000, resulting in a net present value (NPV) of $864,000 and a return on investment (ROI) of 130 percent, with the combined solution paying for itself in nine months. The independent study found that prior to using Dell VEP and Versa, the organizations used a combination of networking technologies and vendors to manage their networks. Their solutions were limited, slow, and lacked newer technology integrations. Outages were frequent and expensive, and management continually fielded complaints regarding connection speed and downtime. The organizations also faced global supply chain and product quality issues.
For consideration in future news round-ups, send your announcements to mcostello@solutionsreview.com.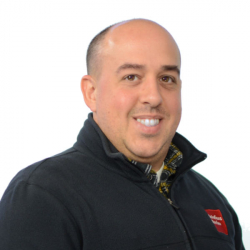 Latest posts by Mike Costello
(see all)