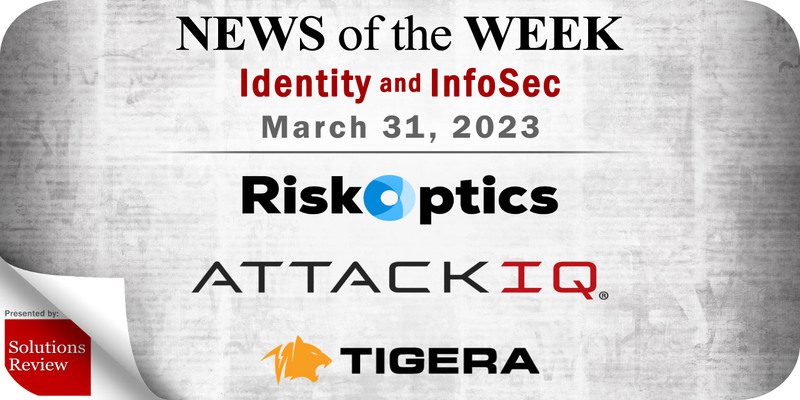 The editors at Solutions Review have curated this list of the most noteworthy identity management and information security news for the week of March 31. This curated list features identity management and information security vendors such as RiskOptics, AttackIQ, Tigera, and more.
Keeping tabs on all the most relevant identity management and information security news can be a time-consuming task. As a result, our editorial team aims to provide a summary of the top headlines from the last month, in this space. Solutions Review editors will curate vendor product news, mergers and acquisitions, venture capital funding, talent acquisition, and other noteworthy identity management and information security news items.
Identity Management and Information Security News for the Week of March 31
---
Reciprocity Rebrands to RiskOptics
Reciprocity, a leader in information security risk and compliance, this week announced that it will be rebranding to RiskOptics to usher in a new era of cyber risk management dedicated to helping Chief Information Security Officers (CISOs) and their organizations turn risk into a strategic business asset. To mark this new chapter, the company also launched the next generation of its Risk Observation, Assessment and Remediation (ROAR) Platform, an offering that provides organizations with a "game-changing level" of risk insight in the context of business initiatives.
Incode Technologies Appoints Domingo Guerra as Executive Vice President of Trust
Incode Technologies Inc., a provider of identity verification and authentication solutions for global enterprises, has appointed Domingo Guerra as Executive Vice President of Trust. In this role, Guerra will oversee and manage the trust and credibility of Incode and its entire portfolio of biometric and identity solutions. His team is comprised of Security, Compliance, Legal, and Marketing. Guerra was previously an advisor to Incode and has been instrumental in expanding the company's trust profile. His appointment follows a slew of new alliances, product advancements, and customer use cases, which have earned top industry accolades for the company and its technology. A coveted investor, advisor and board member, Guerra comes to Incode with a strong track record of success with company exits, market valuation increases, and key executive positions at Symantec, which acquired Guerra's firm Appthority in 2018.
AttackIQ Launches Breach and Attack Simulation-as-a-Service
AttackIQ, a vendor of Breach and Attack Simulation (BAS) solutions, this week announced the availability of a fully managed breach and attack simulation service that leverages years of advanced content and actionable reporting to improve organizations' security posture and security program performance. The service was designed to simplify the execution of a continuous security validation program, showing results in real-time and orchestrating faster remediation – all through one automated platform – for everyone who wants it.
QuSecure and Accenture Team in First Successful Multi-Orbit Communications Secured with PQC
QuSecure, Inc., a post-quantum cybersecurity solutions provider, announced that the company, in collaboration with Accenture, has accomplished the first successful multi-orbit data communications test secured with post-quantum cryptography (PQC), which refers to cryptographic methods that are secure against an attack by a quantum computer. This demonstrates that crypto-agility, successfully rotating to a potentially less vulnerable algorithm, is real and possible.
Laminar Research: "Public Cloud Data Breaches, Shadow Data Concerns Show Steep Rise Over Last 12 Months"
The fast pace of cloud transformation and democratization of data has created a new innovation attack surface, leading to 3 in 4 organizations experiencing a cloud data breach in 2022 and the overwhelming majority (68 percent) of data security professionals naming shadow data as the number one concern of protecting cloud data. The State of Public Cloud Data Security Report 2023, released by Laminar this week, reveals that concern over shadow data has increased to a whopping 93 percent compared to 82 percent the year before. This finding indicates a need for security teams to evolve processes and technologies to autonomously discover, classify, protect, and remediate sensitive cloud data stores, wherever they are located.
Dig Security Welcomes Team8 Co-Founder Nadav Zafrir as Chairman of the Board
Dig, a cloud data security provider, this week announced that Nadav Zafrir is joining as Chairman of the Board. As Chairman, Zafrir will provide strategic direction for Dig. Zafrir is the Co-Founder and Managing Partner of Team8, a company-building venture group with deep domain expertise that creates and invests in companies specializing in enterprise technology, data, cybersecurity, and fintech. Team8 welcomed Dig into its portfolio to solve data security in the cloud, and Team8 Capital led Dig's $11M seed funding in May 2022.
Insurance Provider Aldagi Deploys Tigera's EU GDPR Compliance Platform
Tigera, a data security solutions provider, announced that Aldagi, Georgia's largest private insurance provider, has selected and deployed Calico Enterprise. Calico Enterprise being Tigera's platform for EU GDPR compliance. Calico Enterprise allowed Aldagi to bring its online insurance services to retail and corporate customers and enabled Aldagi to pull compliance evidence on demand without slowing the company's team from deploying new applications. Aldagi securely deployed 20 new cloud-native applications within three months of deploying Calico Enterprise. The company reduced application launch time from several days to only five minutes, and the time needed to write firewall policies and rules was also significantly reduced.
---
Expert Insights Section
Watch this space each week as Solutions Review editors will use it to share new Expert Insights Series articles, Contributed Shorts videos, Expert Roundtable and event replays, and other curated content to help you gain a forward-thinking analysis and remain on-trend. All to meet the demand for what its editors do best: bring industry experts together to publish the web's leading insights for enterprise technology practitioners.
Managing Risk and Compliance Through a Recession
It's no surprise that security and compliance professionals are concerned about the effects a potential recession may have on their budgets. Cyber incidents and business interruptions have been the two worldwide corporate risk concerns for two years running, according to Allianz, and the World Economic Forum recently found that cybersecurity is the fifth top risk worldwide in 2023. Yet, over 66,000 tech jobs were cut in the first two months of 2023 due to recessionary factors, and over half of organizations struggle with identifying where the critical risks are in order to figure out what remediations to prioritize. The risk of paying fines and penalties is increasing as the FTC, SEC, NYDFS, and other regulatory agencies are leaning into enforcement rather than sanctions.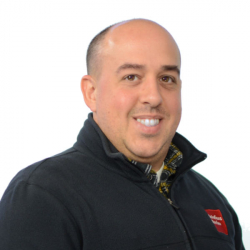 Latest posts by Mike Costello
(see all)