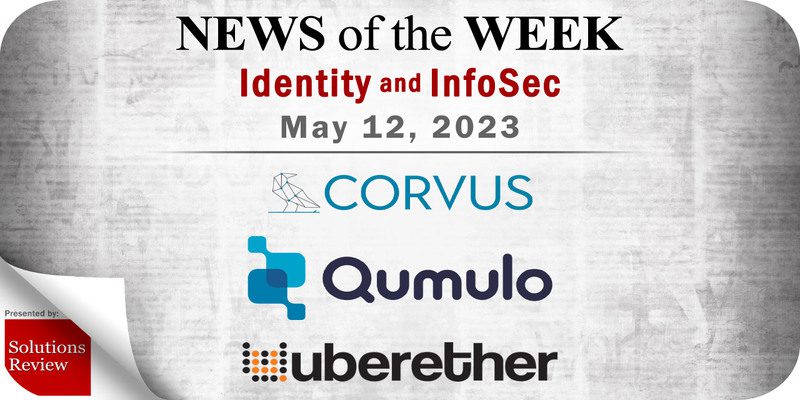 The editors at Solutions Review have curated this list of the most noteworthy identity management and information security news for the week of May 12. This curated list features identity management and information security vendors such as Corvus Insurance, Qumulo, UberEther, and more.
Keeping tabs on all the most relevant identity management and information security news can be a time-consuming task. As a result, our editorial team aims to provide a summary of the top headlines from the last month, in this space. Solutions Review editors will curate vendor product news, mergers and acquisitions, venture capital funding, talent acquisition, and other noteworthy identity management and information security news items.
Identity Management and Information Security News for the Week of May 12
---
Corvus Insurance Delivers an "Industry-Leading" Loss Ratio of 36 Percent
Corvus Insurance, a cyber risk solutions provider, this week announced its U.S. industry-leading 2022 ultimate loss ratio of 36 percent, which has been independently verified and includes all lines and all risk capital partner results. This figure is indicative of the strength of Corvus's cyber underwriters and the team's sharp focus on delivering strong underwriting results. Across its book, Corvus grew cyber premiums by 80 percent in 2022 while maintaining this leading loss ratio.
HID Fingerprint Biometric Tech Now Conformed to Industry's Highest PAD Standards
HID Global, an identity solutions provider, this week announced that its latest V-Series fingerprint modules and readers with multispectral imaging (MSI) technology are now certified to ISO/IEC 30107-3 PAD Level 2 standards. The product detects much more sophisticated spoofing attempts based on 3D-type artifacts like those crafted from resin, latex, silicone and prosthetics and ISO 30107-3 PAD Level 2 compliance requires products successfully block 99 percent of spoof attempts. HID Lumidigm V-Series products are among the few solutions that conform with the industry's rigorous PAD standards for fingerprint biometric technology.
LogRhythm Announces Technology Partnership with Mimecast
LogRhythm, a SIEM platform and cybersecurity solutions provider, announced its technology partnership with Mimecast, an advanced email and collaboration security company. LogRhythm and Mimecast's integration will help organizations around the globe protect against modern cyberattacks. LogRhythm SIEM integrates Mimecast's email security capabilities with LogRhythm's enterprise threat management. LogRhythm's scenario and behavioral-based analytics automatically consumes email security data from the Mimecast cloud service, along with other security data from across an organization to deliver real-time threat protection based on up-to-date situational awareness and comprehensive security analytics.
Qumulo Announces Integration with Varonis Data Security Platform
Qumulo, a data management provider, this week announced integration with the Varonis Data Security Platform and introduced their new Snapshot-Locking capability to protect customers against ransomware. Qumulo and Varonis have partnered to provide an end-to-end solution that protects Qumulo customers from ransomware in both cloud and on-premises environments. The Varonis Data Security Platform provides real-time visibility and control over cloud and on-premises data and automatically remediates risk. Varonis' behavior-based threat models detect abnormal activity proactively and can stop threats to data before they become breaches. In the storage layer, Qumulo offers data protection by cryptographically locking snapshots, allowing administrators a simple mechanism to stop attackers from infecting valuable customer data.
Incode Releases "Consumer Pulse on Biometrics" Survey Report
Incode Technologies Inc., a provider of identity verification and authentication solutions for global enterprises, recently released its inaugural "Consumer Pulse on Biometrics" survey report, with indicators about consumer priorities and beliefs about biometrics. The report is based on a survey of global consumers with experience using digital identification apps and services. Over half (54 percent) of survey respondents indicate that digital authentication methods such as biometrics are revolutionizing the customer experience when it comes to online transactions and payments. However, they are not fully committed. Consumers are hesitant to embrace digital identification. Nearly half (48 percent) of survey respondents do not see digital authentication as contributing to trust in the online world. This is due to concerns about fraud protections, privacy, and security.
UberEther Announces IAM Advantage
UberEther, an identity security solutions provider, this week announced the launch of IAM Advantage, the "first solution of its kind" to achieve DoD IL5 authorization. IAM Advantage is an identity, credential, and access management (ICAM) solution designed to help Government agencies and suppliers modernize their legacy identity systems. IAM Advantage can manage access for employees, contractors or citizens and will secure end-to-end workflows from account registration to digital transactions. IAM Advantage is a preconfigured solution, ensuring cost and time savings for Government procurement and security teams. UberEther offers flexible deployment models: on-premises, in any cloud or hybrid environment, or in air-gapped or disconnected (DDIL) environments at the tactical edge. Security is enhanced with a single-tenant environment, and customers control their own encryption keys. Further, IAM Advantage is applicable to both desktop and mobile applications – and in both single sign-on and federated identity management models. Integrations with Salesforce and ServiceNow are prebuilt and will allow Government customers to integrate IAM Advantage into their existing software stack quickly and affordably.
---
Expert Insights Section
Watch this space each week as Solutions Review editors will use it to share new Expert Insights Series articles, Contributed Shorts videos, Expert Roundtable and event replays, and other curated content to help you gain a forward-thinking analysis and remain on-trend. All to meet the demand for what its editors do best: bring industry experts together to publish the web's leading insights for enterprise technology practitioners.
5 Facts About the Future of Cybersecurity
Stephen Moore and Tyler Farrar of Exabeam team up to beam up five facts about the future of cybersecurity. Today's attackers have become increasingly elusive by generally just using stolen credentials or looking for misconfigured systems. With the evolving nature of the cyber landscape, they are taking advantage of the current geopolitical climate to exploit new areas of business operations. Plus, as organizations are facing uncertain macroeconomic times, security risks are becoming even more challenging to detect, escalate, and manage with additional scrutiny on budgets. Using our combined military, SOC, and internal experience, we have compiled our top five insights on how organizations can keep an eye on the most prevalent threats– and build out more robust security architectures to defend against them.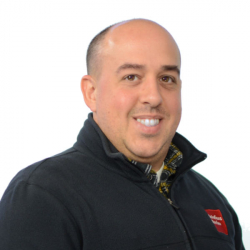 Latest posts by Mike Costello
(see all)