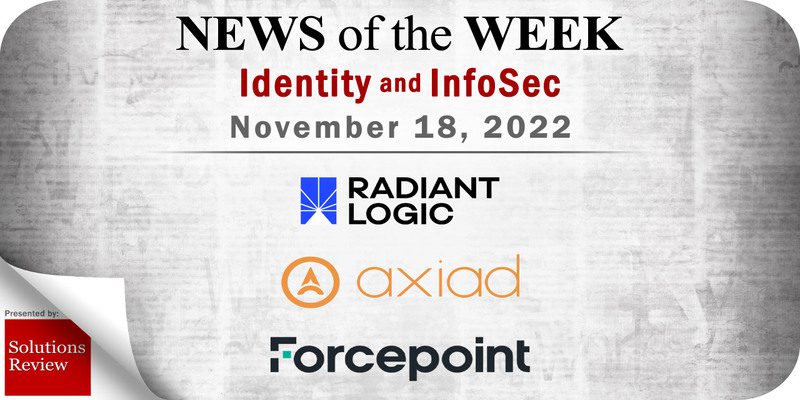 The editors at Solutions Review have curated this list of the most noteworthy identity management and information security news for the week of November 18. This curated list features identity management and information security vendors such as Radiant Logic, Axiad, Forcepoint, and more.
Keeping tabs on all the most relevant identity management and information security news can be a time-consuming task. As a result, our editorial team aims to provide a summary of the top headlines from the last month, in this space. Solutions Review editors will curate vendor product news, mergers and acquisitions, venture capital funding, talent acquisition, and other noteworthy identity management and information security news items.
Identity Management and Information Security News for the Week of November 18
---
The Department of Navy Selects Radiant Logic to Create Naval Identity Service
Radiant Logic, the enterprise Identity Data Fabric company, announced that the Department of Navy (DON) has selected the RadiantOne Intelligent Identity Data Platform to modernize its identity data systems, enabling the cohesive creation and structure of the Naval Identity Services (NIS), the DON's planned Enterprise Identity, Credential and Access Management (ICAM) solution. This initiative is designed to make NIS available whether located ashore or in Delayed/Disconnected, Intermittently-Connected and Low-bandwidth (DDIL) environments, providing ubiquitous access aligned with Zero Trust principles.
SecureAuth Announces Arculix Universal Authentication Fabric
SecureAuth, a leader in access management and authentication, announced its Arculix Universal Authentication Fabric to further strengthen the technology to enable organizations for passwordless continuous authentication. Arculix Universal Authentication Fabric is a technology framework that delivers authentication driven by artificial intelligence (AI) and machine learning (ML) behavioral modeling, provides continuous risk scoring and makes passwords obsolete by eliminating login credentials.
Strata Identity Announces Orchestration Recipes
Strata Identity, an identity security solutions provider, announced its first no-code Orchestration Recipes for deploying end-to-end, automated customer use cases on the Maverics multi-cloud identity orchestration platform. Strata's Orchestration Recipes are composed of the customer's own Identity Fabric, as integrated by the Maverics Platform, which enables otherwise incompatible and fragmented identity systems, IDPs, and identity products like MFA and passwordless, to function as one. Strata's Orchestration Recipes manage the complex identity relationships and processes associated with deploying identity use cases, eliminate the need to rewrite apps, and require virtually no code.
Axiad Releases Certificate-Based Authentication (CBA) for IAM
Axiad, a leading provider of organization-wide passwordless orchestration, today released Certificate-Based Authentication (CBA) for IAM, its newest offering in the Axiad Cloud authentication product line. Certificate-based authentication is a more secure, phishing-resistant form of multi-factor authentication (MFA) which is an essential part of the White House's mandate to adopt a Zero Trust architecture.
ForgeRock Introduces New Cloud-Native Governance Solution
ForgeRock, an identity solutions vendor, announced its new ForgeRock Identity Governance solution, a comprehensive cloud-native governance offering designed to help solve security and compliance challenges for large enterprises at scale. Built on Google Cloud, ForgeRock's Identity Governance solution uses AI and machine learning (ML) to help organizations determine whether employees should or shouldn't have access to applications and data. By leveraging ForgeRock's comprehensive platform, security decisions become immediately actionable for IT teams. Excessive access can be automatically removed, and approved access can automatically be granted and used – without the need to integrate additional products or solutions.
Avatier Achieves ISO 27001 Certification for its Information Security Management System
Avatier, an identity and access management solutions provider, announced it has received ISO 27001:2013 certification for its Information Security Management System (ISMS). ISO 27001:2013 is an information security standard published by the International Organization for Standardization (ISO), the world's largest developer of voluntary international standards, and the International Electrotechnical Commission (IEC). Avatier's certification was issued by A-LIGN, an independent and accredited certification body based in the United States, on the successful completion of a formal audit process. This certification is evidence that Avatier has met rigorous international standards in ensuring the confidentiality, integrity, and availability of the Avatier Identity Anywhere platform.
Solutions Review Secures Megan Bickford, Scott Gerlach, and Gil Dror for Panels
With the 4th Annual InfoSec Insight Jam just around the corner, Solutions Review is pleased to announce Megan Bickford of DoControl, Scott Gerlach of StackHawk, and Gil Dror of SmartSense are scheduled to appear December 12th as part of an exclusive executive roundtable event.
OneSpan Appoints M. Samy Ibrahim As Chief Revenue Officer to Fuel Next Stage of Growth
OneSpan, the digital agreements security company, announced the promotion of M. Samy Ibrahim to Chief Revenue Officer. Ibrahim will oversee OneSpan's global revenue organization and will be responsible for driving strategic alignment between all revenue-related functions as OneSpan accelerates its momentum heading into 2023. Ibrahim has several decades of high-growth sales experience, deep cybersecurity knowledge, and a strong track record of building world-class sales organizations. He most recently served as OneSpan's Vice President of Global Sales Strategy and Business Operations. Prior to joining OneSpan, Ibrahim was Vice President of EMEA Emerging Markets and Central and Eastern Europe at Forcepoint, a global security leader. At Forcepoint, he transformed the region and grew revenue by more than 300 percent in four years. Before Forcepoint, he held similar sales leadership roles at Arbor Networks, now NETSCOUT, a DDOS mitigation software company, and F5, a multi-cloud application services and security company. Earlier in his career, he was the head of the advanced technologies business unit at Juniper Networks and regional general manager at 3Com, acquired by HP.
Forcepoint Launches Forcepoint Data Visibility Platform
Cybersecurity solutions vendor Forcepoint announced the worldwide availability of Forcepoint Data Visibility powered by Getvisibility, which provides clear views of all unstructured data to reduce the risk of data loss, data breaches and non-compliance. The combination of panoramic data visibility, AI models for highly accurate and efficient classification, continuous monitoring, and precise control delivers greater automation to Forcepoint's complete data security solution.
---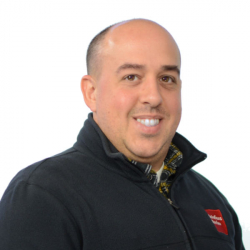 Latest posts by Mike Costello
(see all)