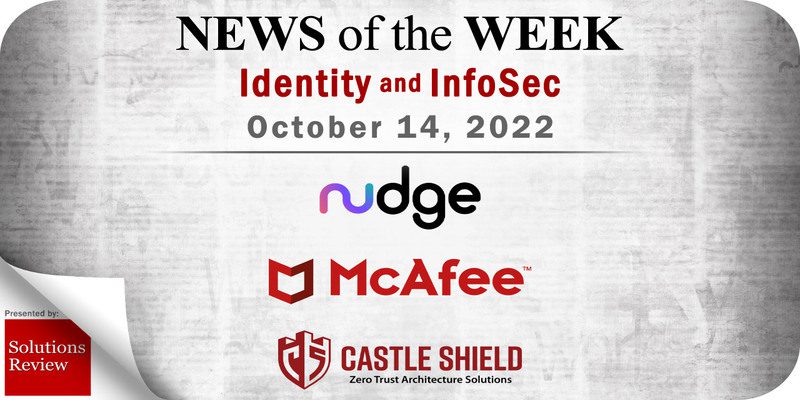 The editors at Solutions Review have curated this list of the most noteworthy identity management and information security news for the week of October 14. This curated list features identity management and information security vendors such as Nudge Security, McAfee, Castle Shield, and more.
Keeping tabs on all the most relevant identity management and information security news can be a time-consuming task. As a result, our editorial team aims to provide a summary of the top headlines from the last month, in this space. Solutions Review editors will curate vendor product news, mergers and acquisitions, venture capital funding, talent acquisition, and other noteworthy identity management and information security news items.
Identity Management and Information Security News for the Week of October 14
---
Nudge Security Emerges from Stealth to Address Security's Hardest Problem: People
Nudge Security emerged from stealth this week with the first-ever SaaS security solution to discover shadow IT and curb SaaS sprawl across any device or location. Nudge Security centers its focus on making employees core to the solution. Nudge Security discovers when employees create new SaaS assets and automatically nudges them towards desired choices. It continuously discovers historical and new SaaS assets without relying on network infrastructure, endpoint agents, browser extensions, or SaaS API integrations, taking only minutes to set up.
Axiad Announces Support for Microsoft Azure Active Directory Certificate-Based Authentication
Axiad, a provider of enterprise-wide passwordless orchestration, announced this week support for certificate-based authentication (CBA), a part of Microsoft Entra. Certificate-based authentication offers users a more secure, phish-resistant form of multi-factor authentication (MFA) and is an essential part of the U.S. Executive Order to adopt a Zero Trust architecture. With integrated support for CBA, Axiad Cloud makes it easy for Azure users to implement phish-resistant MFA and ensures a seamless migration from legacy infrastructure to the cloud.
Malwarebytes Launches Managed Detection and Response Solution
Malwarebytes, a global provider in real-time cyber protection, launched Malwarebytes Managed Detection and Response (MDR), which combines EDR technology and human-delivered security expertise to provide 24/7 threat hunting, monitoring, and response. The Malwarebytes MDR analysts are constantly monitoring and triaging alerts, hunting for hidden threats, and either directly remediating or providing customized guidance to organizations. For any SMB or MSP with more alerts than they can handle, Malwarebytes MDR enables organizations to prioritize critical alerts, detect advanced malware attacks, analyze past indicators-of-compromise, and bolster ongoing resiliency.
HID Expands Its RAIN RFID Reader Family to Include Modules Featuring the Latest High-Performance Impinj Chips
HID Global, a leader in trusted identity solutions, announced its first RAIN RFID reader modules featuring the company's TSL technology and the innovative STORM command protocol that simplifies embedded software integration. The modules enable developers to create customized reader hardware designs that take full advantage of the superior performance of Impinj E710 and E910 reader chips and their ability to support next-generation RAIN tags.
2K Studios Confirms User Data Stolen and Placed on Sale After Recent Security Breach
2K Games have confirmed that personal data was stolen during a security breach last month. The game publisher had previously announced that their support services had been hacked and asked users not to open any links received from them via email. They're now contacting users whose information was accessed and made available for sale by the hackers.
Toyota Reveals Data Leak of 300,000 Customers
Japanese car giant Toyota has warned that nearly 300,000 customers may have had their personal data leaked after an access key was publicly available on GitHub for almost five years. In a statement on its website, Toyota said that the email addresses and customer control numbers of 296,019 people who have used T-Connect, a telematics service that connects vehicles via a network, since July 2017, were exposed.
McAfee Unveils McAfee+ to Help Users Secure Their Personal Data
This week, McAfee Corp., a global leader in online protection, announced the launch of McAfee+ a new product line encompassing all new privacy and identity protections that enable users to confidently and securely live life online. Now available in Canada, the new McAfee+ product suite allows users access to identity restoration, as well as the ability to secure all their devices with award-winning protection against threats and viruses.
Code42 Partners with Tines to Scale and Accelerate Response to Insider Risk Events
Code42 Software, Inc., an Insider Risk Management (IRM) vendor, announced that it is working with Tines, a no-code automation platform for security teams. Through a new partnership between Code42 and Tines, mutual customers gain the speed and scale to accelerate response to data leaks from insiders. Using the powerful automation capabilities of Tines, customers can triage, contain and escalate high-risk file activities detected by the Code42 Incydr product. Templated Incydr and Tines Stories give security teams a repeatable way to protect their valued corporate data from employee-driven exposure, leak and theft, and improve their organization's Insider Risk posture.
Immuta Releases Platform Updates to Drive Improved Data Security and Monitoring Across Google, Snowflake, and Databricks
Immuta, a provider of data access and security, announced its latest product enhancements and integrations designed to deliver advanced data security and monitoring across key cloud platforms at scale. These new features include native integration with Google BigQuery, expanded integrations with Snowflake, including external OAuth support, audit log data export into Amazon S3, and better policy onboarding for Databricks.
Collaborative Intelligence Company Selects DTEX InTERCEPT to Protect Technology IP and Prevent Data Loss
DTEX Systems, a Workforce Cyber Intelligence & Security company, announced that a world leader in collaborative intelligence has selected DTEX InTERCEPT to secure sensitive data and software IP from insider threats and prevent data loss via USB devices, email, and SaaS applications. DTEX InTERCEPT is a "first-of-its-kind" Workforce Cyber Security solution that brings together the capabilities of Insider Threat Management, User and Entity Behavior Analytics, Digital Forensics, and Endpoint DLP in an all-in-one lightweight, cloud-native platform.
Castle Shield Holdings, LLC Updates the Post-Quantum Cryptography Algorithms for Its Aeolus VPN Solution
Castle Shield Holdings, LLC., a provider in Zero Trust and cybersecurity solutions, announced this week that its Aeolus VPN solution now supports additional post-quantum cryptography (PQC) algorithms selected by the National Institute of Standards and Technology (NIST). Aeolus VPN protects data between two or more network points. It offers a streamlined approach to privacy which results in more stability and lower latency that is a perfect addition to enterprise data-in-motion security for both classic and post-quantum computing environments. Aeolus VPN offers point-to-point asymmetric PQC and symmetric encryption for UDP and TCP on Windows, Linux and macOS platforms.
---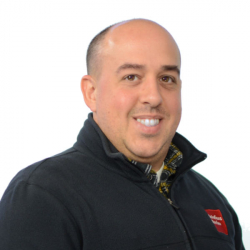 Latest posts by Mike Costello
(see all)