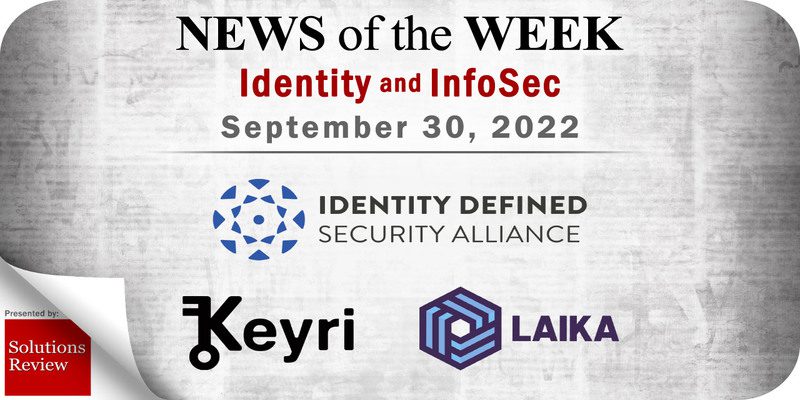 The editors at Solutions Review have curated this list of the most noteworthy identity management and information security news for the week of September 30. This curated list features identity management and information security vendors such as IDSA, Keyri, Laika, and more.
Keeping tabs on all the most relevant identity management and information security news can be a time-consuming task. As a result, our editorial team aims to provide a summary of the top headlines from the last month, in this space. Solutions Review editors will curate vendor product news, mergers and acquisitions, venture capital funding, talent acquisition, and other noteworthy identity management and information security news items.
Identity Management and Information Security News for the Week of September 30
---
The Identity Defined Security Alliance (IDSA) Appoints Executive Director Julie Smith to Executive Advisory Board
The Identity Defined Security Alliance (IDSA), a nonprofit that provides vendor-neutral resources to help organizations reduce the risk of a breach by combining identity and security strategies, is pleased to announce the appointment of Julie Smith to the Executive Advisory Board. Currently serving as IDSA's Executive Director, Smith has not only established the organization as the trusted identity security source for IT and cybersecurity professionals, but has significantly grown membership and key partnerships. As part of today's announcement, the IDSA has initiated a search for a new Executive Director to continue its mission of supporting the IT and cybersecurity professionals and lead the organization through an exciting next chapter.
SailPoint Unveils "The Horizons of Identity" Research Report to Examine the Maturity of Enterprise Identity Programs
This week, SailPoint Technologies Holdings, Inc., a leader in enterprise identity security, unveiled the findings of a new research report titled, 'The Horizons of Identity.' As hyper innovation and rapidly evolving technologies drive global organizations, mature identity programs are becoming business essential to secure and enable digital capabilities at scale. The survey data, based on insights from more than 300 global cybersecurity executives, reveals the current state of the identity security industry and assesses the maturity of enterprise identity programs.
Group Wins Federal Contract to Automate Network Device Authentication
A group led by integrator Optiv Canada that includes Venafi and Ottawa-based Crypto4A Technologies has won a competitive contract to automate much of the federal government's network device authentication process. The contract with Shared Services Canada, which delivers data centre and email services to most federal departments, was signed in March but it has taken until now for the government to approve Optiv's announcement. In the middle of being implemented, the on-premises solution is part of Ottawa's move to a zero trust environment by managing the digital certificates for 1.5 million devices— everything with an IP address on the federal network, including PCs, servers, printers, routers and switches.
NCC Group Releases New Monthly Threat Pulse Report
Analysis from NCC Group's Global Threat Intelligence team suggests a proliferation of new and evolving threat actors in August with the emergence of new threat actor, IceFire and a surge in activity for the most active attacker Lockbit 3.0. Meanwhile, the number of ransomware attack victims dropped 19 percent in August, from 198 to 160 incidents. The moderate drop comes after a 47 percent rise from June to July, with the number of attacks appearing to stabilize since the disbanding of prominent threat actor group Conti.
October is Cybersecurity Awareness Month
Cybersecurity Awareness Month, every October since 2004, is a collaboration between government and private industry to raise awareness about digital security and empower everyone to protect their personal data from digital forms of crime. This year's campaign theme, "See Yourself in Cyber" , demonstrates that while cybersecurity may seem like a complex subject, ultimately, it's really all about people . This October will focus on the "people" part of cybersecurity, providing information and resources to help educate CISA partners and the public, and ensure all individuals and organizations make smart decisions whether on the job, at home or at school-– now and in the future.
Majority of Security/IT Professionals Say They are Overwhelmed by the Complexity of their Authentication Systems
Axiad, a provider of organization-wide passwordless orchestration, announced this week the results of its 2022 Authentication Survey, revealing that executives have their hands full managing the underlying complexity of their authentication practices-– a foundational element of most cybersecurity strategies around the globe. The survey was conducted with 252 U.S. Security and IT executives (Director and above) in organizations of 2,500 or more employees across a broad variety of industry sectors. Respondents pointed to several internal challenges that prevent them from addressing authentication in a systematic fashion across the organization, including the variety of identity types to protect, numerous authentication methods used internally, varied operating systems in use, and existing investments in identity and access management that are often not interoperable.
Keyri Now Integrates With Ping Identity's DaVinci to Deliver a Unique Passwordless Customer Authentication Experience
Keyri, a QR code-based passwordless authentication provider, announced this week a new integration with Ping Identity, an intelligent identity solution for the enterprise, leveraging PingOne DaVinci, a no-code identity orchestration service. The partnership will allow Ping Identity customers to transform their login experience into a one-step biometrics-based process, enabling a seamless user experience while strengthening account security. With Keyri, enterprises can add QR-based authentication to their login pages to give users a simple and secure form of MFA. The result is secure, phishing-resistant account security, coupled with enhanced customer conversion and engagement throughout the user journey. The Keyri DaVinci connector is a lightweight package that enables direct interaction with the underlying Ping Identity architecture, while Keyri's web widget and mobile SDKs further automate functionality to simplify the integration process.
BusPatrol Completes SOC 2 Type 1 Attestation with Laika
BusPatrol, a safety technology company with the mission of making the journey to and from school safer for children, announced this week that they have completed the SOC 2 Type 1 attestation. To earn this attestation, BusPatrol partnered with Laika, a compliance-as-a-service platform that helps companies manage infosec and privacy compliance, obtain security certifications and build credibility with their customers. BusPatrol executed SOC 2 Type 1 by working with Laika's integrated audit feature via Laika Compliance, LLC. Next, BusPatrol will begin a monitoring period as part of their SOC 2 Type 2 audit process where auditors will observe how well their controls are operating.
---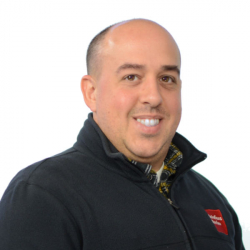 Latest posts by Mike Costello
(see all)