Accelerate Zero Trust With Strong Authentication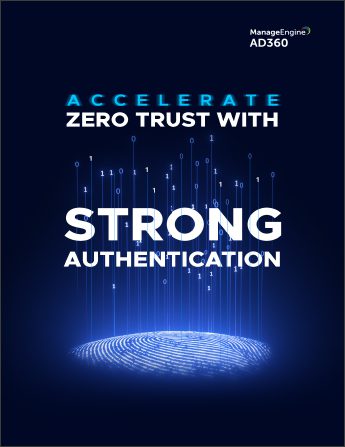 From ManageEngine
According to a Fortinet 2022 survey, over 50% of organizations are still struggling toimplement Zero Trust's core capabilities, and it's because they don't know where to start. In a recent podcast, Gartner Analyst John Watts mentioned, "A lot of Zero Trust concepts are built around identity (and) knowing who someone is with some assurance." As the core principle of Zero Trust says, every time an identity enters the network, it must be verified. This statement also reinforces that organizations cannot achieve Zero Trust unless they foolproof their authentication mechanisms.
As the hybrid workforce model has become the norm and data footprints are expanding to the cloud, identity security measures must be context-aware and adaptive to each user's attribute-based instance. In this e-book, you will learn how to set up strong authentication for your Zero Trust architecture without compromising on usability.
You'll learn:
● What the post-pandemic challenges to cybersecurity are.
● How legacy security models fall short.
● Why authentication is the first step towards Zero Trust.
● How IAM helps with frictionless Zero Trust.
● What the must-have features in an authentication solution are.
Fill out the following to view this resource from ManageEngine