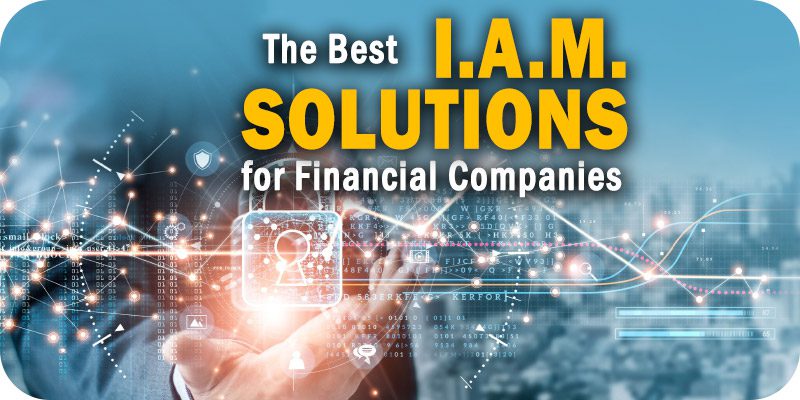 The editors at Solutions Review have compiled a list spotlighting some of the best IAM solutions for financial companies to consider working with.
As financial companies continue to expand the networks of information and communication they operate with, they must take adequate protective measures to ensure their data is secure. That's where Identity and Access Management (IAM) solutions can help. With an IAM solution, financial organizations and services can improve how they regulate their data access, keep track of user activities, and more.
However, identifying the best IAM solutions for financial companies is easier said than done, especially since every organization has a unique suite of security needs. With that in mind, the Solutions Review editors have compiled the following list of top-rated IAM solutions for financial companies. The editors selected the companies below based on each one's Authority Score, a meta-analysis of user sentiment through the web's most trusted business software review sites, and our proprietary five-point inclusion criteria. Companies are listed in alphabetical order.
Note: Companies are listed in alphabetical order.
The Best IAM Solutions for Financial Companies
---
Description: Avatier IAM solutions provide easy and secure access for clients across banking, insurance, and other financial services. There are several services available from Avatier, such as password management, AI virtual assistance, group automation, and more. Avatier's password management tools include automatically enforced password enterprises, Single Sign-On functionalities, seamless integration across apps, a continuous upgrade of the facilities provided, and round-the-clock support.  
---
Description: With Auth0, companies can verify customers without needing a multiple password system. This makes it easier for the customer to access their data and the organization to do the necessary checks. Auth0's services support open banking and open insurance standards, which means it stays on top of new and emerging technological developments in those marketplaces. Auth0's Authentication platform features frictionless logins, Single Sign-On, while its Access Management Platform offers API Authorization and RBAC.
---
Description: Curity provides clients with a unique IAM and API security combination. Its customized services and secure, flexible system can help companies develop an IAM security strategy tailored to their needs. Curity can coordinate across multiple cloud environments, simplify enterprise data resources, and integrate with any user database. It is protected by OAuth and compiles all the applications and services present under a single organization with a single database.  
---

Description: ForgeRock provides multiple features for improving security and customer trust. The company imposes end-to-end management with the help of AI-driven autonomous identity functions, which can help financial companies curate a more organized and coordinated ecosystem. With the growth of open banking systems, ForgeRock has also become an essential tool for tightening security around financial data with the platform's context-based authentication and authorization tools.  
---
Description: With the increased use of digital technology in banking, financial services have to up their security and management functions. HID Global provides great solutions equipped with intelligence-based authentication tools for identifying and responding to real-time frauds or cybersecurity threats. Services include consumer authentication, digital certificates and physical identities for better access, world-class biometric facilities, data encryption, and more.
---
Description: With IBM, companies can better secure their enterprise with its suite of digital security functionalities. These include AI tools for filtering user data upon login to certify that the user is who they say, alongside end-to-end user lifecycle management, identity analytics, and enhanced password synchronization. Having IBM as an IAM solution provider also helps organizations collate their data under limited applications or in cloud structures, allowing users to navigate their required data more efficiently and securely.   
---

Description: With functionalities like Single Sign-On (SSO), ManageEngine's users can easily log in to multiple resources while maintaining data security with its suite of multi-factor authentication facilities. Additionally, ManageEngine's behavior-based analysis can verify users and help the organization release data and networks according to user needs. It also allows request-based allowance for more privileged users so that the relevant data is well-protected.  
---
Description: Micro Focus owns the NetIQ identity and access management suite, part of CyberRes, a Micro Focus business. Companies in the financial and banking sectors need a platform for applying risk models across all of their data, which is precisely what the CyberRes Data Platform is designed to do. The platform is flexible and scalable and equips companies with parsing, normalization, and metadata enhancement tools. It is built on industry-based standards and can be used in a provider/consumer architecture to drive better adoption and standardization.
---
Description: Azure Active Directory is Microsoft's very own IAM solution. It is a cloud-based system that provides the same facilities across multiple apps, websites, and other services. Services include unified identity management and simplified identity governance via Azure Active Directory, which automates the identity governances so only particular users can have authorized access. Additionally, it provides conditional access and multi-factor authentication. 
---
Description: In a unique approach to lower cyber risks, My1login does not access any data it protects. Instead, it provides encryption to all of the data that it controls. It offers features for multi-factor authentication, even if it is for different applications, Single Sign-On across multiple platforms, end-to-end encryptions, and provides secure access to partners and agents. The company also offers services to help audits and software asset management.  
---
Description: Okta is one of the most prominent and reliable IAM solutions providers in the market right now. It provides hassle-free, personalized experiences for all clients. Besides ensuring that all remote accessing features are secure, Okta also automates onboarding and offboarding efforts, usually time-sensitive operations. Additional tools include automated DevOps, secure online portals, 360-degree customer views, and more. In addition to their industry-standard IDaaS capabilities, Okta also provides MDM and phone-as-a-token authentication capabilities for multi-factor authentication policy implementation. 
---

Description: Optimal IdM provides employees of financial organizations with Single Sign-On and cloud-federated identity solutions. This keeps it hassle-free for them and reduces the chances of data misplacement. Optimal IdM also employs a Virtual Identity Server (VIS) and a universal directory to help organizations access identity data from any database in real-time. This provides access to the source, making it easier and more secure. 
---
Description: With Oracle IAM, organizations can choose between various identity solutions such as cloud-native identity as a Service (IDaaS), an integrated identity service, or a software-delivered enterprise deployment to manage accesses. The services are also integrated with the Oracle Cloud Infrastructure. Oracle IAM is also customizable according to the client's needs. It also facilitates the building of privileged data pockets. This can be done with the help of cloud-native identity and access management. This allows companies to control who has access to specific sensitive data. 
---
Description: Ping Identity offers IAM solutions for enterprises in banking, payment exchange, financial advice, and more. It helps customers of any enterprise get a hassle-free digital experience across all platforms and cloud identity tools. Not only does the platform make it possible to operate secure open banking, but it also helps enterprises meet PSD2 and open banking requirements. It also takes care of standard regulations and helps organizations comply with required regulations. 
---

Description: With Radiant Logic, companies will have a 360-degree view of all customers across the business ecosystem. It helps bring together complex identities with the help of multi-factor authentication and uses a central access point, so all services are genuinely united. With Radiant Logic, organizations can take their data to the virtual sphere, distribute it, and make it accessible across users while keeping it secure. The data is updated regularly and automatically, so it is always at the best current stage. 
---
Description: SailPoint provides seamless automation tools for adjusting company data when organization workers join, leave, or change positions. Data access is managed according to the employee's role in the organization, even if they are switched. It leverages AI and machine learning technologies to detect risks and any potential conflicts of interest so that there are no fraud or data breaches, which makes it easier for organizations to prepare themselves for audits.  
---
Description: SecureAuth makes sure every enterprise has the proper security across its ecosystem. It can help limit access to data while ensuring that all access is evaluated for any potential risks. It also implements user self-service to increase accuracy and reduce unnecessary hassle undertaken by the organization. There is also "passwordless" authentication made available for organizations. You can request a demo to see how the offerings pan out for your particular needs. 
---
Description: SecZetta helps in crucially assessing the risks involved with third-party partnerships. Most financial organizations these days function in association with several third-party institutions, and it is necessary to provide the required data protection barriers to prevent any breach. SecZetta can automate workflows to support identity re-validation audits, which streamlines those audits, reducing the workload of manual processes. It can also provide a "No-Code" design that allows users to customize portals and workflows independently without needing professional tech support.  
---
Tools4Ever provides several services for financial organizations. For example, its HelloID tool is a cloud-based identity management solution that offers IDaaS solutions for small to mid-size financial companies. At the same time, the NexGen Identity Management (NIM) is an on-premise solution for larger enterprises with complex datasets. There is also a Self-Service Reset Password Manager (SSRPM). Tools4Ever also offers an in-house team of IT consultants to assist enterprises' identity governance and administration deployment and implementations.  
---
Description: Ubisecure provides IAM services like Single Sign-On facilities and multi-factor authentication systems. In addition, its legal entity identifier management system lowers the cost of managing group and client legal entity identifiers (LEIs) and helps implement LEIs in banking workflows and applications. Its Identity Platform is designed to enhance an enterprise's customer-facing applications by providing a high-quality experience to increase customer capture, conversion, and engagement.
---